Wednesday Weather Xtreme: Another Warm One : The Alabama Weather Blog
4 min read
?
Temperatures across Alabama will be running some 8-12 degrees above normal for this time of year as our late summer in October pattern continues.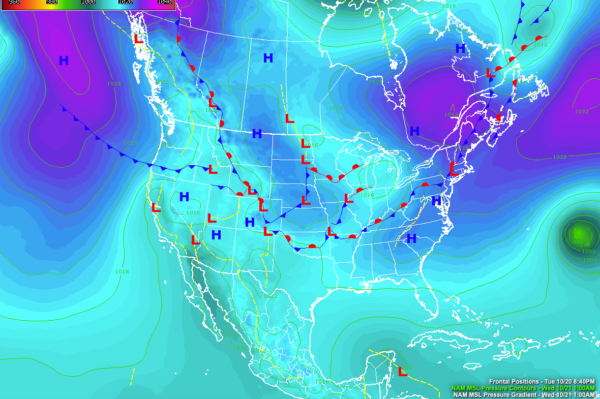 HIGH PRESSURE IN CONTROL: A long ridge of high pressure extending from Maine to Alabama remains in control of weather along the East coast for now. A stationary front is stranded for now to our northwest, but it will be on the move again by tomorrow and will bring us rain starting tomorrow evening into Saturday.
FOR YOUR WEDNESDAY: You can expect partly cloudy, warm, and humid conditions today across Alabama, with the only chance of rain over the far southeastern sections down around Dothan. Highs today will range from the lower 80s North to middle 80s across North Central sections with some upper 80s South Central. Humidity levels are on the rise and you will feel it, with dewpoints reaching the middle 60s today. Lows tonight will be in the middle and upper 60s.
SHOWERS TO RETURN: Tomorrow starts off nice with partly cloudy skies and mild conditions. Temperatures will warm into the lower 80s on average. A few showers will start to show up by evening with high moisture levels and an approaching front. Those showers will continue into Friday and may be accompanied by a few thunderstorms at times Friday afternoon and evening. Highs on Friday will be right around 80 degrees.
WEEKEND OUTLOOK: The front will push through the state with a few more showers and storms on Saturday, setting the stage for a partly cloudy and mild day on Sunday.
FOOTBALL WEATHER: For the high school games Friday night, showers are likely with a cloudy sky. Temperatures will be in the 70s.
UAB has a Friday night special at Legion Field; they host Louisiana at 7p CT. Showers are a good possibility, but it won't rain the entire game. Temperatures will be in the 70s.
Saturday, Auburn will take on Ole Miss in Oxford (11a CT kickoff)… just a slight risk of a shower during the game, otherwise expect a mix of sun and clouds with temperatures rising from near 66 at kickoff to 70 degrees by the final whistle.
Alabama is also on the road; they take on Tennessee in Knoxville (2:30p CT kickoff).The sky will be occasionally cloudy, and a few passing showers are possible. Temperatures will be in the low 70s.
TROPICS: Hurricane Epsilon is about 500 miles southeast of Bermuda this morning. It will bring winds to near tropical strom force to Bermuda as it passes well east of the island on Thursday night. It will then turn northeast and pass out through the open Atlantic. We still will be watching the Caribbean as we head toward the first week of November for some sort of tropical development. Don't be surprised to see a hurricane develop in that region during that period.
BEACHCAST: One more perfect day along the beautiful beaches of Alabama and Northwest Florida before showers and storms return Thursday and Friday. Highs will be in the lower 80s today and tomorrow, lowering to the upper 70s by Friday. Overnight lows will be near 70F. The rip current risk will remain high for much of the week ahead. Water temperatures are still running in the lower 70s.
Click here to see the Beach Forecast Center page.
WEATHERBRAINS: Great show this week with AMS President-Elect Mike Farrar talking about the state of weather modeling. The always lively Betsy Kling from WKYC in Cleveland joined the show as well. Check out the show at www.WeatherBrains.com. You can also subscribe on iTunes. You can watch the show live at live.bigbrainsmedia.com or on James' YouTube Channel You will be able to see the show on the James Spann 24×7 weather channel on cable or directly over the air on the dot 2 feed.
ON THIS DATE IN 1743: Benjamin Franklin was waiting with great anticipation in Philadelphia to view a lunar eclipse. Franklin was disappointed when clouds obscured the sky and a terrible nor' easter set it, blocking his view of the eclipse. The storm wreaked havoc all along the coast from the Mid-Atlantic to New England. As Franklin read accounts of the storm from newspapers over the next few weeks, he was surprised to find that observers in Boston had been able to view the eclipse before the storm set in. He learned in a letter from his brother in Boston that the storm had arrived there four hours after the eclipse. How could that be? Franklin observed that winds at his location were from the northeast. He assumed that the storm had come from the direction of Boston since his winds were blowing from the direction of Boston. But the storm had arrived in Boston later than in Philadelphia. Franklin sought other observations from up and down the coast. Franklin later observed to his friend Jared Eliot that the winds had blown from northeast to southwest, but that the storm had traveled from southwest to northeast. Franklin had come to the revolutionary discovery that the wind in storm systems rotate in a counter-clockwise direction around a center that moves across the earth's surface. It was a brilliant deduction considering he had no satellite to show him the big picture! Follow my weather history tweets on Twitter. I am @wxhistorian at Twitter.com.
Category: Alabama's Weather, ALL POSTS