Weather Xtreme: A Few Raindrops Possible on Sunday, Dry for the Rest of the Next 7 Days : The Alabama Weather Blog
3 min read
Video and forecast completed by 2:00 am CDT Saturday.
THE CENTRAL ALABAMA WEEKEND
Your Saturday will be an absolutely wonderful day across Central Alabama if you don't mind a cool start. We'll have plenty of sunshine with afternoon highs ranging from the lower 70s in the north to the upper 70s in the south.
A cold front will quickly move through Central Alabama on Sunday, but with very dry air in place, there is only a very small chance of an isolated shower or two during the morning and possibly into the early afternoon hours. Once the front moves out by the afternoon, skies will begin to clear out and temperatures will start to steadily fall. Highs will range from the mid-60s in the northwest to the upper 70s in the southeast.
THE WORK WEEK AHEAD
Much cooler and drier air will be in place over Central Alabama for your Monday. We'll have sunny skies and highs in the 60s. Nearly the same exact story for Tuesday with sunny skies and highs in the 60s. No change for Wednesday as well as sunshine, blue skies, and highs in the lower to mid-60s is what we'll see.
With high pressure and sinking air in place over Central Alabama for Thursday, we'll get to see slightly warmer temperatures. We'll have mainly sunny skies and highs in the mid to upper 60s. Slightly warmer again for Friday as we'll continue to have mainly sunny skies. Highs will be in the upper 60s to the lower 70s.
THE NEXT CHANCE OF RAIN
As we step off into Voodoo Land, the next chance of rain will come as a cold front will begin to work through Central Alabama during the late night hours on Sunday, November 22nd, and continue on through a good portion on Monday the 23rd.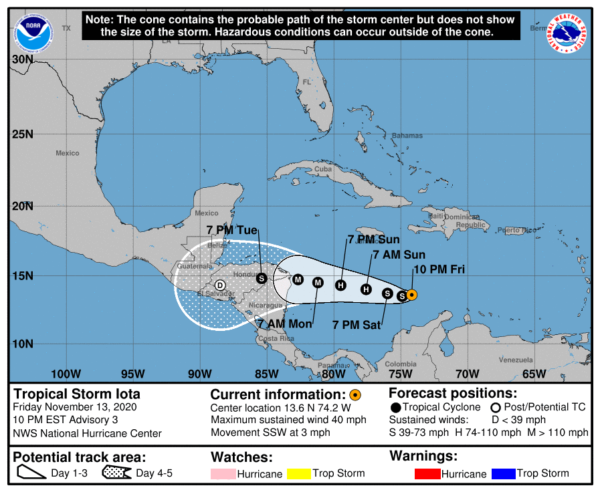 THE TROPICS
As of the 9:00 pm Friday night update from the NHC, the center of Tropical Storm Iota was located around 350 miles south of Kingston, Jamaica. Iota is moving toward the south-southwest near 3 MPH and this motion is expected to continue overnight. A westward motion at a slightly faster forward speed is expected to begin by late Saturday and continue through Monday. On the forecast track, Iota will move across the central Caribbean Sea during the next day or so, and approach the coasts of Nicaragua and northeastern Honduras on Monday. Maximum sustained winds are near 40 MPH with higher gusts. Steady to rapid strengthening is likely over the weekend, and the system is forecast to be a major hurricane when it approaches Central America. Portions of Honduras and northern Nicaragua could see 8 to 16 inches of rainfall, with isolated maximum totals of 20 inches possible. This rainfall would lead to significant, life-threatening flash flooding and river flooding, along with landslides in areas of higher terrain.
Also, at 9:00 pm Friday night, the center of Tropical Storm Theta was located around 520 miles southeast of the Azores. Theta is moving toward the east near 10 MPH. An eastward or east-southeastward motion with a gradual decrease in forward speed is expected through Sunday, followed by a sharp northward turn Sunday night into early next week. Satellite-derived wind data indicate that maximum sustained winds have decreased to near 50 MPH with higher gusts. Weakening is forecast during the next couple of days, and Theta is expected to become a remnant low by late Sunday.
The rest of the Atlantic Basin is quiet for now.
ON THIS DATE IN WEATHER HISTORY
1753: A violent easterly gale at New York City flooded cellars and spoiled wharves.
BEACH FORECAST CENTER
Get the latest weather and rip current forecasts for the beaches from Dauphin Island, AL, to Panama City Beach, FL, on our Beach Forecast Center page. There, you can select the forecast of the region that you are interested in.
WEATHERBRAINS
There are several ways to watch or listen to the podcast that is all about the weather. Watch live starting at 8:00 pm CT on Monday nights at live.bigbrainsmedia.com, James Spann's YouTube Channel, or on one of ABC 3340's digital weather channels (17.2, 40.2, 68.3). Listen to the recorded audio podcast at WeatherBrains.com or on your favorite podcast platform (Apple Podcasts, Stitcher, Spotify, etc.), or watch the recorded video on James Spann's YouTube channel.
Category: Alabama's Weather, ALL POSTS, Tropical, Weather Xtreme Videos