Unlocking the Mysteries of the Sky: A Riveting Journey Through Alan Sealls' 'Weather Things You Always Wanted to Know' : The Alabama Weather Blog
2 min read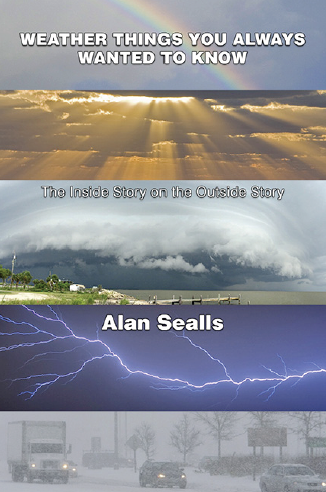 Alabama Meteorologist Alan Sealls has just published an engaging and comprehensive guide to understanding weather phenomena. Alan, "The Best Weatherman Ever" according to the internet, offers an inside look at the "outside story" of weather, making meteorology accessible and interesting to a broad audience.
The book covers a wide range of topics, from the basics of the sun, air, wind, and atmosphere, to more complex subjects like the water cycle, hydrology, clouds, seasonal weather cycles, and the instruments used in meteorology such as radar and satellites. It also delves into specific weather events like lightning, thunderstorms, tornadoes, hurricanes, and the intriguing optics of the sky. Furthermore, the book addresses climate and climate change, providing a timely discussion on a critical global issue.
Alan uses everyday analogies and personal anecdotes to make the science relatable, such as comparing weather principles to household dynamics and matrimony. He encourages readers to appreciate the beauty and complexity of weather, from the geometry of snowflakes to the unpredictability of weather scenarios. The book also emphasizes the importance of safety and health in relation to weather, offering practical advice on sun safety and the impacts of ultraviolet radiation.
The writing style is conversational and educational, aiming to answer common questions about weather while inspiring curiosity and a deeper appreciation for the natural world. Sealls' passion for meteorology shines through, making "Weather Things you Always Wanted to Know" an enjoyable read for anyone interested in the subject, whether they are novices or weather enthusiasts.
Pick up a copy at alanseallsauthor.com
Category: ALL POSTS, Hodgepodge
Bill Murray is the President of The Weather Factory. He is the site's official weather historian and a weekend forecaster. He also anchors the site's severe weather coverage. Bill Murray is the proud holder of National Weather Association Digital Seal #0001 @wxhistorian


Bill Murray
2023-11-06 15:00:53

All news and articles are copyrighted to the respective authors and/or News Broadcasters. eWeatherNews is an independent Online News Aggregator

Read more from original source here…