Tuesday Weather Xtreme Video: Warm and Sunny Again Today
4 min read
?
Our fine run of October weather continues today as high pressure remains firmly in control over the eastern United States. A stationary front remains to our northwest. That front will back up over the next couple of days into the Midwest before coming back south late in the week. Until then, the next couple of days will feature warm and dry weather.
MOSTLY DRY MIDWEEK: Today will be another mostly sunny and warm day across Central and North Alabama. High temperatures will warm into the lower 80s on average this afternoon. Moisture levels will be rising steadily into tomorrow as easterly winds around the base of the surface ridge begin to funnel some Atlantic moisture into Alabama. It will feel quite humid by tomorrow, with dewpoint rising back to summerlike levels in the middle 60s. Highs tomorrow will be a degree or so warmer than those of today. A rogue shower could show up near the Georgia border by late Wednesday, but that chance is small. We are tracking a weak low-pressure system and large mass of moisture over the northwestern Caribbean and southern Gulf of Mexico near the Yucatan. That moisture will work its way northward late in the week and start infiltrating Alabama. A few showers could show up by late Thursday with the heat and humidity in place. Rain chances will still be low, however. Highs Thursday will still be in the lower 80s. Overnight lows will be creeping up toward the middle 60s.
WEEKEND OUTLOOK: By Friday morning, a cold front will be approaching St. Louis. Moisture levels over Alabama will be high as well, setting the stage for a good chance for showers and storms Friday afternoon and Friday night. Increased clouds and rain chances will hold afternoon temperatures in the upper 70s to near 80 on Friday. The front will be approaching I-59 by Saturday morning, and a few showers will linger across Central Alabama during the day. There could be some isolated thunder as well. Saturday highs will be limited to the upper 70s. Behind the front, pleasant conditions are expected for Sunday, with mostly sunny skies and highs in the upper 70s after morning lows in the upper 50s.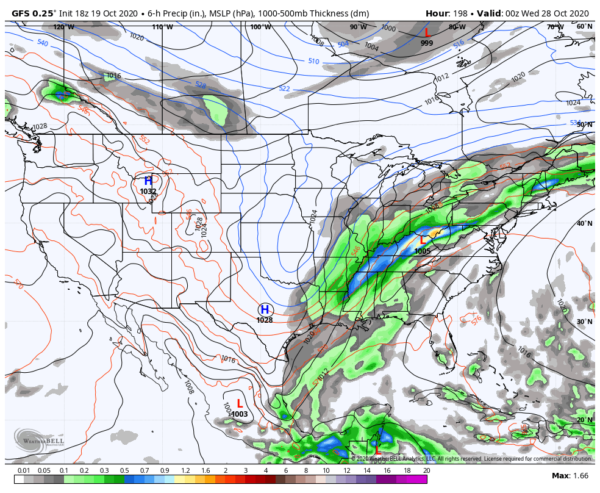 VOODOOLOOK: A stronger, slow-moving front will work its way into the Southeast on Tuesday the 27th and Wednesday the 28th. That will set the stage for much cooler and drier conditions through the end of the period, Wednesday, November 4th.
TROPICS: Tropical Storm Epsilon is about 700 miles southeast of Bermuda this morning. Top winds are approaching 60 mph now and the storm is expected to become a hurricane by tomorrow. It is expected to steadily strengthen through Friday and should be a strong category one hurricane as it passes east of Bermuda Friday. On its official track, its closest approach the island nation will be around 140 miles to the east on Friday morning. Winds will reach tropical storm force after midnight Thursday night and will peak around 9 a.m. Friday morning, at 40-45 mph with gusts to 50 mph. The hurricane is expected to be beginning its turn to the north and northeast by that point. It should pass well southeast of the Canadian Maritimes over the weekend. We still will be watching the Caribbean as we head toward the first week of November for some sort of tropical development. Don't be surprised to see a hurricane develop in that region during that period.
BEACHCAST: One more perfect day along the beautiful beaches of Alabama and Northwest Florida before showers return on Wednesday. Showers and storms will become more likely Thursday and Friday. Highs will be in the lower 80s today and tomorrow, lowering to the upper 70s by Friday. Overnight lows will be near 70F. The rip current risk will remain high for much of the week ahead. Water temperatures are still running in the lower 70s.
Click here to see the Beach Forecast Center page.
NATIONALLY: Widespread snow is expected today across much of Minnesota and northern Michigan, where Winter Weather Advisories are in effect. 2-5 inches of wet snow is expected in Minneapolis.
DANCING WITH THE STATS: 3.91 inches of rain yesterday at Paducah KY established a new record for the date as a stationary front remained draped across the Ohio Valley.
WEATHERBRAINS: Great show this week with AMS President-Elect Mike Farrar talking about the state of weather modeling. The always lively Betsy Kling from WKYC in Cleveland joined the show as well. Check out the show at www.WeatherBrains.com. You can also subscribe on iTunes. You can watch the show live at live.bigbrainsmedia.com or on James' YouTube Channel You will be able to see the show on the James Spann 24×7 weather channel on cable or directly over the air on the dot 2 feed.
ON THIS DATE IN 1983: The remnants of Pacific Hurricane Tico moved over Oklahoma, dumping up to a foot of rain in some areas. Shawnee picked up 14 inches. Follow my weather history tweets on Twitter. I am @wxhistorian at Twitter.com.