TROPICAL WEATHER OUTLOOK / 2024 HURRICANE SEASON THOUGHTS…ISSUED NOV. 08, 2023…12:40 P.M. EST
8 min read
ALL forecasts herein are the result of my analysis, (to which you will see me at times, insert excerpts from various agencies due to the nature of the importance of the information) and I am solely responsible for the content.  As ALWAYS, follow the National Hurricane Center, National Weather Service, and your local Emergency Management officials for emergency decisions.  In addition, this is strictly a FORECAST OFFICE.  I CANNOT make decisions regarding travel plans, etc.  My purpose, is to provide you the information based solely on information I analyze, and the accuracy of the information at hand of the time of analysis, so you may make informed decisions.
(T. F. "Storm" Walsh)
For those who have donated to my site, your help has been greatly appreciated.  If you are not aware, donations to my site help pay for subscriptions to sites I use as well as software updates, which provide all the models and information used in my forecasts.  To donate, please click the DONATE button to the right side of the page, or on the graphic of the dog.  Any help you provide is immensely appreciated!
DONATIONS ACCEPTED AND APPRECIATED

If any of my subscribers here are on Facebook, and are in any of the weather groups I posted in, please let everyone know that Facebook suspended my old account.  Since I may not be able to access Facebook anymore, you may follow me on twitter.  The twitter button on the left of the page does not work.  Please follow me here:  https://twitter.com/Michael1227910
If you wish to become an email client and receive my forecasts by email, please send me an email at the email address at the bottom of the page…subject: EMAIL CLIENT.
I will reiterate, my forecasts are based on the available information at the time of analysis, and are only as accurate as the information analyzed and the solutions provided.  Keep in mind, if a forecast doesn't exactly pan out, remember, the atmosphere is fluid in motion.  When models are being analyzed, that's just one run, and I have to go with what is presented.  After that, models don't update again for another 4 – 6 hours, so, what happens between that time is unknown, and forecast conditions can change slightly, to greatly.  This will have an effect on my actual forecast.  Unless otherwise noted, satellite imagery is provided through Weathernerds.org

The following is my outlook forecast for the 2023 Atlantic Hurricane Season:
STORM W SEASONAL FORECAST
TOTAL NAMED STORMS: 14– 16
TOTAL HURRICANES :        5 – 7
MAJOR HURRICANES:        3 – 4

AVERAGE HURRICANE SEASON:
TOTAL NAMED STORMS: 14
TOTAL HURRICANES:         7
MAJOR HURRICANES:        3

SEASON TOTALS:
NAMED STORMS:          19
HURRICANES:                 7
MAJOR HURRICANES:  3
The following are the storm names for the 2023 hurricane season.  As each storm is named, they will be colored in red in order to keep track of the used names in the list:
Arlene Bret Cindy Don Emily Franklin Gert Harold Idalia Jose Katia
Lee Margot Nigel Ophelia Philippe Rina Sean Tammy Vince Whitney
Greetings everyone! 
As a reminder, when forecasting tropical systems, if there are numerous systems to deal with, I always update on the systems that may present an impact or threat to either the U. S. or the Caribbean islands.  Anything far out in the Atlantic or something that may re-curve, take a lower priority as there is more time to deal with them.  Unless we have a system threatening any area, the forecast office will be closed on the weekends.
Analysis of both the ECMWF and GFS global models are indicating some type of development just east of Nicaragua in about 6 – 10 days in the forecast period from 06Z (1:00 a.m. EST) this morning.  The ECMWF has been slowly coming to this solution, but indicating a much weaker low pressure system.  The GFS is still in crazy mode, indicating a 980 mb hurricane, prior to Jamaica.  The ECMWF doesn't really begin development until around day 9 in the period, with the GFS being much quicker with development at around day 6.  Both models are showing some favorable conditions in their respective time frames, with the GFS indicating a more favorable shear and upper level wind pattern.  While the GFS indicates a well established radial shear pattern over the area and the ECMWF a little less favorable shear and upper pattern, the ECMWF does indicate if a system develops, it will be to the east of an upper level trough.  This type of setup indicates there will be divergence aloft over the area, which would evacuate air in the upper level, which favors development.  Analysis of CHI200 anomalies from both models does indicate a divergent upper pattern over the area per their respective forecast periods.  Based on my analysis of forecast conditions of the Central America area, this possible system should stem from the Central American Gyre.  The following is a mix of the ECMWF and GFS forecast conditions.
ECMWF AND GFS MSLP ANOMALIES AND SHEAR FORECAST


ECMWF 200 MB STREAMLINE PATTERN FORECAST (INDICATES UPPER TROUGH)


ECMWF CHI200 ANOMALIES FORECAST (INDICATES DIVERGENT UPPER PATTERN)


The ECMWF EPS Cyclone formation probability forecast currently indicates a 50% probability of a Tropical Depression by day 9 in the forecast period.


I will continue to monitor this area for development during the next 5 – 7 days, and will update should there be any changes in the forecast conditions.
Elsewhere, I just wanted to give a little "brief", or "tease" if you will, regarding the "possibility" of a very active 2024 Atlantic Hurricane season.  While there is very little information to work with at the moment, and sparse climate model data (which means this should be taken right now as low confidence), information does indicate pretty much a reversal in the current pattern, just prior to, or right at the beginning of next years season.  Current climate model predictions indicate El Nino to weaken quickly, changing to a weak to moderate La Nina, and if not, at least to an El Nino Modoki.  In a El Nino Modoki pattern, SST anomalies become warmest in the central Pacific vice the EPAC.  This pattern has pretty much the same effect as a La Nina, reducing wind shear over the Atlantic Basin as well as stability.  Analysis of the CanSIPS model, as well as a limited few other models indicate El Nino to shift to La Nina or a Modoki pattern:
CANSIPS SEASONAL SST ANOMALY FORECAST


CLICK GRAPHIC FOR MORE CLIMATE MODELING (SSTA for JUN 2024)


Even the ECMWF is leaning towards these conditions, indicating the demise of El Nino.  Click the graphic to play the animation:


Looking at the CanSIPS model, you'll not colder anomalies in the far northern Atlantic, much warmer anomalies over the MDR, and a cooler look in the Pacific relative to the Atlantic.  Where the colder anomalies are, there will be sinking air, while over the MDR region, maximum net lift will be available, with a focus of heat energy and upward motion, which would enhance instability.


Current forecast model graphs also indicate El Nino weakening.


Click the following graphic for more climate modeling


The CanSIPS model also indicates lower MSLP anomalies over the Atlantic for the 2024 season.
CANSIPS MSLP ANOMALY SEASONAL FORECAST


Even though the modeling is limited at the moment and is in the very extended range, the forecast conditions, if they materialize, would point toward a very active hurricane season.  Conditions this season were very different, which allowed for the number of systems that occurred.  Although we have a strong El Nino, and a positive IOD (both which are negating factors), the Atlantic SST anomalies were off the chart (so to speak).  This had a offsetting effect to the negating factors.   You are probably asking yourself, "haven't we had a very active season so far?"  Well, yes and no.  Though we are currently up to 19 total named storms, in actuality, we're not.  I noticed prior to the season or a little into it, some folks were predicting at 20 named systems.  However, here lies the problem with the current total.  The NHC is STILL in the routine of designating and naming systems, that DO NOT FULLY meet the criteria to be designated TROPICAL or even subtropical.  Again this year, we've seen systems with defined LLC's, but no deep convection near the center, or systems that are obviously sheared with exposed centers, and even a couple that were still attached to frontal systems.  Those are not really Bona fide systems.  So, in actuality, we should be sitting at 14 -15 TOTAL.  IF the SST anomalies forecast holds true, El Nino shouldn't be a factor, and the IOD is forecast to go neutral.  At the same time, conditions for the Atlantic should remain close to the same.

Tropical Cyclone definition:
Tropical Cyclone
A warm-core non-frontal synoptic-scale cyclone, originating over tropical or subtropical waters, with organized deep convection and a closed surface wind circulation about a well-defined center. Once formed, a tropical cyclone is maintained by the extraction of heat energy from the ocean at high temperature and heat export at the low temperatures of the upper troposphere. In this they differ from extratropical cyclones, which derive their energy from horizontal temperature contrasts in the atmosphere (baroclinic effects).
I performed some further analysis this morning with current forecast ONI (Oceanic Nino Index) forecast values, and MEI values, comparing them to past hurricane season values to try and come up with some early numbers based on closest analog years regarding the forecast ONI and past MEI values.  As it stands at the moment, based on ONI values, but mainly the "trend", 3 analogs came up, and averaged out to 17 named storm, 8 hurricanes, and 3 major hurricanes.  Again, take this with a grain of salt right now, because as we get into spring of 2024, I'll have more parameters to work with.  IF this all comes to fruition however, and if more favorable parameters show up prior the the 2024 season, we could be above the numbers I just posted.
The following map will allow to get information from your NWS office.
NWS WATCH / WARNING DISPLAY (LINKED…CLICK MAP, THEN YOUR AREA)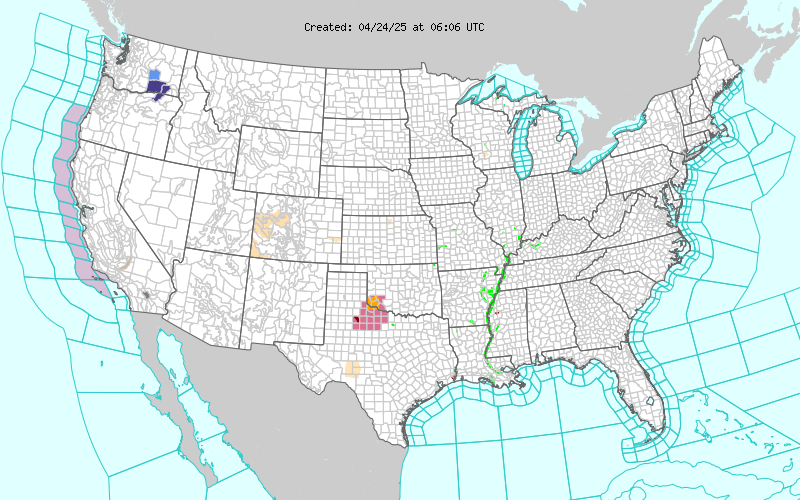 NWS DOPPLER RADAR LOOP (LINKED, CLICK RADAR MAP)


RAP RADAR (CLICK IMAGE THEN RADAR SITE…ONCE YOU CLICK THE SITE, GO TO LOOP DURATION TO CREATE A LOOP)

CARIBBEAN RADAR (CLICK IMAGE)


You may direct any questions by contacting me personally, ANYTIME, at: twalsh22000@yahoo.com
Have a blessed day!
T. F. "STORM" WALSH III
GMCS, USCG (ret)
METEOROLOGIST / HURRICANE SPECIALIST /SEVERE WEATHER SPECIALIST


palmharborforecastcenter
2023-11-08 17:34:33

All news and articles are copyrighted to the respective authors and/or News Broadcasters. eWeatherNews is an independent Online News Aggregator

Read more from original source here…