TROPICAL STORM ZETA FORECAST SYNOPSIS…ISSUED OCT. 27, 2020…8:45 P.M. EDT
7 min read
Disclaimer:  This site is not affiliated with the National Hurricane Center, Hurricane Hunters, Storm Prediction Center, or National Weather Service.  ALL forecasts herein are the result of my analysis, and I am solely responsible for the content.  As ALWAYS, follow the National Hurricane Center, National Weather Service, and your local Emergency Management officials for emergency decisions.  In addition, this is strictly a FORECAST OFFICE.  I CANNOT make decisions regarding travel plans, etc.  My purpose, is to provide you the information, based solely on information I analyze, and the accuracy of the information at hand of the time of analysis, so you may make informed decisions.
(T. F. "Storm" Walsh)
For those who have donated to my site, your help has been greatly appreciated.  If you not aware, donations to my site help pay for subscriptions to sites I use, which provide all the models and information used in my forecasts.  Without these sites, I'm pretty much left in the dark.  The F5 Data maps I post as well, is another out of pocket expense (monthly subscription).  Updates to software (weather related), are also out of pocket to me.  To donate, please click the DONATE button to the right.  Any help you provide is immensely appreciated!  Without your help, I may not be able to continue paying the monthly subscription charges for access to all of the best information I use in my forecasts.
DONATIONS NEEDED AND APPRECIATED
Greetings to everyone!
Please be aware, even though I do not post every night, rest assured I am continuously monitoring the tropics.  I will be taking Sundays off (family time), unless we have active systems that may be posing a threat, or development of new systems (i.e. INVESTS).
The following are the storm names for the 2020 hurricane season.  The names in bold red have already formed this season:
Arthur Bertha  Cristobal  Dolly  Edouard  Fay  Gonzalo  Hanna  Isaias Josephine Kyle Laura Marco Nana  Omar  Paulette  Rene  Sally  Teddy
Vicky Wilfred
We are now into the Greek alphabet as far as storm names.  The following names in bold red have been used so far:
Alpha Beta Gamma Delta Epsilon Zeta Eta Theta Iota Kappa Lambda

STORMW's SEASONAL FORECAST
TOTAL NAMED STORMS: 18 – 21
TOTAL HURRICANES :        7 – 10
MAJOR HURRICANES:        4 – 6

AVERAGE HURRICANE SEASON:
TOTAL NAMED STORMS: 12
TOTAL HURRICANES:         6
MAJOR HURRICANES:        2
2020 SEASON TOTAL:
NAMED STORMS: 27
HURRICANES: 11
MAJOR HURRICANES: 4

U.S. LANDFALLS: 10
I've given thought to this, due to the time it takes to ACCURATELY analyze the global and hurricane models and the various parameters that need to be analyzed, collecting important graphics, then having to type the synopsis, I will continue to post links from the NHC and other sites as necessary, with the information you need as far as surge, storm information, watches and warnings, local NWS forecast conditions and statements, actions to be implemented, etc. if a storm is threatening.  IF YOU SEE A LINK, PLEASE CLICK IT, as there is VALUABLE information to help you prepare and stay abreast, and could save your life.  This is less time consuming and contains ALL the information you'll need to prepare for a tropical storm or hurricane should it be forecast to affect your area.
Good evening!
Again, I am going to limit graphics this evening, in order to get the information out.
Hurricane ZETA was downgraded to a Tropical Storm today, having crossed the Yucatan Peninsula, and emerging back into the GOMEX.  Satellite loop imagery indicates a CDO becoming better developed over the center of the storm.
GOES 16 SATELLITE LOOP IMAGE (CLICK IMAGE)

Water vapor loop imagery currently indicates ZETA is protected from mid level dry air:
GOES 16 WATER VAPOR LOOP (CLICK IMAGE)

COD NWS RADAR LOOP (CLICK IMAGE FOR ANIMATION CONTROLS)


As of the 8:00 p.m. intermediate advisory from the NHC, the following was available on ZETA:
7:00 PM CDT Tue Oct 27
Location: 23.2°N 90.8°W
Moving: NW at 14 mph
Min pressure: 990 mb / 29.23 in
Max sustained: 65 mph
ZETA is moving to the NW at 14 mph.  Based on my analysis again this evening of forecast steering layers maps, and 18Z track guidance, there is really no change in forecast track thinking.  Zeta should begin the northward turn sometime Wednesday morning as it continues around the western periphery of the ridge.  ZETA should begin to accelerate and by late Wednesday afternoon to early evening, a turn toward NNE should occur due to the approaching shortwave trof I've been mentioning.  Based on this, and the very tightly clustered ATCF track guidance, along with various ensemble members, I agree with the NHC forecast track.  However based on the current steering layer and position of ZETA, I believe landfall could be a little east of the actual NHC forecast track.  ZETA could come ashore in the marked area on the Louisiana map, however I cannot rule out a slight shift east in track.
NHC FORECAST TRACK


LOUISIANA MAP


18Z ATCF TRACK GUIDANCE


VARIOUS ENSEMBLE MEMBERS


Maximum sustained winds were 65 MPH.  It is noted that the central pressure has risen 6 mb from the 5:00 p.m. update.  However, based on my analysis of current IR GRAYSCALE loop imagery, it appears ZETA may be getting ready to go through an intensification period, as it appears an eye like feature is trying to develop, and hot towers were noted toward the center.
GOES 16 IR GRAYSCALE LOOP (CLICK IMAGE)

Based on my analysis of the wind shear forecast from the ECMWF and GFS models, upper level winds are still forecast to remain favorable for the next 24 – 30 hours with an upper level anticyclone remaining over ZETA, and 200 mb outflow for the next 24 hours.  By the end of the 24 hour period, outflow becomes somewhat displaced, however upper level may still be occurring, as the storm will be under the influence of the Right Entrance Region of an upper level jet.  OHC is still at the threshold of 50 kj/cm2, which should allow for ZETA to intensify back to hurricane status.  Based on these parameters, I concur with the NHC current intensity forecast, however I will not rule out ZETA intensifying to around 90 mph before conditions become unfavorable for further strengthening prior to landfall.  SHIPS guidance does indicate shear to increase to 30 kts by 36 hours from 18Z today.  Based on the NHC intensity forecast, ZETA should make landfall as an 80 mph CAT 1 hurricane.  However, if ZETA intensifies at a faster rate, then the storm could be stronger at landfall.  Albeit this is an uncertainty at the moment, I cannot rule it out.
NHC INTENSITY FORECAST
INIT 27/2100Z 22.7N 90.3W 55 KT 65 MPH
12H 28/0600Z 24.5N 91.3W 70 KT 80 MPH
24H 28/1800Z 27.9N 91.0W 70 KT 80 MPH
36H 29/0600Z 32.4N 87.8W 45 KT 50 MPH…INLAND
48H 29/1800Z 37.2N 81.3W 30 KT 35 MPH…POST-TROP/EXTRATROP
60H 30/0600Z 40.0N 70.5W 40 KT 45 MPH…POST-TROP/EXTRATROP
72H 30/1800Z…DISSIPATED
The following is the experimental peak surge map from the NHC


The following is surge data from the SLOSH software data base:
ZETA APPROXIMATE SURGE VALUES MEAN TIDE


HIGH TIDE


Based on calculations using the I.K.E. calculator, SDP (Surge Destructive Potential) may be at 2.57, based on a scale of 0 – 6.
The following is the NWS Warning and Hazard display.  Click the map, and when the map posts, click on your area of interest for update NWS information
NWS WARNING AND HAZARD MAP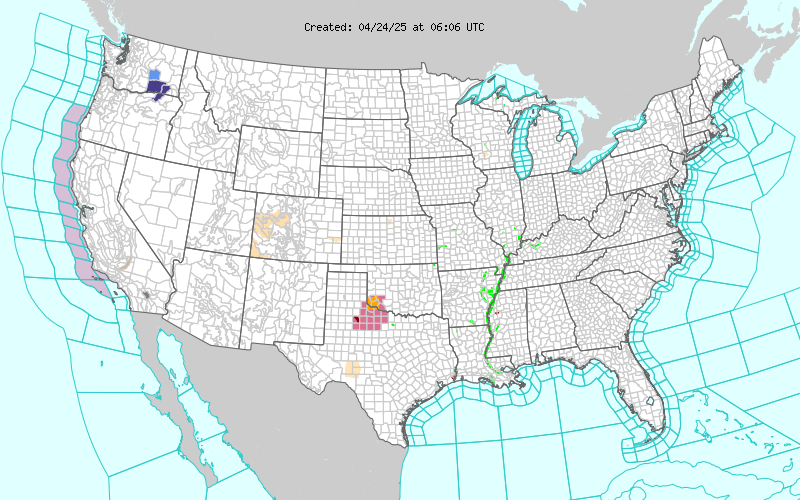 Watches and Warnings have been issued by the NHC.  IF you are under a HURRICANE WARNING, your hurricane preparedness plan should be CLOSE TO COMPLETE!
NHC WATCH/WARNING MAP


The following links will provide you with current storm information, local NWS updates and actions to be taken, as well as what effects can be expected:
NHC PUBLIC ADVISORY
https://www.nhc.noaa.gov/text/refresh/MIATCPAT3+shtml/262354.shtml?
NHC GRAPHICS PAGE
https://www.nhc.noaa.gov/refresh/graphics_at3+shtml/211404.shtml?radii#contents
LOCAL NWS HURRICANE PRODUCTS (CLICK ON THE BOLD BLUE TEXT)
https://www.nhc.noaa.gov/text/refresh/index_hls3+shtml/262155.shtml?
WPC 5 DAY QPF FORECAST

ECMWF


GFS


I will continue to monitor ZETA for any significant changes over the next 24 hours.
You may direct any questions by contacting me personally, ANYTIME, at: twalsh22000@yahoo.com
Have a blessed evening!
T. F. "STORM" WALSH III
GMCS, USCG (ret)
METEOROLOGIST / HURRICANE SPECIALIST /SEVERE WEATHER SPECIALIST
MEMBER WEST CENTRAL FLORIDA AMS