Threat for a Few Brief Tornadoes Continue for the Florida Panhandle : The Alabama Weather Blog
2 min read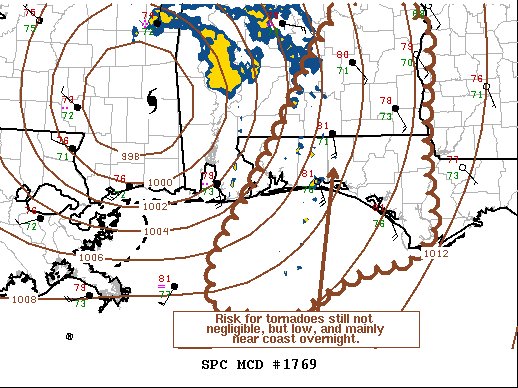 SUMMARY: At least some risk for storms capable of producing tornadoes may linger into the overnight hours, mainly along the coastal areas of the Florida Panhandle through 1-4 AM CDT. It is not certain that a new tornado watch will be needed, but this will be coordinated prior to the Midnight CDT expiration of Tornado Watch 502.
DISCUSSION: The remnants of Zeta continue to migrate rapidly inland of the Gulf coast, and the mid-level warm core is in the process of spreading across southeastern Mississippi into southwestern Alabama. This generally appears to also coincide with shrinking of low-level hodographs, and diminishing tornado potential, in response to veering and weakening of low-level flow, which will spread toward the Alabama/Georgia border through 06-09z.
In advance of the mid-level warm core, despite the ongoing weakening of Zeta, south-southeasterly wind fields around the 850 MB level may remain on the order of 50-80 kt well into the overnight hours. It appears that this will include 50+ kt (and enlarged clockwise curved low-level hodographs) as far south as coastal portions of the Florida Panhandle, where surface dew points in the mid-70s F are maintaining sizable mixed-layer instability. Further inland, where surface dew points are being maintained in the lower 70s, and some surface cooling has occurred, instability appears appreciably weaker, and the extent to which the environment may be conducive to the risk for tornadoes is becoming more unclear. The potential for tornadoes may not be completely negligible, but it may become increasingly focused in association with lingering bands of discrete cells forming over the northeastern Gulf of Mexico, before spreading inland across coastal areas of the Florida Panhandle through 1:00 am to 4:00 am.
From the SPC's Mesoscale Discussion 1769
Category: Alabama's Weather, ALL POSTS, Severe Weather, Tropical
Scott Martin is an operational meteorologist, professional graphic artist, musician, husband, and father. Not only is Scott a member of the National Weather Association, but he is also the Central Alabama Chapter of the NWA president. Scott is also the co-founder of Racecast Weather, which provides forecasts for many racing series across the USA. He also supplies forecasts for the BassMaster Elite Series events including the BassMaster Classic.