Superstorm Sandy's deadly and destructive legacy
3 min read
Sandy did an estimated $86.5 billion in damages (2023 dollars) and is the fifth most destructive "hurricane" in U.S. history.
WASHINGTON — Longtime Washingtonians will remember the major impacts that occurred 11 years ago with Hurricane Sandy. It set several records in the nation's capital and ranks as one of the costliest natural disasters in U.S. history. 
Sandy was the strongest hurricane of the 2012 hurricane season as a Category 3 storm with sustained winds of 115 mph and a minimum central air pressure of 940 millibars. It weakened considerably before its landfall in New Jersey as it moved over cooler water and into an increasingly unfavorable environment for a tropical storm or hurricane.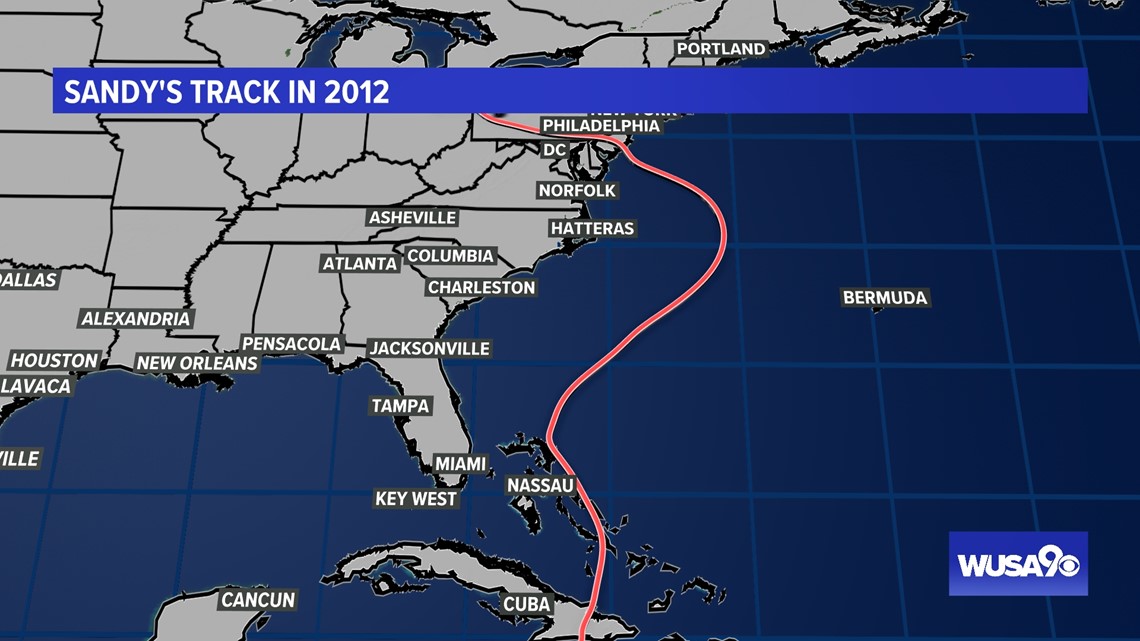 Consequently, the structure of the storm changed and Sandy was declared a "non-tropical" or "post-tropical" storm, by the National Hurricane Center. That led to a great deal of confusion for residents of the Mid-Atlantic and northeastern United States who thought Sandy was no longer a threat after the hurricane watches and warnings were discontinued.
Sandy was subsequently dubbed a "Superstorm" and made landfall in New Jersey as the equivalent of a Category 1 hurricane with sustained winds of 80 mph and a minimum central pressure of 946 millibars. Unfortunately, as Sandy transitioned to a non-tropical storm, the wind field and rain shield associated with it each increased in diameter. In other words, Sandy became a larger storm, not in intensity, but in size and that allowed for a larger area to be impacted.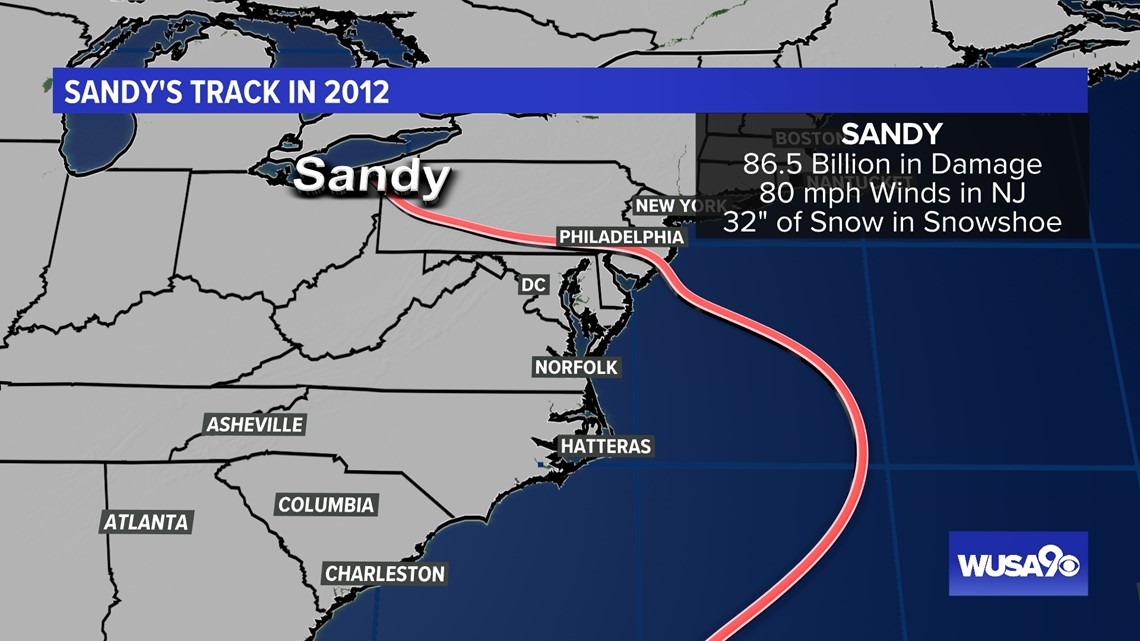 Since Sandy was no longer a hurricane, the government policy at the time was for all hurricane and tropical storm watches and warnings that had been in effect to be discontinued. To prevent a future occurrence of the confusion that this led to during Sandy, the National Hurricane Center updated its policy and will now keep relevant watches and warnings in effect after a system is declared "post-tropical" or "non-tropical."
Sandy had the second-lowest pressure of any storm to come ashore north of Cape Hatteras, N.C. The cities of Baltimore, Atlantic City, Philadelphia, and Trenton all set records for the lowest air pressure reading, according to NOAA. The lower the air pressure is, the stronger the storm. Also, the higher winds which result are due to a stronger pressure gradient (a greater difference in air pressure over a shorter geographic distance).
Record flooding also occurred in New Jersey, New York City, and on Long Island, N.Y. with epic storm surges. Tens of thousands were left without electricity or heat for weeks. New York and New Jersey also updated their building codes following the unprecedented damage that occurred. For example, the NYC Department of Buildings added new requirements that mandate "…relocation and protection of building systems, cables, and fuel storage in flood-prone areas through amendments to the fire, electrical, and mechanical codes."
Locally, there were record rainfall totals with two-day totals of 4.69" at National Airport, 5.26" at Dulles Airport and 6.43" at BWI Airport on October 29 – 30. Eye-popping snowfall totals also occurred as Sandy pushed further inland and into the higher elevation of the Appalachian Mountains. In West Virginia, for example, Richwood saw 36" of snow, Snowshoe got 32", and Davis had 28".
Sandy did an estimated $86.5 billion in damages (2023 dollars) and is the fifth most destructive "hurricane" in U.S. history, behind only Katrina, Harvey, Ian, and Maria. Sandy also claimed almost 150 lives in the United States. Her cruel legacy of hardship will not soon be forgotten.

2023-10-31 02:20:07

All news and articles are copyrighted to the respective authors and/or News Broadcasters. eWeatherNews is an independent Online News Aggregator

Read more from original source here…