Sunday Weather Xtreme: Freeze Tonight for Parts of North and North Central Alabama : The Alabama Weather Blog
4 min read
I hope that you set your clock back before going to bed last night. That way you didn't miss out on that extra hour of sleep. That's just one of many things to talk about, including the potential for a freeze overnight tonight and Tropical Storm Eta. Don't worry, no threat to Alabama or the Gulf Coast.
LOOKING BACK ON SATURDAY: Saturday was a beautiful final day of October across Alabama. With beautiful blue skies, temperatures warmed into the upper 60s and lower 70s. Overnight lows were in the upper 40s to lower 50s. Some low cloudiness began to work into eastern parts of the state by afternoon as low-level flow returned to southeasterly and brought in some moisture. That cloudiness and some patchy fog continued to increase overnight as the temperature cooled to the saturation point in the lower levels of the atmosphere.
LOOKING BACK ON OCTOBER: Time to look back at October. October will finish 5 degrees above normal at Birmingham. Birmingham will also finish 2.08 inches above normal in the precipitation department. The above-normal precipitation is thanks to Hurricane Zeta, which pushed the Magic City over the top. This afternoon we will look forward to November.
FOR YOUR SUNDAY: A strong upper-level trough and a dry cold front is pushing toward Alabama early on this Sunday morning. It is already past Memphis and will push into Northwest Alabama shortly. It should reach I-59 before noon. It will push the cloudiness away quickly, leaving mostly sunny skies in its wake. The main surge of cooler and drier air will arrive later this afternoon on gusty northwesterly winds that will reach 20 mph at times late this afternoon and overnight. Today's highs will range from near 60F over Northwest Alabama, to the upper 60s in the I-59 Corridor, to the lower and middle 70s south. Those highs will mostly occur before noon, with falling temperatures this afternoon. Brisk northwesterly winds will make it feel colder. Winds will gust to 20 mph at times tonight out of the northwest.
FREEZE LIKELY TONIGHT: The colder air tonight will set the stage for a potential freeze across parts of North and North Central Alabama, with frost possible into the I-20 Corridor. Lows will range from 30-32F from parts of Lamar, Fayette, Walker, Jefferson, Shelby, Talladega, Clay, Calhoun, and Cleburne Counties northward including Birmingham, Anniston, and Gadsden. There could even be a few 20s in the normally colder locations of North Alabama. For this reason, NWS Offices in Birmingham and Huntsville have issued freeze warnings for tonight. Widespread frost will be possible Tuesday morning with clear, calm, cold conditions.
TROPICAL STORM ETA formed overnight in the Central Caribbean south of Haiti. It should become a hurricane on Monday. It appears that the hurricane will impact Nicaragua and/or Honduras by Tuesday, where it could be a very impactful disaster. There is a lot of uncertainty about the eventual track of the hurricane, as the GFS brings it back out across the Caribbean, across Cuba, into the Florida Straits, threatens Southeast Florida, and then menacing New England. Will be interesting to watch.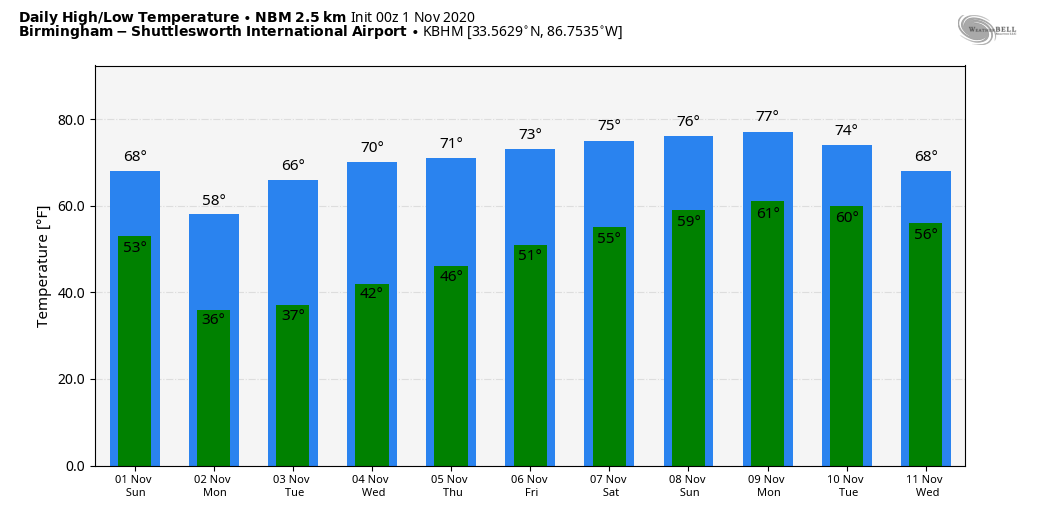 TEMPERATURE FORECAST AHEAD: All we have to do is track troughs, temperatures, and Eta. Monday…Sunny. Tuesday…Sunny. Wednesday…Sunny. Thursday…Mostly Sunny. Friday…Mostly Sunny. Saturday…Mostly Sunny. Highs will be in the 50s Monday, 60s Tuesday, and then 70s the remainder of the week.
VOODOO TERRITORY: A front approaches on the 11th, but it looks dry. We may be completely dry over the next two weeks.
GULF COAST WEATHER: A gorgeous but cool week is in store along the beautiful beaches of Alabama and Northwest Florida. Sunshine will be in ample supply all week into next weekend. Highs will be in the 60s until midweek, with upper 70s returning by the end of the week. Lows will generally be in the 50s. Water temperatures are in the middle 70s. The rip current risk will be low all week.
DANCING WITH THE STATS: Boston set a record daily snowfall total on Friday with 4.3 inches. That also was the snowiest October day on record there, and it also made it the snowiest month of October ever.
ADVERTISE WITH US: Deliver your message to a highly engaged audience by advertising on the AlabamaWX.com website. The site has enjoyed twenty million pageviews in the past 12 months. Don't miss out! We can customize a creative, flexible and affordable package that will suit your organization's needs. Contact me, Bill Murray, at (205) 687-0782 and let's talk.
WEATHERBRAINS: An outstanding show is on deck for this week with Hurricane Hunter Nick Underwood. We will also be joined by the founder of the Indiana ChaserCon, Beth Carpenter. Check out the show at www.WeatherBrains.com. You can also subscribe on iTunes. You can watch the show live at: http://live.bigbrainsmedia.com/ You will be able to see the show on the James Spann 24×7 weather channel on cable or directly over the air on the dot 2 feed.
ON THIS DATE IN 1991: An amazing occurrence happened in a large extratropical storm off the Atlantic coast: a hurricane formed within the large non-tropical low-pressure system. Deep convection developed around the storm center and an eye formed. Winds to 86 knots were reported by Air Force Reconnaissance along with a 4-degree temperature rise in the eye along with a central pressure of 982 mb. Just a couple of days before, the large extratropical cyclone which contained the unnamed hurricane created havoc along the east coast of the United States. By the time the hurricane formed, conditions were improving, so forecasters decided not the name the storm, which was a threat to shipping only. Follow my weather history tweets on Twitter. I am @wxhistorian at Twitter.com.
Category: Alabama's Weather, ALL POSTS, Tropical