Sunday Weather Xtreme: A Light Shower Late Tonight, Rain/Storms Late Wednesday/Thursday
4 min read
It looks like another strong cold front will affect Alabama just in time for the New Year. There may be another transition to some wintry precipitation on the backside of the system. We will get into the details.
SATURDAY HIGHS: Saturday was warmer than Christmas Day across North and Central Alabama. Highs included 53F in Tuscaloosa, 51F in Birmingham, and 49F in Anniston. It was 50F in Huntsville. The coolest high registered in the state was 45F at Valley Head.
WARMUP TO CONTINUE: But we're getting off to a chilly start across the area this morning. Temperatures are generally in the upper 20s across the area. With a good supply of sunshine, temperatures will warm into the middle 50s North, upper 50s North Central, and to around 60F in the US-80 Corridor from Selma to Montgomery.
SURFACE LOW/FRONT: A surface low over Iowa is going to be tracking toward Chicagoland today. It will be slowly intensifying as it goes, with a developing precipitation shield along its track, with snow to the north and rain to the south. A trailing cold front will be near the Mississippi River by tonight and a few showers will break out along it. A few light showers will make it into Northwest Alabama after midnight. Those showers will make it to I-59 after sunrise. It will become breezy ahead of the front, with winds gusting to over 20 mph at times during the evening and overnight. Lows will be in the middle 30s to lower 40s.
MONDAY/TUESDAY: High pressure will be in control of Alabama's weather for the first part of the short week. Highs will still be typical for late December, in the mid and upper 50s for the most part. Lows will be in the upper 30s to lower 40s.
NEXT SYSTEM: The high will shift to the east on Tuesday and our winds will back around to the south and southeast again. Moisture levels will be on the rise and by Tuesday night, clouds will be increasing again. Skies will be partly sunny to mostly cloudy on Wednesday, with increasing clouds during the day. After morning lows in the 40s, highs will warm into the upper 50s and lower 60s. Showers will reach West Alabama by late afternoon and increase through the overnight hours, with some thunder. The rain and storms will continue into much of Thursday and perhaps Thursday night. There is a chance of severe weather Thursday.
CHANGE TO WINTRY: It appears that any change to snow or ice will occur to the northwest of Alabama. There could be a few snowflakes again over North Alabama Friday, but it doesn't look like accumulations will be a problem at this time.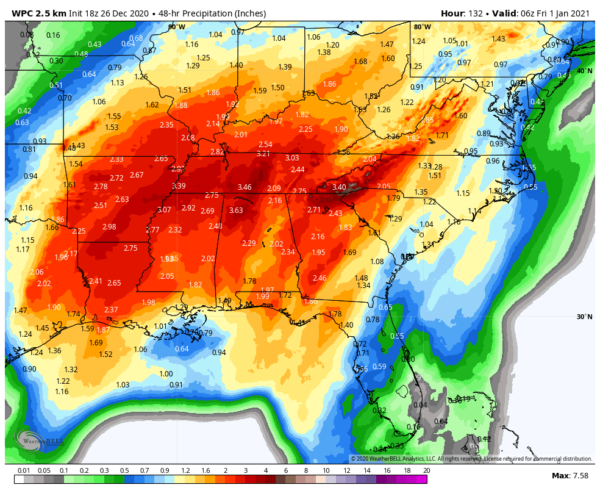 RAIN AMOUNTS: 2-4 inch rainfall amounts will be common across the northern two-thirds of Alabama from the mid to late week system, with the heaviest amounts over Northwest Alabama.
WEEKEND: High pressure builds in for the weekend, leading to fair skies and cool conditions. Highs will be in the 40s and lower 50s. Lows will be in the 20s to lower 30s.
VOODOO TERRITORY: It looks like there will be a couple of rain systems on the 7th and again on the 10th/11th.
BEACHCAST: Click here to see the Beach Forecast Center page.
DANCING WITH THE STATS: Record high temperatures across Maine yesterday at Caribou (55F) and Millinocket (54F). The normal high at Caribou is 23F. Today's high will be closer to normal there.
ADVERTISE WITH US: Deliver your message to a highly engaged audience by advertising on the AlabamaWX.com website. The site enjoyed over 20 MILLION pageviews in the past 12 months. Don't miss out! We can customize a creative, flexible, and affordable package that will suit your organization's needs. Contact me, Bill Murray, at (205) 687-0782, and let's talk.
WEATHERBRAINS: This week, the panel will entertain Greg Carbin and his Meteorological Memories of 2020. The Season Ender is always a highlight. Check out the show at www.WeatherBrains.com. You can also subscribe on iTunes. You can watch the show live at live.bigbrainsmedia.com or on James' YouTube Channel You will be able to see the show on the James Spann 24×7 weather channel on cable or directly over the air on the dot 2 feed.
ON THIS DATE IN 1892: 18.6 inches of snow fell during a winter storm at Norfolk VA to establish a single storm record for that location. 17.7 inches of snow fell there in 24 hours. Raleigh NC picked up nearly 10 inches of snow. Snow was reported in northern Florida for the first time in 35 years. Follow my weather history tweets on Twitter. I am @wxhistorian at Twitter.com.