Sunday Weather Briefing Video: Watching History in the Pacific and the Atlantic Comes to Life : The Alabama Weather Blog
7 min read
Today will be a historic day in weather history as a tropical storm impacts Southern California for the first time since 1939 and only the second time since modern records have been maintained. We will dig into the details about Hilary and its impacts on the Southwest in today's package. The good news is, our weather here in Alabama can be summed up in just three words: hot and dry. Unfortunately, heat impacts are going to be increasing for us as we go toward mid and late week.
HURRICANE HILARY: The center of a weakening Hurricane Hilary is brushing Punta Eugenia on the west coast of Baja California early this morning. Hilary is a minimal hurricane now and is expected to weaken further to tropical storm status as it continues to move over colder water and a larger proportion of its circulation is over land. Still, this will be an impactful and historical storm for the Southwest. Flash flood watches reach all the way into eastern Oregon and southwestern Idaho. Hilary will make landfall this afternoon as a tropical storm with 45 to 60 mph winds somewhere between the northern Baja and Los Angeles, perhaps in the San Diego area. If this does indeed occur, it would be the first tropical storm landfall in southern California since the Long Beach tropical storm of 1939. The first ever Tropical Storm Warning has been issued for California and this watch covers extreme southern California, including San Diego and Catalina Island.
Tropical storm conditions will affect coastal parts of southern California during this afternoon into Monday. Southward facing beaches in southern California may see wind gusts to 50 mph. Areas within the Los Angeles and San Diego metros may see 40 to 50 mph wind gusts.
Heavy rainfall with catastrophic amounts of flash flooding is going to be the big concern with Hilary across southern California into southern Nevada. The deserts east of Los Angeles and San Diego could be hit particularly hard with upwards of 5-10 inches of rainfall expected, particularly in the San Gabriel, San Bernardino, and Santa Rosa Mountains. This rain is ongoing now and is expected to continue right through Monday.
HERE IN ALABAMA: Saturday was a sunny and hot day across Alabama. High temperatures ranged from the upper 80s North and East into the lower and middle 90s across Central Alabama. Birmingham topped out at 92F as did Anniston. Calera reached 93F, and Tuscaloosa 96F. A little weak, dry cool front did push across the area, but it is only going to serve to lower dewpoints a smidge, and delay the return of heat advisories until Tuesday. Heat index values will approach 100F in some West Central Alabama locations today, 103F in some locations Monday, 105-107F by Tuesday, 107-109F by Wednesday, and 108F on Thursday. Things will not improve markedly until Sunday afternoon as a trough develops over the eastern United States and breaks the hold of the heat ridge. We should be dry through at least Friday, with nary a summer storm across the Alabama landscape before Saturday afternoon. It looks like showers and storms might become more widespread by Saturday night and Sunday.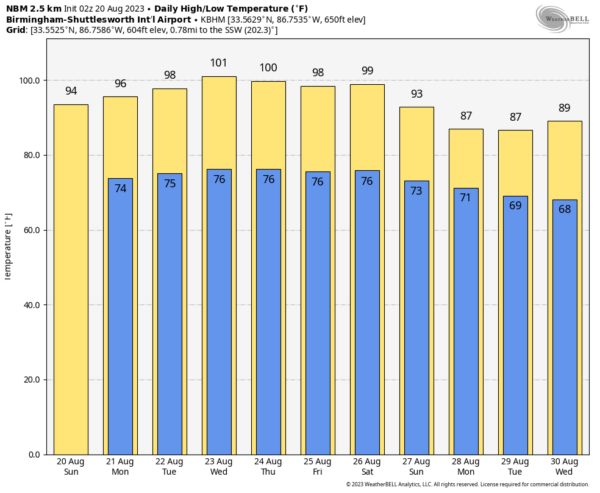 VOODOO WEEK TWO: Lower pressures over the eastern United States and the Southeast will help cool things off a bit in Alabama in the week two period as cloud cover and rainfall chances increase.
BEACHCAST: Chances of showers and thunderstorm are in the forecast today and tomorrow along the beautiful beaches of Alabama and Northwest Florida. High swill be in the upper 90s today, backing off into the lower 90s tomorrow. But readings are going to soar the remainder of the week, flirting with the century mark every day with ridiculous heat index values The heat ridge should keep all moisture south of the coast until Thursday or Friday into the weekend, but even then rain chances will only be about 20% each day. Water temperatures are running in the middle 80s. There is a high rip current risk Monday through Tuesday, so obey hazard flags, please!
Click here to see the Beach Forecast Center page.
IN THE TROPICS: The rest of the Atlantic has suddenly come to life as if someone threw a switch. Tropical depression six formed Saturday about 850 miles east of the northern Leewards. It is expected to recurve east of the islands and weaken to a remnant low by Monday. It is not expected to become Tropical Storm Emily (or any other tropical storm name for that matter).
Invest 90L is near the southern Windwards early this morning. It is given a high probability of becoming a tropical storm over the next 24-72 hours. It is also expected to turn sharply northward over the South Central Caribbean and perhaps impact Hispaniola by Tuesday into Wednesday. It could become a hurricane in the Atlantic north of the islands and will be edging west northwestward by the end of the week. Could we see an over the top high push it back westward into the U.S. East Coast. Stranger things have happened.
POTENTIAL GULF SYSTEM: An area of disturbed weather is passing through the Florida Straits between Cuba and the Bahamas and Keys today and will reach the eastern Gulf of Mexico today and then the western Gulf of Mexico by about Tuesday or so. The latest model guidance and their ensemble members continues to point towards some development at the very last minute as its moving onshore along the middle or lower Texas coast by late Tuesday. We will have to watch this system as it comes ashore along the Texas coast later in the week and a quick spin up into a tropical storm is possible. The reason for this looks to be the combination of favorable environmental conditions and extremely warm Gulf of Mexico waters.
NATIONALLY: 3-5 inches of rain are forecast from Hilary in and around Death Valley California. The average annual rainfall is 2.20" and their all-time record annual rainfall is 4.73" in 2005. So Death Valley has a chance to establish a new annual rainfall record just with the rain they receive from this storm.
DANCING WITH THE STATS: Austin, Texas is in the middle of an amazing and runaway streak of consecutive days at or above 100 degrees. The high on Saturday was 106F, smashing the record for the date by 2 degrees. It marked the 44th consecutive day that it has been 100F or above at Austin-Camp Mabry. What is even more concerning that the streak may continue for the foreseeable future! In fact, the high temperature forecast for every day over the next ten days is likely to be above 100F. This could push that streak out to 54 or more days. The previous record was 27 days in 2011. They may double that record. Of course, any Gulf disturbance could help bring some much needed relief in the heat and drought. To add insult to injury, the wildfire danger in the Hill Country of Texas is at near critical levels as well now. 71% of Texas is in drought. Come on tropical system in the Gulf!!
MORE ABOUT AUSTIN: The hottest temperature in the current streak has been 100F on the August 17th. That is tied for the second hottest ever recorded at Austin Camp Mabry.
SIDEWALK WEEK! This is the week of the 25th iteration of Birmingham's world class film festival. Thousands of film fans will descend on Birmingham's downtown sidewalks start on Monday, but kicking off in earnest with the opening film Friday evening at 7 p.m. at the Alabama theater. Friday night, Saturday, and Sunday will be chock full of dozens of films to check out. Get you passes and tickets now at sidewalkfest.com.
ADVERTISE WITH US: Deliver your message to a highly engaged audience by advertising on the AlabamaWX.com website. We have a lot of big plans for this year. Don't miss out! We can customize a creative, flexible, and affordable package that will suit your organization's needs. Contact me, Bill Murray, at (205) 687-0782 and let's talk.
WEATHERBRAINS: This week, the panel will entertain Dr. Sally Potter and the effectiveness of Impact Based Forecasts and Warnings. The social scientist and researcher will join us from her office in New Zealand. Check out the show at www.WeatherBrains.com. You can also subscribe on iTunes. You can watch the show live on our new YouTube channel for the show.You will be able to see the show on the James Spann 24×7 weather channel on cable or directly over the air on the dot 2 feed.
ON THIS DATE IN 1969: 27 inches of rain was recorded in just 8 hours in Nelson County, Virginia, as the remnants of Hurricane Camille moved through the mid-Atlantic states. Unofficial reports of as much as 31 inches of rain. Disastrous flooding occurs on the James River with 153 fatalities in Virginia. Weather tales tell of birds drowning while perched on tree branches. Follow my weather history tweets on Twitter. I am @wxhistorian at Twitter.com.
Category: Alabama's Weather, ALL POSTS, Tropical


Bill Murray
2023-08-20 12:00:20

All news and articles are copyrighted to the respective authors and/or News Broadcasters. eWeatherNews is an independent Online News Aggregator

Read more from original source here…