Sunday Weather Briefing Video: An Unsettled Week Ahead : The Alabama Weather Blog
5 min read
?
Saturday was a beautiful spring day across Alabama behind a cold front that moved through Friday night, pushing an area of rain and thunderstorms ahead of it. Afternoon readings made it into the middle 70s, right around where they should be this time of year. A cool northwesterly breeze gusted at times, combining with low humidities to make it feel a little cooler. A few clouds arrived overnight, but that didn't keep readings from falling well into the 40s areawide.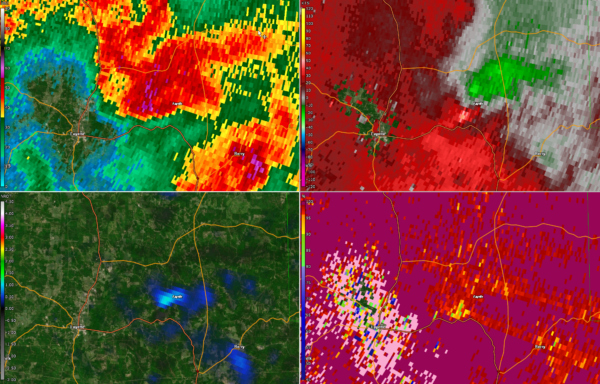 FRIDAY NIGHT SPIN-UP: A brief, weak tornado apparently spun up in Fayette County Friday evening. Trees were reported down by the Fayette County Emergency Manager, but fortunately, we had no reports of property damage or injury. The possible tornado occurred near the comma head of a mesoscale convective vortex that was pushing east-northeastward from eastern Mississippi. The vertex moved through Belk and Fayette with broad rotation just after 7 p.m. That rotation began to increase and tighten as it exited the City of Fayette along US-43 near the community of Stough. This coincided with a storm split that saw the vertex separate itself from the line of storms. The rotation reached its maximum around 7:35 p.m. CDT about 6 miles northwest of Bankston. A debris signature may have appeared on the Correlation Coefficient product in the scan at 7:37 p.m., indicating a possible tornado touchdown. The rotation was at its max at about 7:39 p.m. while it was a couple of miles north of US-43. The rotation weakened over the next two volume scans as the couplet approached AL-13 7 miles north of Bankston at 7:42 p.m. According to Gary Goggins at the NWS Birmingham, they will survey the damage once more information is ascertained. No watches or warnings were in effect when the spin-up occurred. Conditions were just not that favorable for severe storms, and especially not for tornadoes. But we often see storms give a little kick from the increasingly hilly terrain over West Central Alabama. Just another example of when it comes to thunderstorms in Alabama, especially in the spring, expect the unexpected.
FOR YOUR SUNDAY: A second cold front moved into North Alabama and stalled across the Central part of the state. The front is bringing a reinforcing shot of cool air, and you will notice it in today's temperatures. Highs won't get out of the 60s to the north of I-59. The rest of Central Alabama will see highs in the lower and middle 70s. A few showers may develop tonight across the area as a passing shortwave energizes the front. Lows will be in the 40s mostly, although a few of the normally
MONDAY, MONDAY: You can trust this day. It will be a dry and cool one across Alabama, with plenty of sunshine and highs in the middle 60s to near 70F.
SHOWERS AND STORMS ROUND ONE: As an upper-level disturbance drops out of the Rockies and into the Plains, it will intensify, and this will power our next storm system. Showers and storms will be forming to the west of us on Tuesday. Some showers will also form on the old front as it gets a new life as a warm front and retreats toward Tennessee. The widespread lift will bring widespread showers and storms to Alabama and the Southeast on Wednesday. It will be a little cool, but there may be sufficient instability for strong storms mainly south of I-20. Highs on Wednesday will be in the 60s across the northern half of the state, with 70s South. Those showers will exit Wednesday night, but the break will be short-lived.
SHOWERS AND STORMS ROUND TWO: It will be short-lived because another round of showers and storms will invade Alabama on Thursday. Instability values will be a little more pronounced, and strong to severe storms will again be a possibility. Thursday highs will be in the 70s.
THEN THE WEEKEND: Friday will feature clearing skies and no real airmass regime change, so highs will be in the 70s still. When those working days are through, enjoy your weekend, but guess what? Another round of showers and storms. How many is that? I've lost count. This one will be less widespread, and any stronger storms will be in the I-85 Corridor and point south.
VOODOO TERRITORY: After a solid week of nothing but below normal heights across the eastern United States, something called a ridge will build back over the southeastern United States. And that means warmer temperatures, at least by Wednesday, May 3rd. We will get back into the 80s. It looks like rain and storms will hold off until the following weekend the 6th and 7th.
BEACHCAST: Rain Wednesday, Thursday, Friday, and Sunday along the world's most beautiful beaches in Alabama and Northwest Florida. The rest of the week will be dry and seasonably warm. Highs all week will be between 77-79F, or, in other words, simply perfect. Lows will be in the upper 50s to middle 60s. Water temperatures are near 70F. We don't foresee any high rip current risks through Tuesday but still be careful.
Click here to see the Beach Forecast Center page.
DANCING WITH THE STATS: Small hail fell at the NWS Office in Jackson KY on Saturday afternoon. But it goes into the record books as a trace of snow. What the heck, it was a record snowfall for the date there. Go figure.
ADVERTISE WITH US: Deliver your message to a highly engaged audience by advertising on the AlabamaWX.com website. We have a lot of big plans for this year. Don't miss out! We can customize a creative, flexible, and affordable package that will suit your organization's needs. Contact me, Bill Murray, at (205) 687-0782, and let's talk.
WEATHERBRAINS: This week, the panel will entertain Dr. Diana Francis, who is an expert of duststorms. Check out the show at www.WeatherBrains.com. You can also subscribe on iTunes. You can watch the show live on our new YouTube channel for the show.You will be able to see the show on the James Spann 24×7 weather channel on cable or directly over the air on the dot 2 feed.
ON THIS DATE IN 2005: A storm spotter in Plant City, Florida didn't have to go far to spot when a large funnel cloud passed directly over his house, very close to the ground. From the NWS in Ruskin: LARGE FUNNEL CLOUD WITH STRONG ROTATION PASSED OVER SPOTTERS HOUSE AND STAYED JUST ABOVE THE GROUND. Follow my weather history tweets on Twitter. I am @wxhistorian at Twitter.com.
Category: Alabama's Weather, ALL POSTS, Severe Weather


Bill Murray
2023-04-23 12:00:55

All news and articles are copyrighted to the respective authors and/or News Broadcasters. eWeatherNews is an independent Online News Aggregator

Read more from original source here…