Spooktacular Halloween Weather : The Alabama Weather Blog
4 min read
It is a gorgeous Saturday across all of Alabama. Most of us are seeing severe clear, with the exception of a few clouds across eastern portions of the state.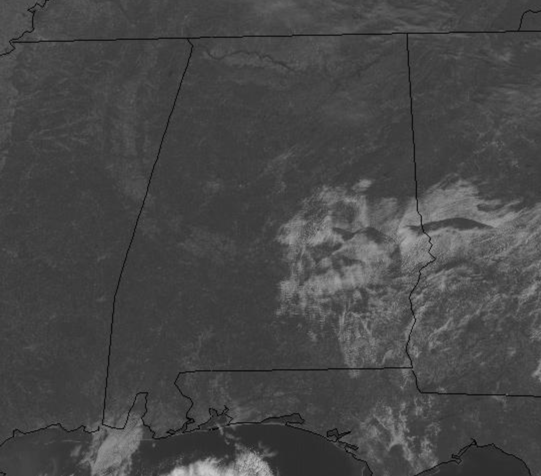 After the chilly start to the day, we are seeing very nice temperatures rolling into the afternoon with 60s and low 70s expected by the end of the day. This evening, temperatures will be falling from the 60s into the 50s, so light jackets will be needed as all those ghosts and goblins head out and about to gather candy. Temps will continue to fall overnight, with upper 40s and low 50s expected first thing tomorrow morning.
ONCE IN A BLUE MOON: As twilight descends on All Hallows' Eve, a full Moon will rise in the eastern sky for the second time this month (the first time was on October 1st). Moonrise in Birmingham this evening is at 5:47 PM CDT, and and though it will appear as brilliantly white as usual, many will call it a "Blue Moon." Historically, the term "Blue Moon" was more often not an astronomical term: In older songs it's used as a symbol of sadness or loneliness, while "once in a blue Moon" means a rare event. Only exceedingly rarely does the Moon actually turn blue in our sky — when volcanic eruptions or forest fires send lots of smoke and fine dust into the atmosphere. Editors and contributors to Sky & Telescope have traced the traditional astronomical definition to the Maine Farmers' Almanac in the late 1930s. The Almanac consistently used the term to refer to the third full Moon in a season containing four of them (rather than the usual three). But in 1946, amateur astronomer and frequent contributor to Sky & Telescope James Hugh Pruett (1886–1955) incorrectly interpreted the Almanac's description, and the second-full-Moon-in-one-month usage was born. Sky & Telescope admitted to its "Blue Moon blooper" in its May 1999 issue. Canadian folklorist Philip Hiscock and Texas astronomer Donald W. Olson worked with the magazine's editors at the time to figure out the origin of the mistake, and how the two-full-Moons-in-a-month meaning spread into the English language. By either definition, Blue Moons are still rare. They happen about once every 2.7 years on average. Using the newer definition, we'll have to wait until August 2023 for the next Blue Moon after this one.
FALL BACK TONIGHT: Daylight Saving Time ends this weekend and we Fall Back onto Standard Time Sunday morning. You'll need to see those clocks back one hour before heading to bed Saturday night. Sunrise time for Birmingham tomorrow morning will be at 6:06 AM CST, while sunset tomorrow afternoon is 4:54 PM CST. It is also a great time to check/change those batteries in smoke detectors, carbon monoxide detectors, and those weather radios.
FOR SUNDAY: We should start the day with more clouds, but the sky will clear by the afternoon as temperatures will return to the upper 60s and lower 70s. A front swings through the state tomorrow, but it comes through in dry fashion, so no rain, but it will bring the coldest air mass into Alabama so far this season.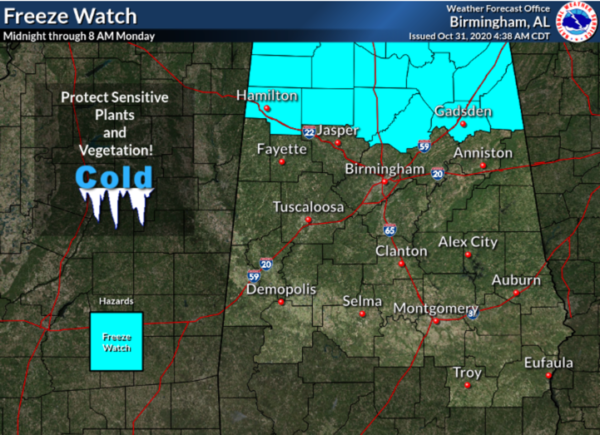 We note, all of North Alabama is under a freeze watch for Sunday night and into Monday morning, roughly along and north of the U.S. 278 corridor as lows close to 30 are expected early Monday morning, and that will cause issues for plants.
WAITING ON ETA: Invest 96L will develop at some point this weekend as this vigorous tropical wave located over the central Caribbean Sea continues to produce a concentrated area of thunderstorms. This system is gradually becoming better organized, and conditions are conducive for further development.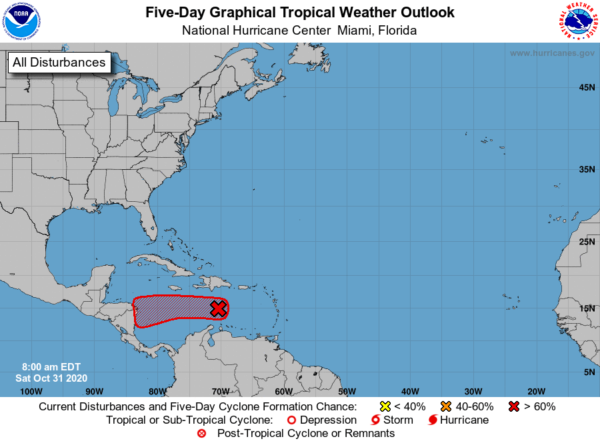 A tropical depression is expected to form during the next day or so while the disturbance moves generally westward into the western Caribbean Sea. Interests in Honduras and Nicaragua should monitor the progress of this system. Regardless of development, this disturbance is expected to produce heavy rainfall across portions of the ABC Islands and Jamaica through the weekend. Formation chance through 48 hours…high…90 percent. The rest of the Atlantic is quiet, with no other areas of interest at this time. Again, we still have a month of hurricane season left, and I don't think we are done naming systems in this historic 2020 season.
BEACH FORECAST CENTER: Get the latest weather and rip current forecasts for the beaches from Fort Morgan to Panama City on our Beach Forecast Center page. There, you can select the forecast of the region that you are interested in visiting.
WORLD TEMPERATURE EXTREMES: Over the last 24 hours, the highest observation outside the U.S. was 107.2F at Bradshaw, Australia. The lowest observation was -74.2F at Vostok, Antarctica.
CONTIGUOUS TEMPERATURE EXTREMES: Over the last 24 hours, the highest observation was 96F at Yuma, AZ. The lowest observation was 6F at Estcourt Station, ME.
Category: Alabama's Weather, ALL POSTS