Special Afternoon Weather Xtreme: Showers and Storms Spread Over Area Through Saturday Morning; Watching Potential Tropical System for Gulf : The Alabama Weather Blog
6 min read
We are deviating from normal our Spann vacation schedule to provide a special afternoon package today because of the developing tropical system in the western Caribbean.
??
COLD FRONT APPROACHING: A cold front is lined up from Chicago to south of St. Louis to west of Little Rock to Texarkana to Waco this afternoon. Showers and storms are quite active ahead of the front, including portions of Northwest Alabama, western Tennessee, and Northern Mississippi.
Storms that have developed out ahead of the cold front are moving through some rather unstable air as instability values are in the 2000-2500 J/kg range. We also have lapse rates in the range where we could see some hail develop and fall with these stronger storms. The good news is that we lack the helicity for any of these storms to start rotating. Therefore, any stronger storms will mainly be a gusty wind and small hail threat. At this point, there is not that much lightning being detected with these storms so they may be on a slight weakening trend at the moment.
The cold front continues to lag behind with the main line of showers and thunderstorms still to the west of the Mississippi River. That will eventually move into the northwestern parts of North/Central Alabama later tonight around or just before your late local news (10:00 pm) and progress slowly through the area during the overnight and not exiting the area completely until well into the evening hours on Saturday.
The Storm Prediction Center does not have any risk for severe weather up for any part of North/Central Alabama for today or on Saturday, but as we have seen today, we could get a storm or two to briefly become strong with gusty winds and some small hail.
THIS EVENING: These storms will slide southeastward during the evening, overnight, and into tomorrow morning. But now it looks like most of the activity will remain northwest of I-59 through midnight, with a few showers developing elsewhere, mainly southwest of Birmingham around Bibb, Hale, and Perry Counties.
FRIDAY NIGHT LIGHTS: For the high school games Friday night, and for UAB's tilt at Legion Field with Louisiana at 7 p.m., showers and storms are possible, but I think most stadiums remain dry through the final gun. Take the rain gear just in case though.
FOR YOUR SATURDAY: Showers and storms will become fairly widespread in the pre-dawn hours across the rest of Central Alabama. This activity should push southeast of I-59 by noon where storms will continue to be possible through the afternoon. A few additional showers will develop during the afternoon across the area. Highs will be in the lower and middle 70s generally. Some sun could poke through during the afternoon.
GRIDIRON FORECAST: Saturday, Auburn will take on Ole Miss in Oxford (11a CT kickoff)… There will be a mix of sun and clouds with temperatures in the middle and upper 60s during the game.
Alabama is also on the road; they take on Tennessee in Knoxville (2:30p CT kickoff). The rain should be over there as well. Temperatures will be in the upper 60s.
SUNDAY/MONDAY: Look for a beautiful day both Sunday and Monday with partly cloudy skies and highs around 80. Lows both nights will be in the lower 60s. A few showers could return Monday evening.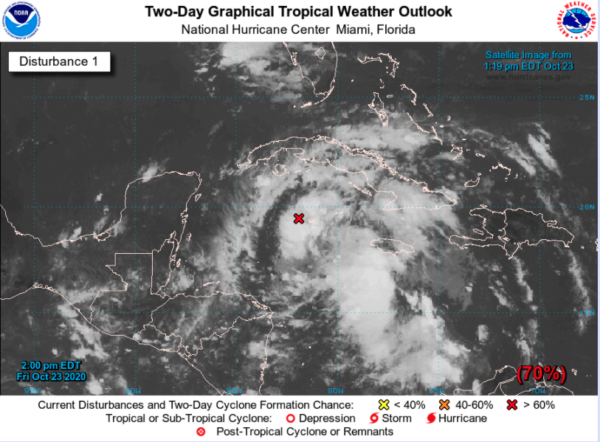 EYES ON THE GULF: We are tracking a tropical disturbance over the western Caribbean that continues to get better organized this afternoon with increasing convection. It will likely become a tropical depression later today or tonight and a tropical storm tomorrow. It will meander across the western Caribbean and cross into the southeastern Gulf early next week. It will be drawn northward ahead of an approaching trough that will bring more active weather our way at midweek. For now, it appears that a moderate to strong tropical storm could affect the northern Gulf Coast somewhere between southeastern Louisiana and the Big Bend of Florida late Wednesday into Thursday. I am basing our forecast off the notion that the storm will be drawn a little further west and ride up along the approaching front ahead of the trough at midweek, bringing more rain to Alabama.
TUESDAY: A few showers and storms will be possible, although most of the day will be dry. Highs will again be near 80.
WEDNESDAY: We should see increasing rain and storms with a Tropical Storm Zeta over the Central Gulf. Rainfall could become heavy over Central Alabama Wednesday night. Rainfall amounts could exceed 4 inches in many spots based on this forecast. Of course, it would become windy as well with gusts to over 35 mph late Wednesday into Thursday. Tornadoes could be a possibility as well.
THURSDAY INTO THE WEEKEND: Rain should gradually end over Central and North Alabama as the system exits the state. It should set the stage for a nice fall-like weekend with highs in the upper 60s and lows in the upper 40s.
GRAIN OF SALT: Of course, a track further to the east could draw most of the moisture away from Central Alabama and we could see some meager rainfall amounts.
GULF COAST IMPACT: What will eventually be Tropical Storm Zeta could play a big role in weather along the Gulf Coast with
VOODOO TERRITORY: A quick-hitting system will move through on Monday the 2nd with a weakening front on Friday the 6th.
ELSEWHERE IN THE TROPICS: Hurricane Epsilon has top winds of 85 mph this afternoon as it is beginning to make the turn to the northeast, moving away from Bermuda. It will pass well south of the Canadian Maritimes Saturday and Sunday. There also could be a system in the Caribbean the first week of November. It should not pose any threat to the U.S.
GULF COAST IMPACTS: The future track of the potential tropical storm will define weather along the beaches of Alabama and Northwest Florida. A chance of showers and storms is in the forecast through tomorrow along the beautiful beaches of Alabama and Northwest Florida. Tropical storm force winds, above-normal tides, and very heavy rainfall amounts will occur across a wide area where the storm decides to come ashore during the mid-week period. Highs will be near 80 and lows near 70 until the end of next week. Water temperatures are in the middle 70s. There will be a high risk of rip currents through Saturday night and that risk will increase again next week if there is a tropical storm in the Gulf.
Click here to see the Beach Forecast Center page.
NATIONALLY: A big winter storm will impact the northern Rockies Friday and Saturday. Snowfall totals could approach 25 inches in the mountains of West Central Montana. Winter Storm Watches and Warnings are in effect.
DANCING WITH THE STATS: Several high-temperature records set on Thursday from the Plains to the Northeast, including 87F at Wichita, KS, 90F at Amarillo, TX, London, KY with 81F, and 82F at Williamsport, PA.
WEATHERBRAINS: Great show this week with AMS President-Elect Mike Farrar talking about the state of weather modeling. The always lively Betsy Kling from WKYC in Cleveland joined the show as well. Check out the show at www.WeatherBrains.com. You can also subscribe on iTunes. You can watch the show live at live.bigbrainsmedia.com or on James' YouTube Channel You will be able to see the show on the James Spann 24×7 weather channel on cable or directly over the air on the dot 2 feed.
ON THIS DATE IN 1920: Famed research meteorologist Theodore Fujita, was born on this date in Kitakyushu City, Japan. Fujita, known as "Mr. Tornado" after developing the international standard for measuring tornado severity, also discovered microbursts – sudden, severe downdrafts that can result in 150 mph winds on or near the ground – after studying the starburst patterns of trees uprooted by tornadoes. Follow my weather history tweets on Twitter. I am @wxhistorian at Twitter.com.
Category: Alabama's Weather, ALL POSTS, Tropical