Some Signs That West Central Alabama Might See Higher Snow Amounts: Alabama Weather Update at 6:30 p.m. : The Alabama Weather Blog
2 min read
The NWS in Birmingham maintains a Winter Weather Advisory for 7 counties in West Alabama including Fayette, Lamar, Marion, Pickens, Tuscaloosa, Walker, and Winston.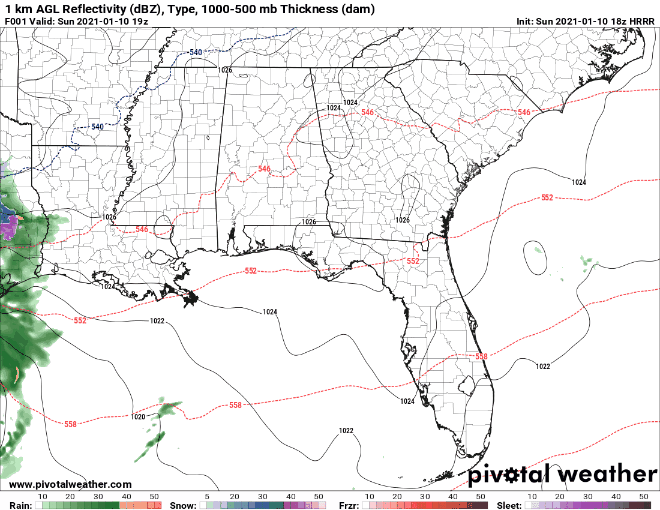 Recent runs of the HRRR model have consistently predicted that some higher snowfall amounts will reach West Central Alabama.
It predicts that a wintry mix of snow and sleet will reach Pickens, Sumter, and Greene Counties around 2 a.m. with light snow overspreading Northwest Alabama between 3 – 6 a.m., with an accumulation of one-tenth to nearly one inch by 6 a.m. over many areas northwest of I-59.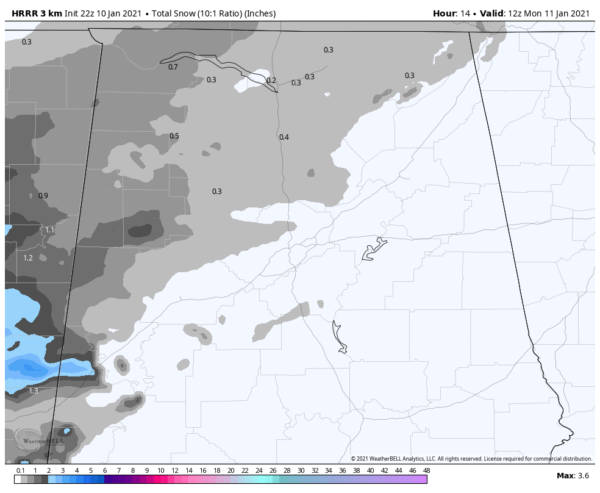 Meanwhile, about 5 a.m., a heavier wintry mix will be reaching West Alabama's Lamar, Pickens, Fayette, Tuscaloosa, Sumter, Greene, and Hale Counties. It will overspread areas north of a line from York to Verbena in Chilton County through 8 a.m. Locations south of I-59 will experience rain, freezing rain, and sleet. To the north of I-59, the precipitation will be mostly snow.
There could be an area of two-inch amounts over parts of West Alabama including parts of Lamar, Fayette, northern Tuscaloosa, much of Pickens, and northern Sumter counties.
The wintry precipitation will continue to the north of I-59 through 10 a.m., but will change to rain south of I-59.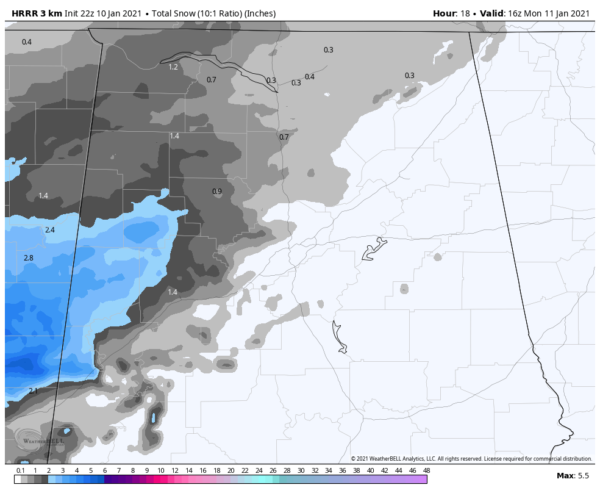 By 10 a.m., snow accumulations could reach an inch or more across a wide area from Colbert and Franklin Counties through parts of Marion, Lamar, Fayette, Pickens, northern Tuscaloosa, and Sumter Counties. There could be some 1-3 inches of snow over parts of Lamar, Fayette, Northwest Tuscaloosa, Pickens, and northern Sumter Counties. That is not certain at this time but is a possibility.
Areas that see more than one-half inch of snow could see significant travel problems from slushy and snow-covered roads. Areas that receive one-half inch could see slick spots on bridges and overpasses. Check weather conditions before driving across Northern, Northwestern, and Western Alabama early Monday morning.
The precipitation will change over to all rain by noon.
We will have frequent updates on this developing situation throughout the night and Monday morning. Please stay abreast of the latest developments if you are planning on any travel across North or Central Alabama early Monday morning.
Category: Alabama's Weather, ALL POSTS, Winter Weather