Some Clouds & Some Sun, but Feeling Really Nice Just Before Midday : The Alabama Weather Blog
3 min read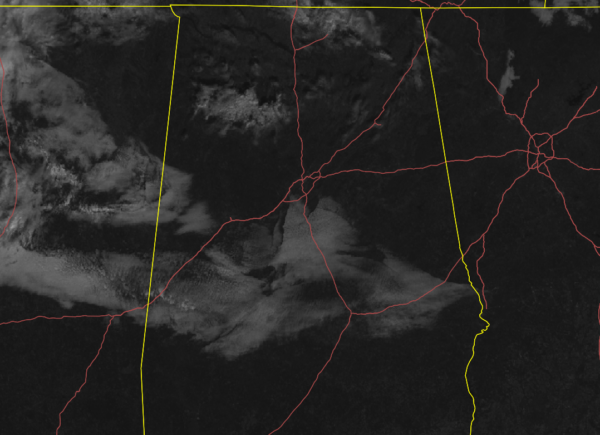 We Stay Dry With Nice Temperatures Through Wednesday
Skies are mostly clear to partly cloudy across the area as of this update, but those clouds will start to increase from the west this afternoon and evening. The good news is that temperatures will be mild for this time of the year, reaching the mid-50s to the upper 60s, just over normal highs for the end of the year. Skies will become mostly cloudy this evening and stay that way through the overnight hours. Lows will dip into the lower to mid-40s for most across the area.
A strong cold front will be getting its act together west of us on Wednesday, which will put us in the warm and moist air advection out ahead of it. Clouds will build and skies will be mostly cloudy. At this point, a stray shower is possible after midnight, but greater rain chances look to hold off until after sunrise. Highs will be in the lower 60 to right around 70 degrees.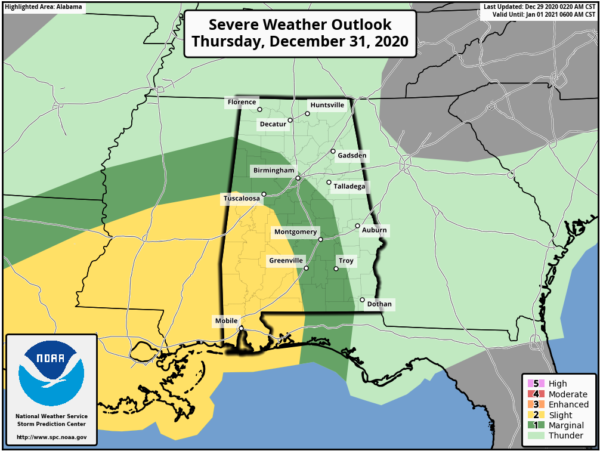 2020 Ends & 2021 Begins on a Stormy Note
At this point, the models are not in good agreement with the timing of the arrival of rain and storms in Central Alabama on New Year's Eve, therefore we'll have to give a broad window for the potential of stronger to severe storms.
Earlier this morning, the Storm Prediction Center has placed a good part of the southwestern parts of Central Alabama in a Slight Risk for severe storms on their Day 3 Outlook (valid for 6:00 am Thursday through 6:00 am Friday), which includes locations along and west of a line from Pickensville to Moundville to just west of Selma. A Marginal Risk is up outside of that and includes locations along and west of a line from Hamilton to Gardendale to Sylacauga to just east of Brundidge.
For now, the timing for the potential for severe storms will start around 9:00 pm Thursday night and persist until at least 8:00 am on Friday morning. Damaging winds up to 60 mph and a few tornadoes will be possible in those risk areas. To go along with that, pressure gradient winds may gust as high as 35-40 MPH, so a Wind Advisory may be issued later today or tomorrow for Thursday evening and into Friday morning.
This looks to be a low instability/high shear event, but with these wintertime systems, it does not take that much instability to get severe storms started. There will be plenty of wind shear in place, and models are showing a good bit of helicity, so there will be the potential for some rotating updrafts.
Some scattered showers may move in or develop across parts of the area as early as Thursday morning, but the main activity doesn't look like it will arrive until Thursday evening. Rain will be heavy at times and a few storms may become strong to severe. Winds will be gusty outside of thunderstorms. Locations in the western parts of the area will start to dry out around midday on Friday as the activity continues to march eastward, and eventually leaving the state by the evening. Highs will be in the lower 60s to the lower 70s on both Thursday and Friday.
The Central Alabama Weekend
Sunshine will return to the area for the weekend as skies will be mostly sunny on Saturday with highs in the lower 50s to the lower 60s. Sunday will feature near-maximum sunshine with cooler temperatures as highs will be in the upper 40s to the upper 50s.
A Nice Start to the First Work Week of 2021
Monday's weather will be absolutely fabulous as skies will be mainly sunny with maybe a passing cloud or two. Afternoon highs will be in the lower 50s to right around 60 degrees across Central Alabama.
Category: Alabama's Weather, ALL POSTS, Severe Weather