Snow Over West Alabama : The Alabama Weather Blog
2 min read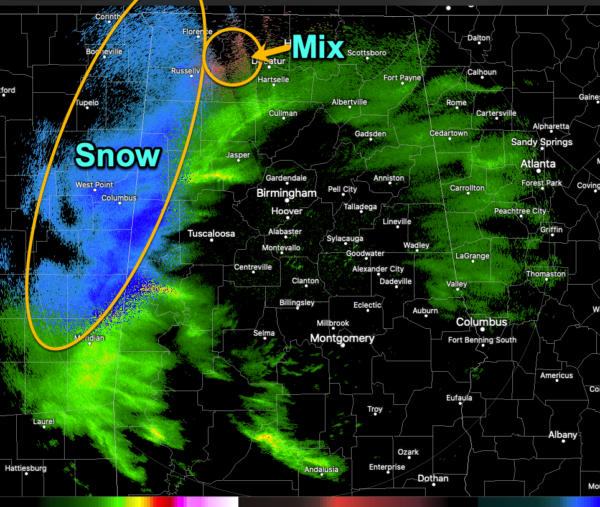 Precipitation has reached northwestern Alabama late tonight, with snow across Marion, Winston, northern Lamar, northern Sumter, Pickens, and Fayette counties up into Franklin, Colbert, and Lauderdale Counties. There is some wintry mix over parts of Lawrence and Limestone Counties. There is rain elsewhere.
It is now 34F at Haleyville and 33F at Cullman. It's 39F at Tuscaloosa, Calera, and Birmingham, and 37F at Bessemer. In North Alabama, it's 36F in Muscle Shoals, and 34F at Decatur.
With wet-bulb temperatures between 31F and 35F, temperatures will still fall to near or just above freezing across much of the area north of I-59 and west of I-65.
It is snowing at Greenville, Greenwood, Aberdeen, and Columbus AFB. Unknown precipitation is falling at Starkville.
The snow has changed to rain in Jackson where a nose of mid-level warm air has edged in.
2 inches of snow is on the ground at Vicksburg now, but the snow has changed to rain there as well.
Here are the expected impacts:
NORTH AND NORTHWEST ALABAMA: For areas generally north I-20 and west of I-65 and across the Tennessee Valley: Precipitation started falling late Sunday evening but picked up after midnight, becoming heavy at times in spots. Some minor snow accumulations impacts may be possible early this morning in this area while surface temperatures are closest to freezing and precipitation is falling. Winter weather advisories are in effect until noon for Fayette, Lamar, Marion, Pickens, Tuscaloosa, Walker, and Winston Counties. There is a potential for up to 1″ closer to the MS state line with generally ~0.5″ or less elsewhere in the advisory area. Plan on slippery conditions during the early morning hours this morning.
The precipitation will then slowly transition to a rain-snow mix, then to mostly rain by Monday afternoon. Temperatures will slowly warm a few degrees through the morning hours and impacts will be lessened to completely diminished.
CENTRAL ALABAMA: For the area north of a Selma to Clanton to Wedowee line: A mixture of rain and snow mix will be possible from midnight until 9 am. After 9 am, all the precipitation that falls should mainly be rain. Little to no accumulation is expected. There could be a few slick spots on bridges and overpasses, so check road conditions before driving early this morning.
SOUTH CENTRAL ALABAMA: For areas to the south of this: The precipitation will fall as a cold rain and no impacts are anticipated.
Stand by for frequent updates throughout the night and morning.
Category: Alabama's Weather, ALL POSTS, Winter Weather