SLIGHT SEVERE WEATHER RISK / TROPICAL WEATHER OUTLOOK…ISSUED MAY 17, 2021…8:30 P.M. EDT
5 min read
Disclaimer:  This site is not affiliated with the National Hurricane Center, Hurricane Hunters, Storm Prediction Center, or National Weather Service.  ALL forecasts herein are the result of my analysis, and I am solely responsible for the content.  As ALWAYS, follow the National Hurricane Center, National Weather Service, and your local Emergency Management officials for emergency decisions.  In addition, this is strictly a FORECAST OFFICE.  I CANNOT make decisions regarding travel plans, etc.  My purpose, is to provide you the information, based solely on information I analyze, and the accuracy of the information at hand of the time of analysis, so you may make informed decisions.
(T. F. "Storm" Walsh)
For those who have donated to my site, your help has been greatly appreciated.  If you are not aware, donations to my site help pay for subscriptions to sites I use as well as software updates, which provide all the models and information used in my forecasts.  To donate, please click the DONATE button to the right side of the page, or on the graphic of the dog.  Any help you provide is immensely appreciated! 
DONATIONS NEEDED AND APPRECIATED

Greetings to everyone!
Please be aware, even though I do not post every night, rest assured I am continuously monitoring various areas for any significant weather.  I will be taking Sundays off (family time), unless we have active systems that may be posing a threat (i.e. Tropical, Winter Weather, Coastal Storms, etc.).
The SPC has issued a SLIGHT RISK OF SEVERE THUNDERSTORMS ACROSS MUCH OF THE SOUTHERN PLAINS AND SURROUNDING AREAS…
…SPC SUMMARY…
Thunderstorms — including risk for large hail and locally damaging winds — are expected Tuesday across portions of the southern Plains region and into eastern Kansas/western Missouri/Arkansas.
The SPC DAY 2 Severe Outlook will be linked to the very first SPC graphic, so you may view it in its entirety.
SPC DAY 2 CONVECTIVE OUTLOOK


TORNADO OUTLOOK


HAIL OUTLOOK


WIND OUTLOOK

Based on analysis of the SPC DAY 2 outlook, forecast atmospheric conditions are a little complex.  However, based on the premise of outflow from early morning convection, favorable deep layer shear, and increased destabilization from the outflow of earlier storms, greater potential for  organized, rotating storms and tornadic activity will lie within the SLIGHT risk area.  One item of note, yesterday evening, the SPC had only issued a SLIGHT risk in the Day 2 outlook.  As this outlook became today's outlook, SPC had upgraded to a small MODERATE risk area.  Based on forecast indices this evening, don't be surprised if the SPC upgrades to a possible ENHANCED risk tomorrow.  Please refer to the SPC home page link further in this synopsis, to access the DAY 1 outlook tomorrow
Based on analysis of the current NAM – WRF model run, the following maps indicate where the highest probability lies for the strongest of the severe weather categories based on forecast severe weather indices:
F5 DATA NAM-WRF 1:00 P.M. CDT


F5 DATA NAM-WRF 4:00 P.M. CDT


F5 DATA NAM-WRF 7:00 P.M. CDT


F5 DATA NAM-WRF 10:00 P.M. CDT

SPC MESOSCALE DISCUSSIONS (CLICK IMAGE FOR UPDATES)


SPC CONVECTIVE WATCHES (CLICK IMAGE FOR UPDATES)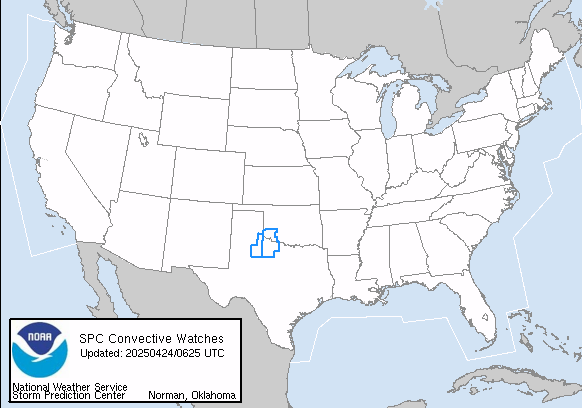 SPC HOME PAGE LINK
https://www.spc.noaa.gov/classic.html
The following NWS Watch / Warning map will provide local NWS information for your area.  Click the image, then once it refreshes, click on your area of interest to view any special weather statements, hazards or advisories for your area.
IF A TORNADO WARNING IS ISSUED FOR YOUR AREA, IMMEDIATELY TAKE STURDY AND SAFE SHELTER
NWS WATCH / WARNING DISPLAY (LINKED…CLICK MAP, THEN YOUR AREA)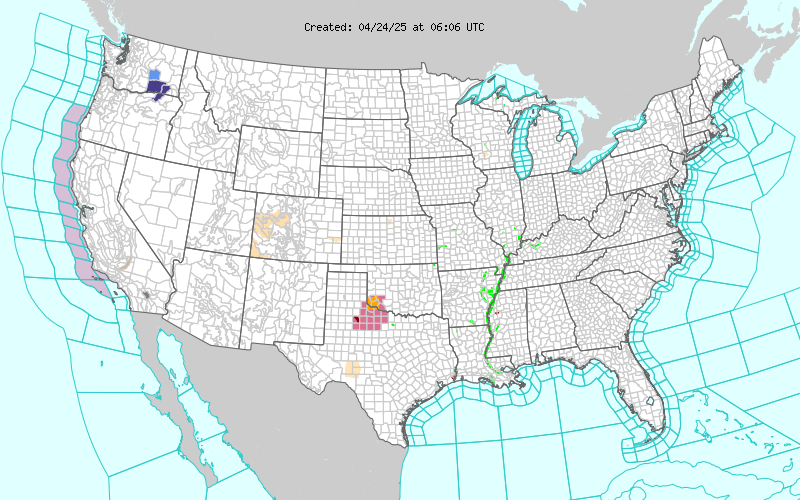 WSI DOPPLER RADAR LOOP (LINKED)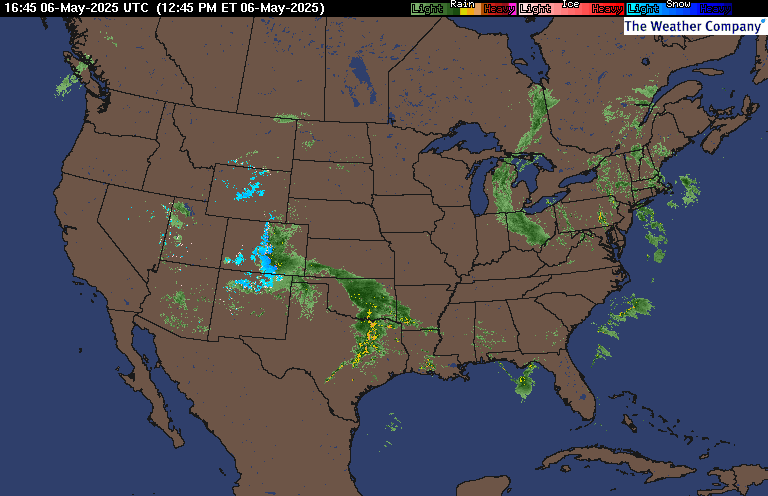 RAP RADAR (CLICK IMAGE THEN RADAR SITE)
TROPICAL WEATHER OUTLOOK SYNOPSIS
The following is the list of storm names for the 2021 Atlantic Hurricane Season.
Ana  Bill  Claudette  Danny  Elsa  Fred  Grace  Henri  Ida  Julian  Kate  Larry
Mindy  Nicholas  Odette  Peter  Rose  Sam  Teresa  Victor  Wanda
As a storm becomes named, I will be marking it in bold red to keep track of the activity for this Atlantic season.  Beginning this season, the WMO has decided to no longer use the Greek alphabet, and came up with an alternate list of names, should we go past the names above.  The list of names are as follows:


Based on my analysis of global models this evening, and the current run of the ECMWF EPS Cyclone development probability modeling, tropical cyclone development is not expected during the next 5 – 7 days.  Satellite loop imagery doesn't really indciate any areas of interest.  There is a flareup west of  Africa, south of the Cape Verde islands. However this is thunderstorm activity confined to the ITCZ.  Dry air still covers a good majority of the Atlantic basin.
One thing I did notice in analysis this evening, it appears the MJO (Madden Julian Oscillation) may try to move into the favorable phases for development on our side of the world.  The ECMWF, ECMWF ENSEMBLE, and JMA forecast indicate this by forecast members (yellow lines) trying to make it to phases 8 and 1.  You'll also notice in the MJO filtered VP200 forecast map how the favorable area moves closer to the EPAC and GOMEX in the week 2 forecast period.  I will continue to monitor this to see if there is any consistency to the forecast.
WEATHERNERDS GOES 16 SATELLITE LOOP IMAGERY AND WATER VAPOR IMAGERY

ECMWF MJO FORECAST


ECMWF ENSEMBLE


JMAN


MJO FILTERED VP200

You may direct any questions by contacting me personally, ANYTIME, at: twalsh22000@yahoo.com
Have a blessed evening!
T. F. "STORM" WALSH III
GMCS, USCG (ret)
METEOROLOGIST / HURRICANE SPECIALIST /SEVERE WEATHER SPECIALIST
MEMBER WEST CENTRAL FLORIDA AMS
palmharborforecastcenter
2021-05-18 00:28:28

All news and articles are copyrighted to the respective authors and/or News Broadcasters. eWeatherNews is an independent Online News Aggregator

Read more from original source here…