Slight Risk Expanded; Latest Mesoscale Update from NWS Birmingham : The Alabama Weather Blog
2 min read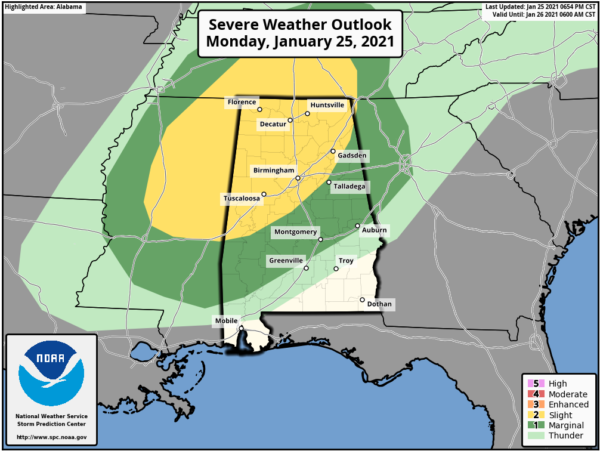 The Storm Prediction Center has expanded the Slight Risk further to the south and now is for all of the northern half of the area north of a line from Demopolis to Calera to Cedar Bluff. The Marginal Risk continues south of that to the I-85 corridor.
Latest from NWS Birmingham:
/Risk for a few severe thunderstorms tonight; Tornado Watch
in effect for part of Central Alabama/
At 01Z/7 PM, a warm sector was analyzed across Central Alabama with surface dew points in the low to mid-60s (F) beneath a 40 to 50 knot SW low-level jet. Surface wind trajectories were from the S/SSE, veering to the WSW aloft. Deep-layer shear is plentiful, with KGWX & KBMX hodographs showing 0-1 and 0-3 km helicity in the 300-400 range, closely matching high-res model output. This will tend to favor storm organization and rotation.
Instability is not stellar, but is sufficient to present some concern when paired with the background shear. The 00Z (6 pm) sounding from our office showed a few layers of CIN aloft, but the surface/near-surface environment showed surface-based CAPE around 500 J/kg, with higher values toward the west/just ahead of the front. Southerly advection and upper-level trends should support CAPE (instability) values trending upwards of 1,200 J/kg, as progged by SPC-HREF, over the next several hours as the cold front approaches. Any storm that is able to establish and maintain a deep core should be able to prosper a tad longer given at least weak instability.
Since the parent shortwave trough is well to the NW, forcing is subtle, which should tend to do two things (1) limit the amount of severe storms and (2) lessen the ability for storms to become deep in general. This isn't to say that severe storms won't occur, but rather it is a limiting factor to a more robust event.
Still, lift along and near the surface front should yield a line of thunderstorms moving across Central Alabama, with a risk for a few tornadoes, damaging straight-line winds, and hail up to quarter size. This line is expected to gradually weaken as it nears the Interstate 85 corridor as surface winds become more veered early Tuesday.
Category: Alabama's Weather, ALL POSTS, Severe Weather
Scott Martin is an operational meteorologist, professional graphic artist, musician, husband, and father. Not only is Scott a member of the National Weather Association, but he is also the Central Alabama Chapter of the NWA president. Scott is also the co-founder of Racecast Weather, which provides forecasts for many racing series across the USA. He also supplies forecasts for the BassMaster Elite Series events including the BassMaster Classic.