SEVERE WEATHER OUTLOOK FORECAST SYNOPSIS…ISSUED DEC. 20, 2020…1:20 P.M. EST
4 min read
Disclaimer:  This site is not affiliated with the National Hurricane Center, Hurricane Hunters, Storm Prediction Center, or National Weather Service.  ALL forecasts herein are the result of my analysis, and I am solely responsible for the content.  As ALWAYS, follow the National Hurricane Center, National Weather Service, and your local Emergency Management officials for emergency decisions.  In addition, this is strictly a FORECAST OFFICE.  I CANNOT make decisions regarding travel plans, etc.  My purpose, is to provide you the information, based solely on information I analyze, and the accuracy of the information at hand of the time of analysis, so you may make informed decisions.
(T. F. "Storm" Walsh)
For those who have donated to my site, your help has been greatly appreciated.  If you are not aware, donations to my site help pay for subscriptions to sites I use, which provide all the models and information used in my forecasts.  Without these sites, I'm pretty much left in the dark.  The F5 Data maps I post as well for severe weather, is another out of pocket expense (monthly subscription).  Updates to software (weather related), are also out of pocket to me. Please keep in mind, even when the hurricane season ends, I have to keep up on these site subscriptions for severe weather and winter weather. To donate, please click the DONATE button to the right side of the page.  Any help you provide is immensely appreciated!  Without your help, I may not be able to continue paying the monthly subscription charges for access to all of the information I use in my forecasts.
DONATIONS NEEDED AND APPRECIATED

Greetings to everyone!
Please be aware, even though I do not post every night, rest assured I am continuously monitoring various areas for any significant weather.  I will be taking Sundays off (family time), unless we have active systems that may be posing a threat (i.e. Tropical, Winter Weather, Coastal Storms, etc.).
Good day!,
I had to make a choice between the upcoming winter storm, or severe weather update.  Anytime there is a chance for severe weather to occur, it ALWAYS takes precedence.  I will however, try to post an update on the system that is slated to move in from the west in about 72 hours.  The problem right this moment lies with 3 different models showing 3 different scenarios.  There is a low that will ride up the U.S. East coast prior to the system coming from the west.  This should head toward Nova Scotia, and will merge with a weaker low.
My main reasoning for issuing a severe weather update is, 2 days ago my area was under a marginal risk, in which tornadoes are a very low percentage.  While I was at work, a line of thunderstorms passed through, and produced and EF-2 tornado, about 1/4 of a mile from where I was delivering auto parts at the time.  Having looked at parameters the previous evening, this came as quite a surprise to me.
The Storm Prediction Center has issued a MARGINAL risk for severe thunderstorms ACROSS WESTERN PARTS OF THE FLORIDA PENINSULA…
…SUMMARY…
Isolated severe thunderstorms may affect parts of the western Florida Peninsula late this afternoon and evening.
SPC DAY 1 OUTLOOK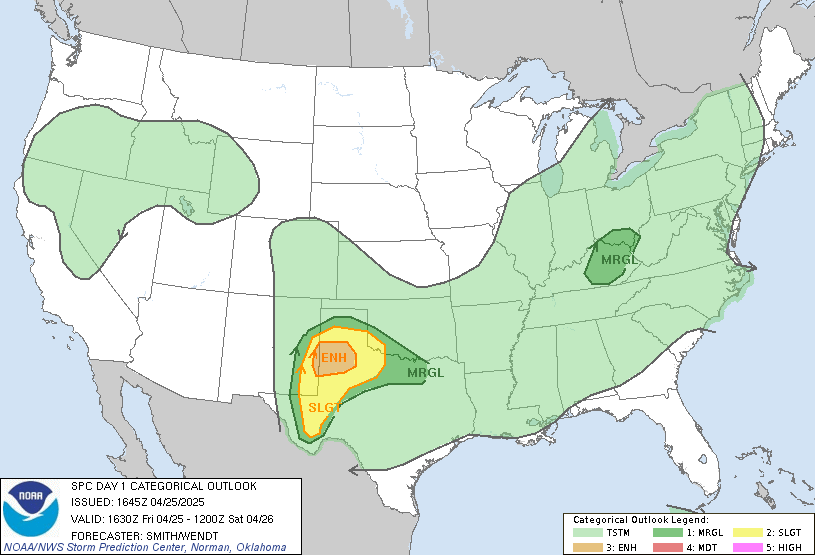 SPC TORNADO OUTLOOK


Based on analysis of the SPC outlook text, the shortwave responsible for initiating the precipitation and weather will weaken into tonight, however residual strong low to mid level winds could support well organized storms, and possibly a few supercells this afternoon into this evening.
Based on my analysis of various severe weather indices using F5 DATA Severe Weather software, there may be the possibility of tornadic activity within the circled area in the F5 data map.  I left in the color coding to give you a better idea where the strongest probabilities may lie.  Any tornadic activity that may occur should remain weak, within the EF-0 to EF-2 range, but most likely on the lower end.  The forecast indicates the best probability for any tornado activity to occur will be this afternoon at approximately 4:00 p.m. EST (plus or minus 1 hour)
NAM-WRF BEST TORNADO PROBABILITY FORECAST


The following maps should update automatically, and are linked to the SPC.  You need to click the graphics for the text report.
SPC MESOSCALE DISCUSSIONS


SPC CONVECTIVE WATCHES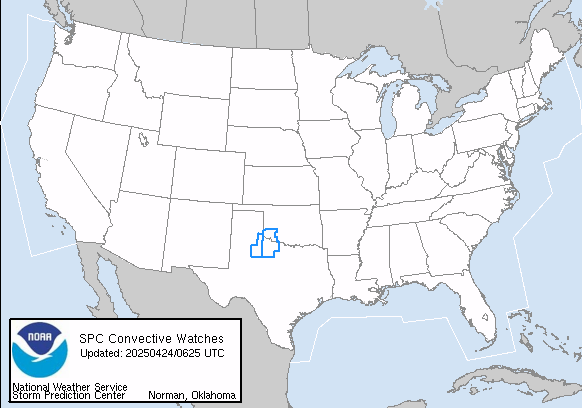 WEST CENTRAL FLORIDA RADAR GIF


Click the following graphic to view any warnings for your area.  Once you click the graphic, the map will cycle, then click on your area.
NWS HAZARDS AND WARNINGS DISPLAY (LINKED)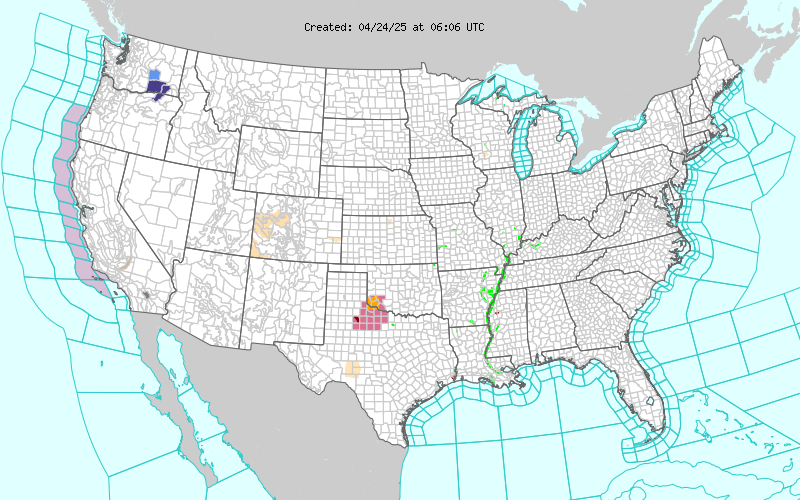 You may direct any questions by contacting me personally, ANYTIME, at: twalsh22000@yahoo.com
Have a blessed evening!

T. F. "STORM" WALSH III
GMCS, USCG (ret)
METEOROLOGIST / HURRICANE SPECIALIST /SEVERE WEATHER SPECIALIST