SEVERE WEATHER AND TORNADO OUTBREAK…POSSIBLE HIGH RISK OUTLINE…ISSUED MAR. 24, 2021…8:30 P.M. EDT…WIDEST DISSEMINATION REQUESTED
8 min read
Disclaimer:  This site is not affiliated with the National Hurricane Center, Hurricane Hunters, Storm Prediction Center, or National Weather Service.  ALL forecasts herein are the result of my analysis, and I am solely responsible for the content.  As ALWAYS, follow the National Hurricane Center, National Weather Service, and your local Emergency Management officials for emergency decisions.  In addition, this is strictly a FORECAST OFFICE.  I CANNOT make decisions regarding travel plans, etc.  My purpose, is to provide you the information, based solely on information I analyze, and the accuracy of the information at hand of the time of analysis, so you may make informed decisions.
(T. F. "Storm" Walsh)
For those who have donated to my site, your help has been greatly appreciated.  If you are not aware, donations to my site help pay for subscriptions to sites I use, which provide all the models and information used in my forecasts.  Without these sites, I'm pretty much left in the dark.  The F5 Data maps I post as well for severe weather, is another out of pocket expense (monthly subscription).  Updates to software (weather related), are also out of pocket to me. Please keep in mind, even when the hurricane season ends, I have to keep up on these site subscriptions for severe weather and winter weather.  In all, I put out $68 a month to provide you, what I hope are accurate forecasts. To donate, please click the DONATE button to the right side of the page, or on the graphic of the dog.  Any help you provide is immensely appreciated!  Without your help, I may not be able to continue paying the monthly subscription charges for access to all of the information I use in my forecasts
DONATIONS NEEDED AND APPRECIATED


Greetings to everyone!
Please be aware, even though I do not post every night, rest assured I am continuously monitoring various areas for any significant weather.  I will be taking Sundays off (family time), unless we have active systems that may be posing a threat (i.e. Tropical, Winter Weather, Coastal Storms, etc.).
Not plagiarizing the SPC forecast, I will be incorporating portions of the SPC outlook in this forecast synopsis, to try and provide a very clear and concise picture of what could occur.
The SPC has issued a MODERATE RISK OF SEVERE THUNDERSTORMS ACROSS PARTS OF THE LOWER MISSISSIPPI VALLEY/MID-SOUTH INTO THE TENNESSEE VALLEY AND SOUTHEAST…
…SPC SUMMARY…
The potential for an outbreak of severe storms including several long-track strong tornadoes, scattered large to very large hail, and severe/destructive winds, will exist Thursday into Thursday evening across a portion of the lower Mississippi Valley, Tennessee Valley, and Southeast.
…SPC Synopsis…
A shortwave trough with attendant 70-100 kt+ mid-level jet will eject northeastward from the southern Plains across the lower/mid MS Valley on Thursday, and continue over the OH Valley and lower Great Lakes region Thursday night. At the surface, a weak low over northeast TX at the beginning of the period Thursday morning is expected to likewise develop northeastward to the mid MS Valley through the day while deepening. A warm front attendant to this cyclone will likely lift northward across the lower MS Valley/Mid-South and TN Valley towards the lower OH Valley by Thursday evening.
Based on analysis of the information contained within the SPC DAY2 outlook, and analysis of numerous severe and tornado indices in the current run of the NAM-WRF model using F5 DATA software, tomorrows severe outbreak could become a VERY DANGEROUS and POTENTIALLY DEADLY SITUATION!  Based on parameters analyzed, indices values are very high to extremely high based on the 18Z run of the NAM-WRF model.  Bear in mind, these values are usually somewhat lower in the a.m. runs, however I must base my froecast given what is analyzed in the evening.
It is noted that a 70 – 100 kt MLJ (Mid Level Jet) will be in place on Thursday, running through the risk areas.  Based on the SPC report and the NAM-WRF maps, a 50-60 kt LLJ (Low Level Jet) will be in place as well by Thursday afternoon.  This coupled with 60-70F dewpoints, diurnal heating, SRH (Storm Relative Helicity) values of 300 – 500 m2/m2, with strong Lifted Indices (L.I.) and more than sufficient CAPE values, supercells will be capable pf producing severe hail in excess of 2 inches in diameter, along with STRONG, LONG TRACKED tornadoes.  Tornadoes that may occur within the ENHANCED and MODERATE risk areas, especially within the outlined areas on the F5 DATA maps, could be of EF2-EF5.  Again, not trying to plagiarize, but here is some of the SPC outlook text:
…Lower Mississippi Valley and Southeast…
Storms will likely be ongoing at the start of the period from northeast TX into southern AR and northern MS/AL and TN. This activity will likely be supported by a southerly low-level jet and related warm advection. These storms should shift northward through the morning, allowing for destabilization via diurnal heating to occur across the lower MS Valley. Rich low-level moisture with at least mid to upper 60s surface dewpoints (perhaps lower 70s), should advect northward across parts of the lower/mid MS Valley, TN Valley, and Southeast by Thursday afternoon. This increasing moisture, coupled with diurnal heating, will likely support MLCAPE of 1500-2000 J/kg developing over a fairly broad portion of these regions. A pronounced low-level jet (50-60+ kt) will overlie much of this region as well, as large-scale ascent from the ejecting shortwave trough overspreads the lower/mid MS Valley vicinity. Strongly veering and strengthening wind profiles from the surface through mid levels will support supercells. 0-1 km SRH along/south of the surface warm front will likely reach 300-500 m2/s2, and low-level mesocyclones capable of producing strong, long-track tornadoes appear likely with any supercells that can form. Scattered large hail, some of which may be 2+ inches in diameter, and severe/destructive winds also appear probable, both with supercells and any bowing line segments that can develop. At this time, the best potential for strong tornadoes appears to extend from parts of central/northern MS into western/middle TN and central/northern AL, mainly Thursday afternoon and evening as storms move generally northeastward. Concern does exist regarding the effect of storms forming during the morning on the development of instability, and potential for destructive interference from too many storms developing across the warm sector at the same time. Still, given the very favorable environment forecast across this region and the potential for numerous supercells, an upgrade to High Risk for multiple strong to potentially violent, long-track tornadoes may be needed in a later outlook update.
SPC DAY 2 CONVECTIVE OUTLOOK MAP (LINKED FOR SPC OUTLOOK TEXT)


TORNADO OUTLOOK

Probability of a tornado within 25 miles of a point.
Hatched Area: 10% or greater probability of EF2 – EF5 tornadoes within 25 miles of a point.
WIND OUTLOOK


Probability of damaging thunderstorm winds or wind gusts of 50 knots or higher within 25 miles of a point.
Hatched Area: 10% or greater probability of wind gusts 65 knots or greater within 25 miles of a point.
HAIL OUTLOOK


Probability of one inch diameter hail or larger within 25 miles of a point.
Hatched Area: 10% or greater probability of two inch diameter hail or larger within 25 miles of a point.
SPC HOME PAGE LINK
https://www.spc.noaa.gov/

Some of the indices analyzed were as follows:
SWEAT: 325-500
SBCAPE: 1000-2500 j/kg
MLCAPE: 1000-2000 j/kg
L.I.: -4 to -10
SRH: 300-500 m2/m2
EHI: 1-6
STP: 5-12
VGP: 0.7-0.9
The following 2 links will provide some explanation of what these indices mean:
https://www.weather.gov/lmk/indices
http://www.theweatherprediction.com/severe/indices/
Here is the definition of the last index posted…VGP:
The VGP (Vorticity Generation Parameter) is meant to estimate the rate of tilting and stretching of horizontal vorticity by a thunderstorm updraft. Values greater than 0.2 m s-2 suggest an increasing possibility of tornadic storms.
Based on analysis of these indices in F5 DATA, The outlined areas indicate where the highest probability / potential for worst of the severe weather and strong tornadoes exists.  As I have always cautioned before, these areas will most likely be modified by the DAY 1 outlook tomorrow as the model information updates overnight.  Regardless, these do lie within the ENHANCED and MODERATE risk areas.  Residents within the risk areas should closely monitor NOAA Weather Radio, local NWS Statements and/or warnings, and visit this weather site using the SPC HOME PAGE link to obtain current information regarding tomorrows severe outbreak.  I had a hesitancy for the 10:00 a.m. CDT F5 map, which indices did seem to indicate a possible tornado threat over a small portion of LA., but the SPC current SREF forecast model did indicate STP (or the very edge of the SREF outline) of 4-6.

F5 DATA NAM-WRF MODEL 10:00 A.M. CDT


F5 DATA NAM-WRF MODEL 1:00 P.M. CDT


F5 DATA NAM-WRF MODEL 4:00 P.M. CDT


F5 DATA NAM-WRF MODEL 7:00 P.M. CDT


F5 DATA NAM-WRF MODEL 10:00 P.M. CDT


The following are animated GIF maps from the NAM-WRF model regarding STP and SCP
NAM-WRF SIGNIFICANT TORNADO PARAMETER (STP)


NAM-WRF SUPERCELL COMPOSITE PARAMETER (SCP)

SPC MESOSCALE DISCUSSIONS (CLICK IMAGE FOR UPDATES)


SPC CONVECTIVE WATCHES (CLICK IMAGE FOR UPDATES)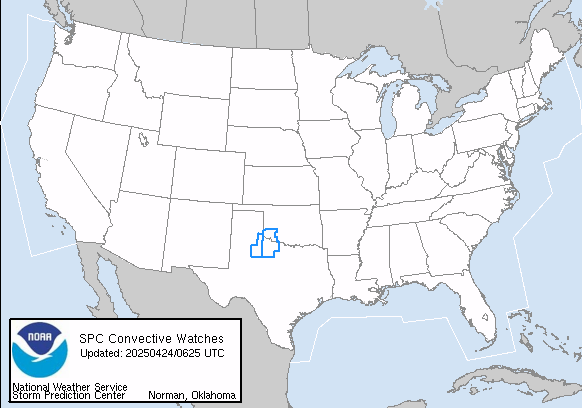 The following NWS Watch / Warning map will provide local NWS information for your area.  Click the image, then once it refreshes, click on your area of interest to view any special weather statements, hazards or advisories for your area.
IF A TORNADO WARNING IS ISSUED FOR YOUR AREA, IMMEDIATELY TAKE STURDY AND SAFE SHELTER

NWS WATCH / WARNING DISPLAY (LINKED…CLICK MAP, THEN YOUR AREA)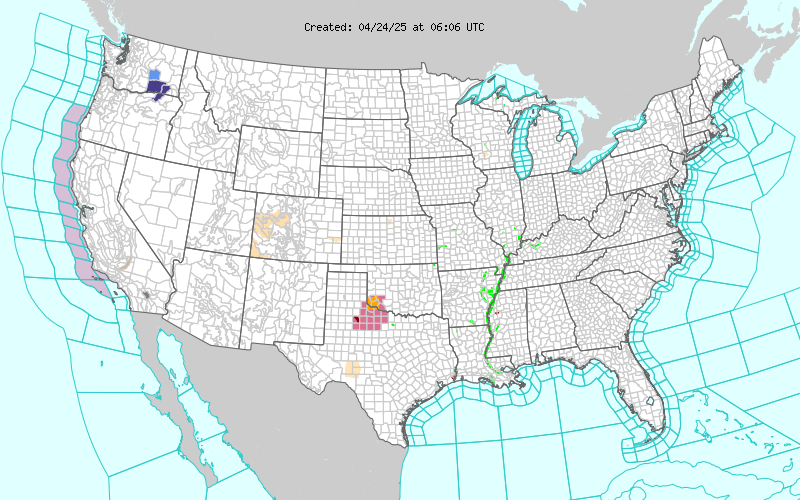 Use the following link to see your area forecast.  Once on the site, type in your zip code in the green box:
https://www.weather.gov/iwx/fallfrostinfo
WSI DOPPLER RADAR LOOP (LINKED)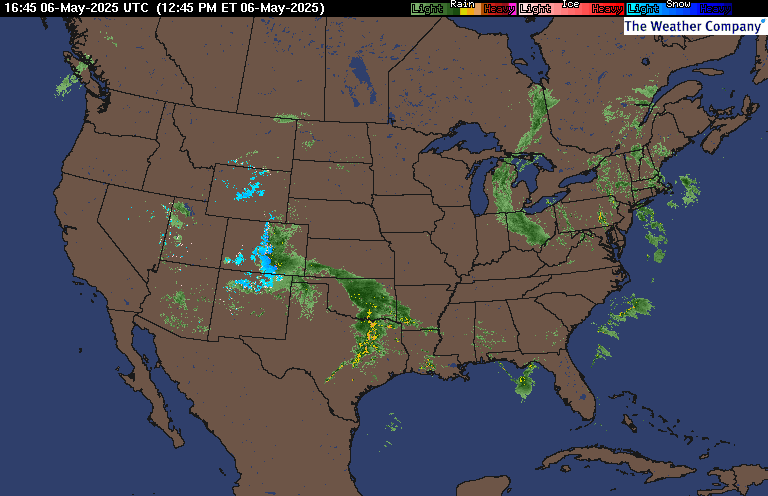 RAP RADAR (CLICK IMAGE THEN RADAR SITE)
You may direct any questions by contacting me personally, ANYTIME, at: twalsh22000@yahoo.com
Have a blessed weekend!
T. F. "STORM" WALSH III
GMCS, USCG (ret)
METEOROLOGIST / HURRICANE SPECIALIST /SEVERE WEATHER SPECIALIST
MEMBER WEST CENTRAL FLORIDA AMS
palmharborforecastcenter
2021-03-25 00:29:25

All news and articles are copyrighted to the respective authors and/or News Broadcasters. eWeatherNews is an independent Online News Aggregator

Read more from original source here…