Severe Threat Continues, But We're In Good Shape for Now
3 min read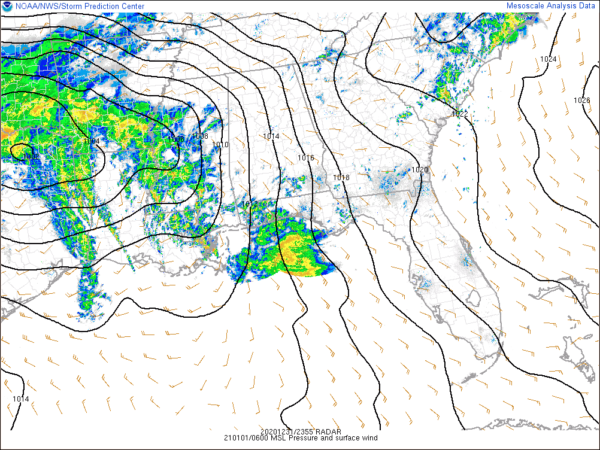 HAPPY NEW YEAR! The surface low responsible for the threat of strong to severe storms this morning continues to hang out over the northeastern parts of Texas and will soon move over the extreme southeastern corner of Oklahoma before entering the western parts of Arkansas. The pressure gradient is starting to tighten up over Central Alabama, but winds are currently staying in the 6-12 MPH neighborhood with a few locations getting wind gusts up to 20 MPH. The low will continue to move north-northeast and will stay a good distance away from our area. However, a cold front from that low will eventually move through Central Alabama later this morning and will exit around or just after the midday hour.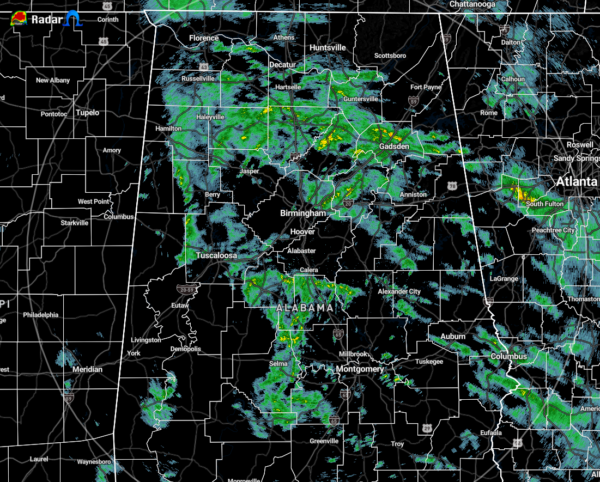 Radar at 12:55 am continues to show scattered to numerous light to moderate showers across Central Alabama mainly stretching from Hamilton to Gadsden in the northern half of the area, along with showers stretching from Calera down to Fort Deposit, and places in between. None of this activity is strong as our airmass remains stable. Instability continues to be limited back over Mississippi as well as CAPE values are only maxing out at 500 J/kg. With these types of low instability/high shear systems, it doesn't take that much instability to have severe weather.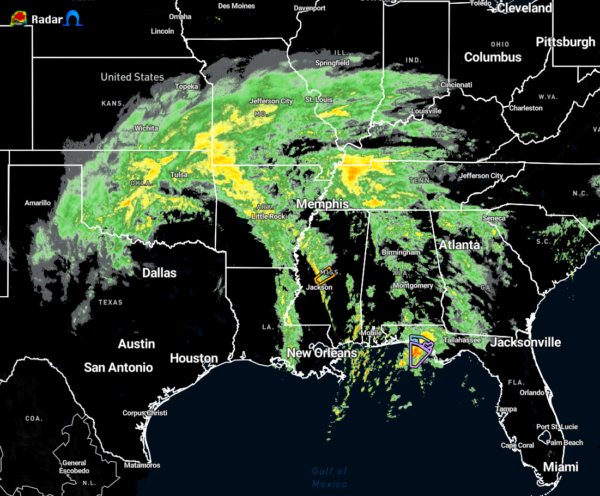 The only severe thunderstorm warning in the southeast is currently in effect for Leake, Attala, Yazoo, and Madison counties in southern Mississippi and that is for the potential of damaging wind gusts up to 60 MPH. No tornado warnings are in effect at the moment.
Wind shear is expected to continue to increase over Central Alabama and that pocket of instability over southern Mississippi will eventually make its way into Central Alabama. The big question is how much of that instability will continue into the area, or will some of that dissipate. We'll have to wait and see.
We have decent helicity values over the southwestern parts of the area already, so if that instability with the already-available wind shear is able to move into that part of Central Alabama, rotating updrafts will be possible which continues the threat for stronger to severe storms with the potential of a tornado or two.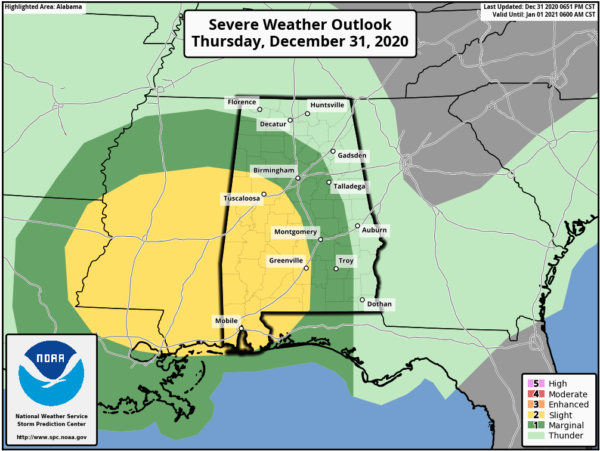 A Slight Risk continues for the southwestern quarter of Central Alabama through the remainder of the pre-dawn hours until 6:00 am, along with a Marginal Risk outside of that covering the rest of Central Alabama with the exception of the extreme eastern side of the area. After 6:00 am, a Marginal Risk will replace the slight risk and will cover nearly all of Central Alabama with the exception of the extreme southwestern corner of the area.
The latest Mesoscale Discussion just released from the SPC says that they are not anticipating a watch being issued over Mississippi. That is good news as conditions and trends continue to look like severe weather is a small and conditional threat. But, with thunderstorms during our secondary tornado season, we need to expect the unexpected. I'll be here with updates throughout the morning. Rest easy… just have a dependable way of being alerted just in case a warning is issued for your location.