Not a Bad Day Today; Clouds/Mild Tomorrow; Severe Weather Threat for New Year's Eve : The Alabama Weather Blog
4 min read
A significant severe weather threat for New Year's Eve highlights this forecast package as a dynamic storm system impacts the Deep South. Let's dig into the details.
THIS AFTERNOON:
It's been a nice day across much of the area, with most locations enjoying a good supply of sunshine. The exception has been areas where dense fog and low stratus clouds formed overnight. Those areas have seen less sunshine through the day, but the bright yellow orb is breaking through there as well now. Temperatures are in the 60s in places where sunshine has been more prevalent. The cloudiest locations had to play catchup and have been climbing through the 50s.
TONIGHT/WEDNESDAY:
Fair to partly cloudy skies will rule through the evening, but low clouds will form again in many areas overnight. And Wednesday will feature more clouds than sun for much of the are. But it should remain dry as the rain will hold off until after midnight. Highs on Wednesday will be in the upper 50s Northeast, lower 60s in the I-22/US-280 corridor, and in the middle and upper 60s to the south and west of there. Lows Wednesday night will be in the 50s.
THURSDAY MORNING:
A surface low will be forming along the Texas Coast as deep upper trough and cutoff low over West Texas moves east. This low will start lifting to the north Thursday night, spreading strong winds over the Deep South. These strong winds will be the key to the potential severe weather threat. Alabama will be mostly cloudy and windy, with southeasterly winds increasing to 15-20 mph with gusts to 30-35 mph at times. Wind advisories will probably be issued by tomorrow. Temperatures will warm into the lower to upper 60s across the areas and dewpoints will edge up into the 60s as well. Precipitable water values will be near record levels for the end of December in Alabama.
THE SEVERE WEATHER THREAT RAMPS UP:
Instability levels will edge up, starting over Southwest Alabama Thursday afternoon, and will increase across the state through the evening hours. Over Central and North Alabama, values will reach 300-700 joules/kg. This is sufficient to produce severe weather given the strong wind shear that will be in place. A powerful low-level jet will of 50-60 knots with jet stream winds of 90 knots at 30,000 feet. This will result in bulk shear of over 50 knots, and low-level southeasterly winds will produce storm-relative helicity values over 300 m2/s2. This introduces a tornado threat in addition to the threat of damaging winds.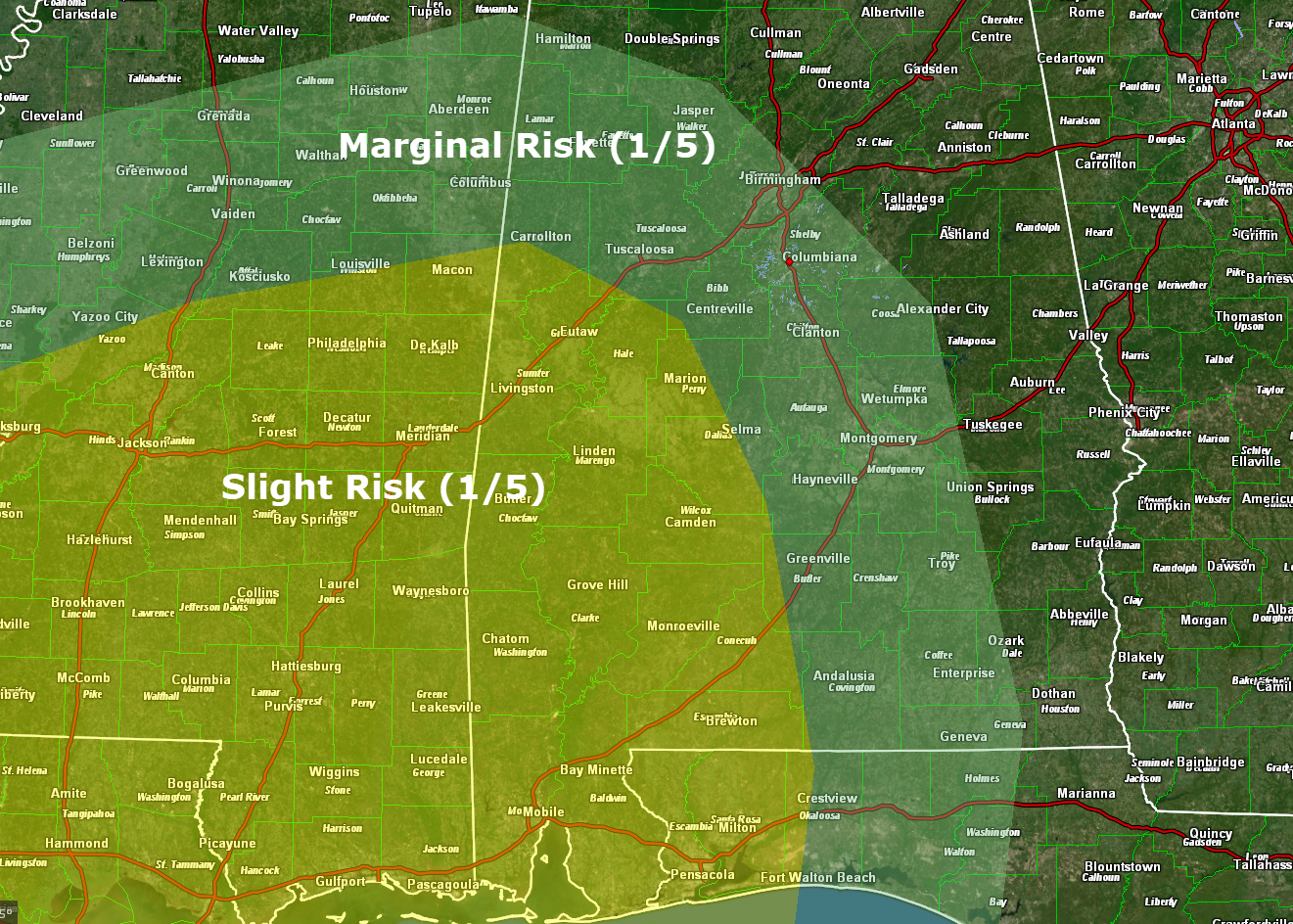 THREAT AREA:
The SPC has issued a slight risk outlook (level 2 of 5) for Day 3 for areas south and west of a line from Carrollton to Selma to Georgiana. A marginal risk (level 1 of 5) covers areas south and west of a line from Hamilton to Leeds to Alex City to Ozark. Damaging winds are the main threat, with a threat of tornadoes as well. The greater threat is in the slight risk zone, but the threat is there for the marginal risk area as well.
TIMING:
The timing is still fluid, so we are using a window of 9 p.m. Thursday until 8 a.m. Friday for Central Alabama, with the earliest threat in the southwestern sections, lifting north and east during the evening. The threat will linger into Friday morning over southeast sections of Central Alabama. Here is a rough timing map for now: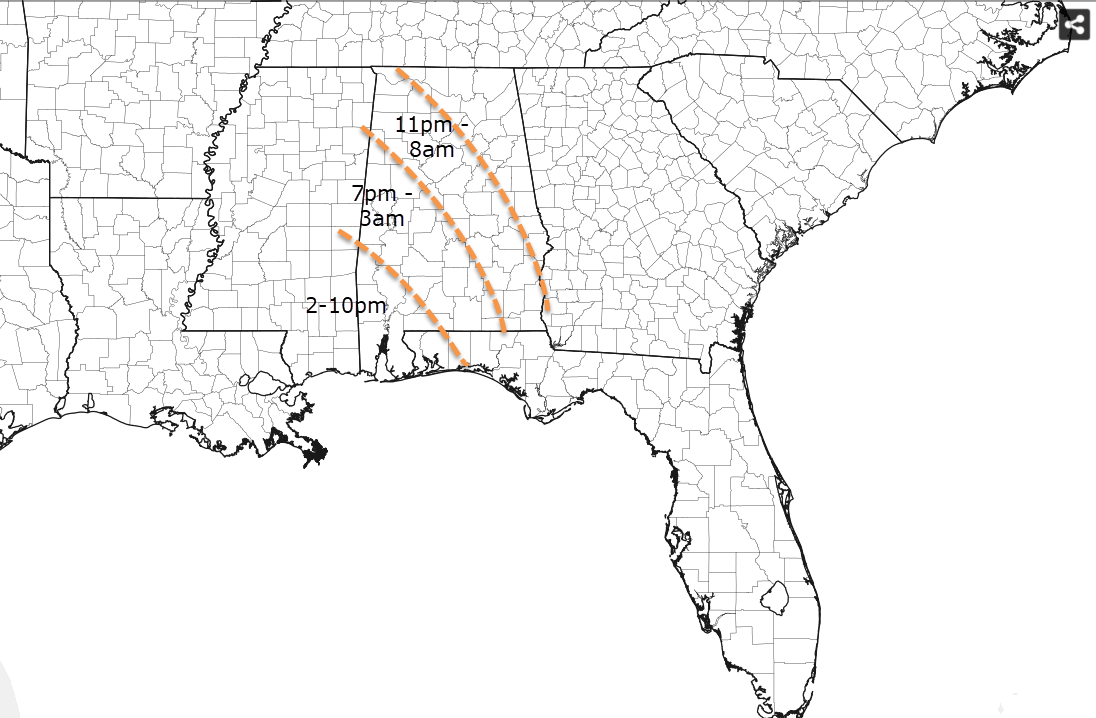 REVIEW SEVERE WEATHER PLANS:
Now is a good time to review your severe weather safety plans. We haven't had to use them much lately and New Year's Eve is not a good night to be dusting them off. Know where you will go in case a severe thunderstorm approaches your area. Falling trees from strong winds will be a potential hazard as well as the threat of a few tornadoes. Have multiple ways to receive warnings and act quickly if one is issued for your location. Check back here for frequent updates between now and the end of the event because the forecast for this dynamic system can and will change.
HEAVY RAIN/FLOODING RISK:
WE have backed off a bit on rainfall amounts, but 1-2 inch amounts are still expected. This may cause local flooding issues.
FRIDAY:
Rain will be exiting eastern sections Friday morning, with slow clearing over the rest of the area. Temperatures won't be substantially cooler behind the system because of the placement of the low and westerly winds in its wake. HIghs will be in the 60s.
THE WEEKEND:
Saturday and Sunday should be dry, although a passing disturbance will bring showers to Tennessee. We will be watching in case some of those can work their way into Alabama.
EXTENDED:
Look for a rain event around Thursday, January 7th, and a second system on the 9th and 10th. The first system should produce around one half-inch of rain while the second will be more prolific, producing 2 inches or more.
ON THIS DATE IN 1898:
The town of Frostproof, Florida was incorporated in 1886. Local real estate developers, intent on attracting citrus farmers to the area, lobbied to have the town named Frostproof. While popular opinion favored another name, the real estate agent who volunteered to deliver the town's official application to the U.S. Postal Service changed the application to read Frostproof. Frostproof was anything but, and a devastating freeze affected the area on this date, causing severe damage to agricultural interests across much of the state. Another bad freeze occurred the following February and was followed by another a couple of years later. The town petitioned to have its name changed, but it would be changed back in 1906 and is still called Frostproof today. It was 18F in Orlando, their coldest reading ever.
Category: Alabama's Weather, ALL POSTS