Northwest and North Alabama Snow Day, A Cold Rain for Everyone Else : The Alabama Weather Blog
1 min read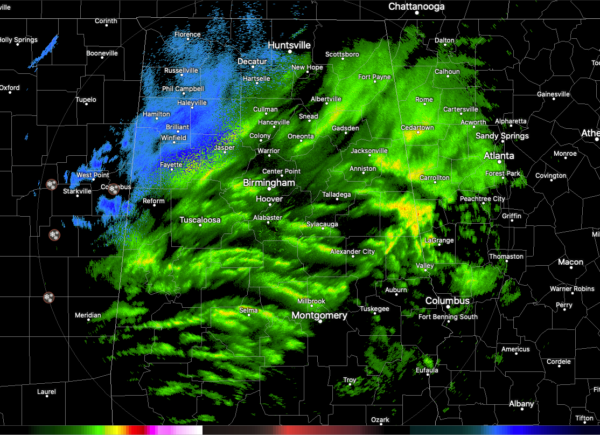 Snow continues this morning northwest of a line from Reform in Pickens County, to Fayette in Fayette County, to Carbon Hill in Walker County, to Falkville in Morgan County, with a few snow showers over Madison County around Huntsville.
Southeast of there, it is all rain.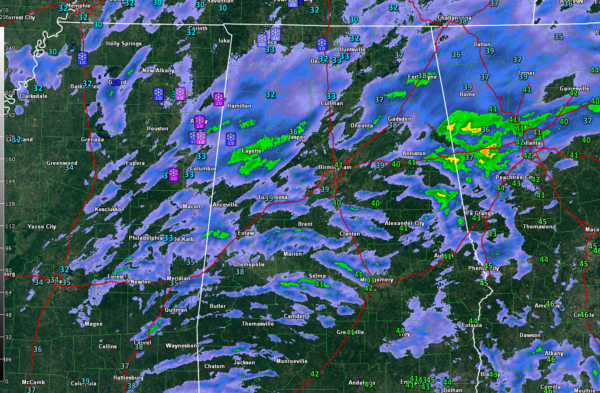 Temperatures are in the lower 30s in the snow zone, with upper 30s to lower 40s to the southeast.
Snowfall amounts have ranged from 0.5 inch to 2 inches across Northwest Alabama. An additional inch of snow may fall across Northwest Alabama and across the Tennessee Valley.
Be careful across Marion, Lamar, Fayette, Winston, Walker, Northwest Tuscaloosa, and Pickens Counties. Roads will are already slushy in many areas, and there will be slick spots. But temperatures are near or above freezing now and widespread travel problems aren't expected.
Here are a few reports:
MARION COUNTY
Hackleburg…1 inch
Gu-win…1.8 inches
Hamilton…ground white, but streets still clear
FAYETTE COUNTY…Roads are slick across the county
Fayette…1 inch
LAMAR COUNTY
Vernon…1 inch
Lamar County Airport…1.5 inches
PICKENS COUNTY…Some of the heaviest snow so far
…3 inches from western Pickens County
…US-82 was partially snow-covered near Ethelsville
WALKER COUNTY
Carbon Hill…2 inches
LAWRENCE COUNTY
8 miles SW of Moulton…1.1 inches
Moulton…1.5 inches
COLBERT/LAUDERDALE COUNTY…Cobert County bridges/overpasses are slushy
Florence…1 inch
Killeen…0.8 inches…roads becoming slushy
Underwood…0.9 inches
LIMESTONE COUNTY
Athens…1 inch
MISSISSIPPI
…Columbus has 4 inches
…Amory has 2 inches
…Tupelo has 1 inch
…Starkville – 3 inches on the Mississippi State campus
Category: Alabama's Weather, ALL POSTS, Winter Weather