Nice & Warm Today; Storms Move In Late on Sunday
4 min read
A Nice Saturday, Storms on Sunday
Saturday will be a day that will start off with plenty of sunshine throughout the daylight hours, before clouds start moving in ahead of unsettled weather that will affect Central Alabama through midweek. We'll stay dry and afternoon highs will reach the lower to mid-80s across the area.
A surface low will develop off to our west-southwest on Sunday that will move in our general direction throughout the day. Showers and storms will move into the western parts of the area by mid-afternoon, dissipating a little during the late-night hours, and keeping a decent chance of showers and a few rumbles of thunder through the overnight hours. Afternoon highs will be in the upper 70s to the mid 80s.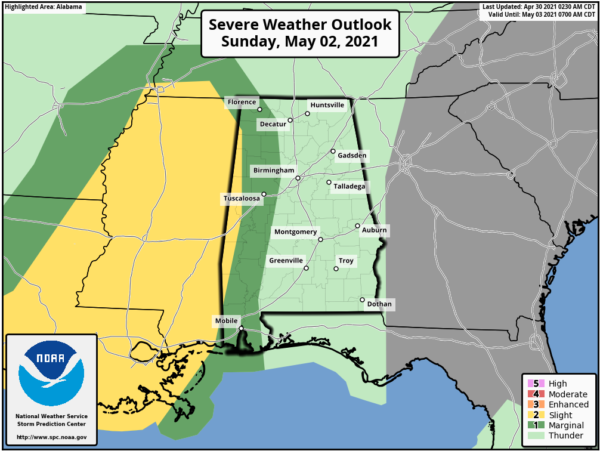 There is the potential for a few stronger to severe storms on the western parts of the area, mainly west of a line from Addison (Winston Co.) to Brookwood (Tuscaloosa Co.) to Safford (Dallas Co.). Isolated damaging wind gusts up to 60 mph and quarter size hail will be possible. For now, the main window for stronger storms will be from 5 pm to 10 pm.
Unsettled Weather Through Midweek
Another surface low will form off to our southwest on Monday that will continue to send moisture-rich air in our direction. Our atmosphere will continue to be unstable especially with the heating of the day. Therefore, rain and storms will be likely with the potential of a few becoming strong to severe. We'll get a better look at this setup once we get close enough for the higher-resolution models come into view. Highs will be in the lower to mid-80s.
A cold front will be approaching Central Alabama on Tuesday and will slowly move into the northwestern parts of the area by sunset. Out ahead of the front, the atmosphere will become unstable once again, so stronger to severe storms may be possible especially during the afternoon and evening hours. Highs will range from the lower 80s in the northwest to around 90 degrees in the southeast.
By the morning rush hour on Wednesday, the cold front will have made it past the I-59 corridor and will continue on its slow trek through the remainder of Central Alabama. Some instability will form ahead of the front, but numbers are not all that impressive at this point. While a strong storm is not out of the question, this may just end up with your normal showers and thunderstorms along and ahead of the front, while drier air will be moving in behind the front. Highs will be in the mid-70s to the lower 80s across the area.
A trough will begin sweeping through the northern parts of the area on Thursday that will bring some clouds and maybe squeeze out a few sprinkles, but I believe we'll stay dry at this point. Highs will be in the lower 70s to the lower 80s.
We'll be on the back side of the trough on Friday with all the rain activity pushing out over the Atlantic Ocean. We do see some moisture stretching back over portions of the southeast and just into the extreme northern parts of the state, but Central Alabama will stay dry with mainly sunny skies. Highs will be in the lower to mid-80s.
On This Day in Weather History
1990 – Thunderstorms produced severe weather from northern Alabama to North Carolina. There were sixty-three reports of large hail or damaging winds, with hail four inches in diameter reported near Cartersville GA. Ten cities in the southeastern U.S. reported record high temperatures for the date as readings warmed into the 90s. Jacksonville FL reported a record high of 96 degrees. Late night thunderstorms over central Texas produced up to ten inches of rain in southern Kimble County and northern Edwards County.
Beach Forecast Center
Get the latest weather and rip current forecasts for the beaches from Dauphin Island, AL, to Panama City Beach, FL, on our Beach Forecast Center page. There, you can select the forecast of the region that you are interested in.
Advertise on the Blog!
We had a record-breaking year in 2020 with over 20 million page views! We are already on a record-shattering pace to break that in 2021 as we are already over 12 million page views so far! Don't miss out! We can customize a creative, flexible, and affordable package that will suit your organization's needs. Contact Bill Murray at (205) 687-0782.
E-Forecast
Get the Alabama Wx Weather Blog's Seven-Day Forecast delivered directly to your inbox by email twice daily. It is the most detailed weather forecast available in Central Alabama. Subscribe here… It's free!
Connect With the Blog on Social Media
You can find the AlabamaWx Weather Blog on the major social media networks:
Facebook
Twitter
WeatherBrains
There are several ways to watch or listen to the podcast that is all about the weather. Watch live starting at 8:00 pm CT on Monday nights at live.bigbrainsmedia.com, James Spann's YouTube Channel, or on one of ABC 3340's digital weather channels (17.2, 40.2, 68.3). Listen to the recorded audio podcast at WeatherBrains.com or on your favorite podcast platform (Apple Podcasts, Stitcher, Spotify, etc.), or watch the recorded video on James Spann's YouTube channel.


Scott Martin
2021-05-01 09:00:07

All news and articles are copyrighted to the respective authors and/or News Broadcasters. eWeatherNews is an independent Online News Aggregator

Read more from original source here…