Midday Nowcast: Tons of Sun, Cold
2 min read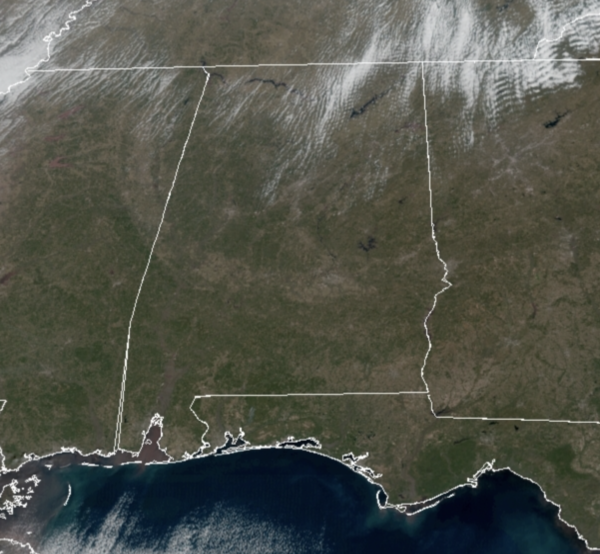 After the cloudy start to the day, we are seeing ample sunshine as we head into the afternoon hours. Winter temperatures have certainly returned to Alabama as highs today will not make it out of the 40s this afternoon. Factor in those brisk northerly winds, and it is feeling colder.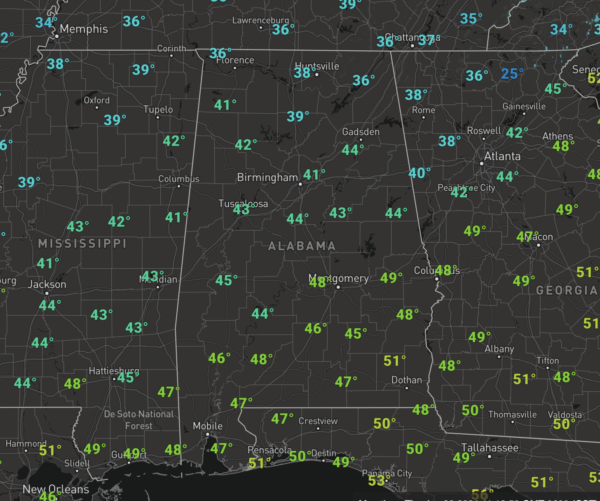 Tonight, the winds become light, and with a clear sky, temperatures will fall into the low to mid 20s across the northern half of Alabama. Tomorrow will be a sunny and warmer day as highs return to the mid 50s.
WEEKEND WEATHER: Saturday will start off sunny and dry with highs in the mid 60s. Clouds will be on the increase by the afternoon and rain returns to Alabama Saturday night and into Sunday. For now the air looks stable, and there is no risk of severe thunderstorms, and probably little thunder. The rain will come to an end Sunday morning, but clouds will likely linger through the afternoon. Rainfall amounts should be around the one-half inch range for many of us. Sunday highs should remain in the 60s for most places.
BEACH FORECAST CENTER: Get the latest weather and rip current forecasts for the beaches from Fort Morgan to Panama City on our Beach Forecast Center page. There, you can select the forecast of the region that you are interested in visiting.
WORLD TEMPERATURE EXTREMES: Over the last 24 hours, the highest observation outside the U.S. was 119.3F at Ndzevane, Swaziland. The lowest observation was -70.4F at Ekyuchchyu, Russia.
CONTIGUOUS TEMPERATURE EXTREMES: Over the last 24 hours, the highest observation was 88F at Boca Raton, FL. The lowest observation was -32F at Ash Lake, MN.
WEATHER ON THIS DATE IN 1989: Nome, AK, reported an all-time record low reading of 54 degrees below zero, and the temperature at Fairwell AK dipped to 69 degrees below zero. Deadhorse AK reported a morning low of 49 degrees below zero, and with a wind chill reading of 114 degrees below zero. In the Lower Forty-eight States, a winter storm over Colorado produced up to 15 inches of snow around Denver.