Midday Nowcast: Decent Friday Afternoon Ahead
2 min read
The rain from overnight and this morning has pushed down to the Gulf Coast as the cold front continues to push down into the Northern Gulf.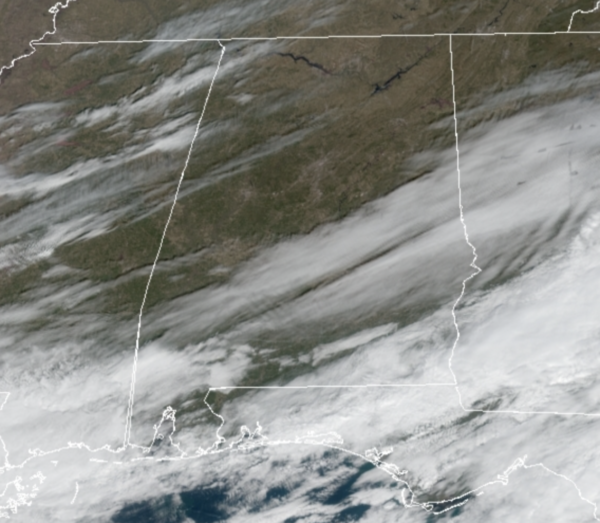 With a mix of sun and clouds, we are seeing temperatures in the 40s at midday and these should climb into the upper 50s and lower 50s this afternoon.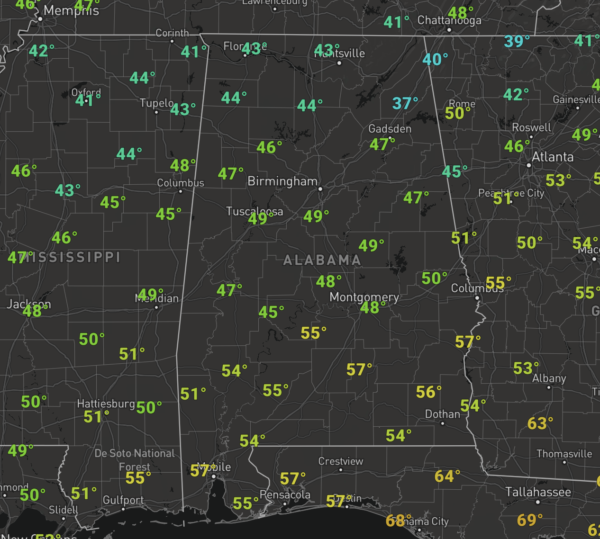 For tonight, the sky will be partly cloudy across the north to mostly cloudy across the south. Rain showers will remain a threat for South Alabama, mainly during the evening. Overnight low temperatures will range from the lower 30s north to the lower 40s southeast.
WET START TO THE WEEKEND: A wave of low pressure forms along the front and it will cause clouds and rain to spread back north across the state through the day tomorrow and we are in store for a cold rain statewide. The rain should arrive across the northern half of the state by early afternoon and continue through the afternoon, evening, and into the overnight hours. Temperatures will be in the 30s and 40s across North Alabama tomorrow, and due to evaporative cooling, we could see some areas of snow across the Northeast counties of the state. For the rest of us, it is just a cold rain. Rain amounts will be around one-half inch.
DRY SUNDAY/MONDAY: Most of the rain comes to an end early Sunday with the sky becoming partly sunny as drier air works into the state. Highs Sunday should be in the low 50s. The weather looks great to start the week as Monday will be dry, with plenty of sun, and highs in the low 60s.
BEACH FORECAST CENTER: Get the latest weather and rip current forecasts for the beaches from Fort Morgan to Panama City on our Beach Forecast Center page. There, you can select the forecast of the region that you are interested in visiting.
WORLD TEMPERATURE EXTREMES: Over the last 24 hours, the highest observation outside the U.S. was 107.2F at Augrabies Falls, South Africa. The lowest observation was -61.2F at Suhana, Russia.
CONTIGUOUS TEMPERATURE EXTREMES: Over the last 24 hours, the highest observation was 94F at Zapata, TX. The lowest observation was -9F at Cando, ND.
WEATHER ON THIS DATE IN 1887: San Francisco experienced its greatest snowstorm of record. Nearly four inches was reported in downtown San Francisco, and the western hills of the city received seven inches. Excited crowds went on a snowball throwing rampage.