Looking Back At Monday Night's Event Across The Tennessee Valley : The Alabama Weather Blog
4 min read
TENNESSEE VALLEY MINI-SNOWMAGEDDON: Many have been asking about the situation across far North Alabama last night. Here are some notes…
*I am on "vacation" this week, but weather never takes a break, and I was watching the situation unfold last night with great interest. I spent over 8 continuous hours ingesting and posting weather photos and videos from the snow/ice zone. I am thankful for everyone who took the time to send me this content; it is extremely helpful.
*Yes, light snow was forecast for Huntsville and the surrounding area 24 hours in advance. And, the forecast was correct; snow amounts were generally 1/4″ or less. That is light snow.
*But, the morning forecasts missed the major impact. And, quite frankly, that is all that matters in a forecast. The impact to people.
*My early morning post yesterday (around 6a CT) on Facebook stated "Best chance of seeing a few snow flakes are along and north of U.S. 278 (Hamilton to Cullman to Gadsden)… but a few flurries are possible down to I-20. This is a low impact situation; there are no advisories in effect for any part of Alabama. But, there could be a few slick spots on roads, so as always, drive carefully."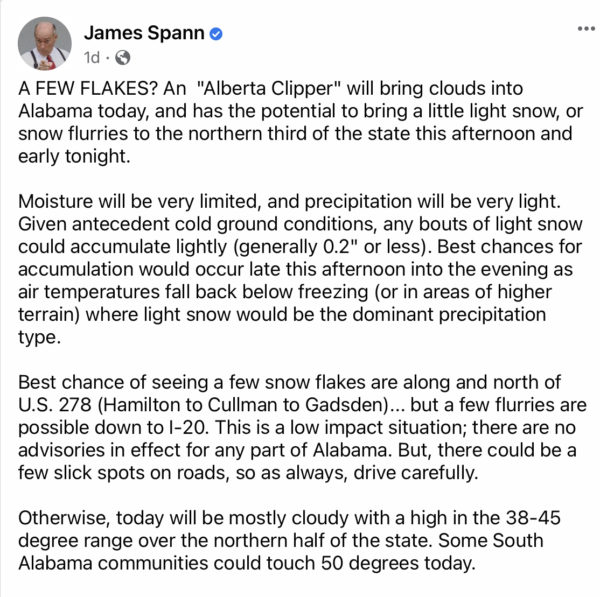 *The midday AFD (area forecast discussion) from NWS Huntsville issued at 11:27a CT: "Given the light nature of this precipitation, the dry air in place, and warming temperatures, very minimal accumulations are expected – mainly on grassy surfaces with no real societal impacts"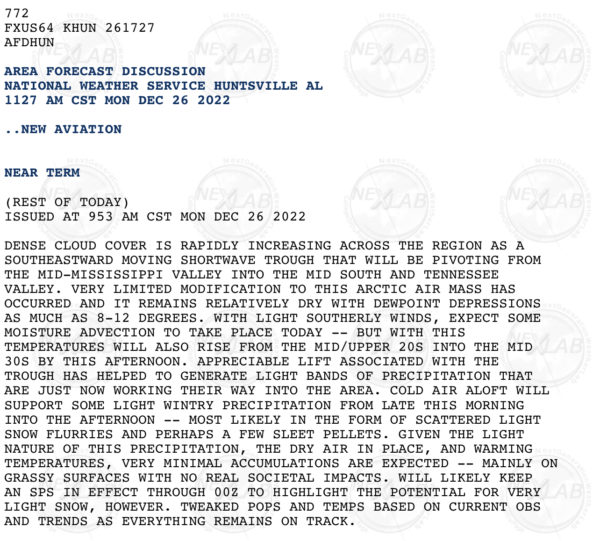 *When it became clear that the impact was going to be much more significant than earlier thought, NWS Huntsville issued a "Winter Weather Advisory" at 2:40p CT… that stated: "Plan on slippery road conditions, especially bridges and overpasses. The hazardous conditions could impact the evening commute"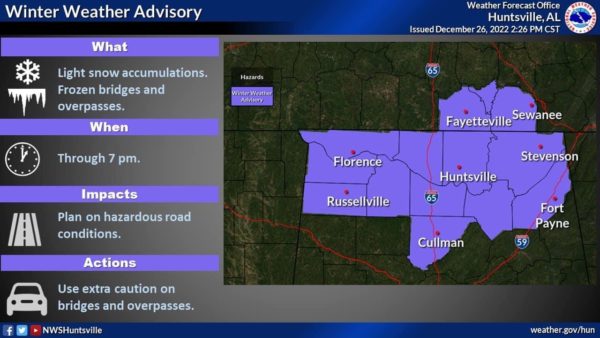 *It seems like many didn't hear or see the WWA issued at 2:40, although it was put immediately on my FB page, and disseminated through traditional media. I did my best to repost all of the images and video of problems across the Tennessee Valley to let people know we have a real issue with travel.
*Traditionally, "Alberta Clippers" like the one yesterday and last night are starved for moisture, and don't produce much in the way of really meaningful snow around here. This one only produced around 1/4″ of snow, but the impact was huge. Mostly related to the very cold infrastructure and ground due to the Arctic blast that arrived just before Christmas.
*This was a much scaled down version of "Snowmageddon" that impacted Birmingham and Atlanta in 2014 since the coverage area was much smaller, and the duration was considerably shorter. But, there was still a huge impact for Huntsville and the surrounding area.
*We need to remind people we are in the business of forecasting weather, and not road conditions. The forecast of light snow was right on the money, but the road impact was severe and not forecast well. We need to work with ALDOT and other agencies to better communicate high impact events like this more effectively. I promise we will work on this in coming months. We must do a better job across the weather enterprise and local governments.
*On a personal note, over the last 24 hours I have been called…
An idiot that incites panic and hysteria
A f***** moron
A racist
A loser that needs to be banned from social media
A "xenophobe"
A liar
And that is just a few of the messages I have received after posting weather information, along with video and images from Huntsville and the surrounding areas last night for hours.
We live in a very angry world right now, full of hate and vitriol. Let me just remind all of you that posting that kind of stuff isn't a good look for you or your family. Please consider kindness; we need more of it desperately these days.
Constructive criticism is welcome and needed, but the vulgar stuff does no good and doesn't accomplish anything. Some of the insults made absolutely no sense. And, please understand, during events like this I get literally hundreds and hundreds of pictures and videos in a matter of hours. Only a small number of can be posted, but they are all seen and appreciated. It always works that way.
I will review the situation in more depth when I get back to work next week, and I promise we will work on improving road forecasts during winter events, which will involve not only meteorologists, but those in transportation and local government.
Category: Alabama's Weather, ALL POSTS


James Spann
2022-12-28 12:29:25

All news and articles are copyrighted to the respective authors and/or News Broadcasters. eWeatherNews is an independent Online News Aggregator

Read more from original source here…