Hurricane Zeta & Flash Flooding Threat Quickly Advancing Northeast : The Alabama Weather Blog
2 min read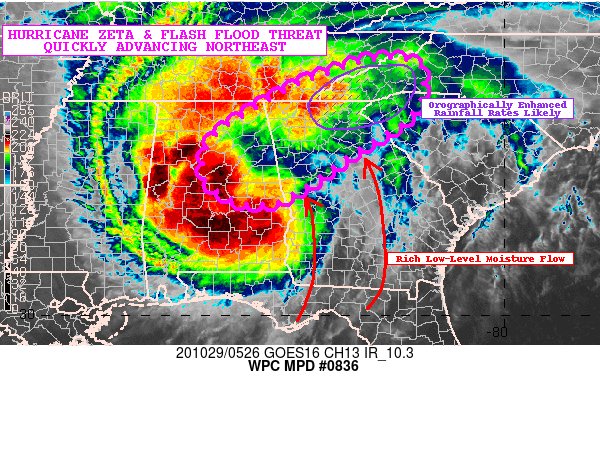 SUMMARY… Hurricane Zeta and its threat of producing flash
flooding moves northeast tonight with the highest potential for
excessive rainfall rates in parts of the southern Appalachians
early this morning.
DISCUSSION… Zeta is wasting no time sticking around near the
central Gulf Coast tonight as the storm feels the influence of a
powerful upper level trough over the southern Plains directing it
northeast. GOES-East IR satellite imagery shows cloud tops that at
one point were cooling over the last couple hours, indicating Zeta
still remains a healthy and powerful storm despite having been
over land for at least six hours. This is likely due to the
abundance of upper level divergence aloft courtesy of the storm's
position close to the right entrance region of a ~180 knot jet
streak over far southeast Canada and northern New England. Doppler
radar indicated the most intense rainfall rates were located along
the northern and eastern periphery of Zeta's rotation while
showers began to increase in both intensity and coverage in
northern Georgia and the western Carolinas.
Observed rainfall totals where Zeta passed overhead were generally
on the order of 1-3″ in a 3 hour time span over far southern
Mississippi. A few locations experienced hourly rainfall rates of
1.5″ per hour within Zeta's eye-wall. The aforementioned areas
witnessing these heavy rainfall rates were placed under flash
flood warnings in portions of southern Mississippi and southern
Alabama. These rainfall rates fall in line fairly well with the
experimental HRRR which suggests a swath of 1.5-2″ per hour
rainfall totals as Zeta's core tracks first from central Alabama
then into northern Georgia over the next few hours.
As the storm approaches the southern Appalachians early this
morning, southerly flow will strengthen and lead to an
increasingly favorable setup for enhanced orographic lift along
the southern-facing slopes. With no shortage of deep tropical
moisture embedded within the southerly flow ahead of Zeta and ~250
J/Kg of MUCAPE at its disposal, rainfall rates in excess of 2″ per
hour may develop later this morning. In addition, one hour FFG
values from parts of northern Georgia and southeast Tennessee into
the far western Carolinas are as low as 1.0″ per hour in spots.
Zeta's progressive nature should limit the aerial extent and
longevity any observed areas of flash flooding, but excessive
rainfall rates combined with low FFG values still favors the
potential for some flash flooding early this morning.
From WPC's Mesoscale Precipitation Discussion #836
Category: Alabama's Weather, ALL POSTS, Severe Weather, Tropical
Scott Martin is an operational meteorologist, professional graphic artist, musician, husband, and father. Not only is Scott a member of the National Weather Association, but he is also the Central Alabama Chapter of the NWA president. Scott is also the co-founder of Racecast Weather, which provides forecasts for many racing series across the USA. He also supplies forecasts for the BassMaster Elite Series events including the BassMaster Classic.