Here's the latest DC weather forecast
2 min read
Wind chills in the 20s and 30s on Sunday. The cold weather continues starting this week.
WASHINGTON — A cold Canadian weather pattern has set up for the DMV. This continues through the start of the week. Dress for the 20s and 30s Sunday as wind chills will make it feel that cold. 
Quick Forecast:
Sunday: Mostly sunny, a few afternoon clouds. High: 45.
Sunday Night: Partly cloudy. Cold. Low: 34.
Monday: Partly to mostly cloudy. High 42.
It's cold. That means you'll want to layer up a bit for outdoor plans this weekend.
Sunday is cooler than Saturday, with highs in the mid 40s, but wind chills in the 20s Sunday morning and 30s in the afternoon. It's a sunny Sunday, with a few clouds rolling in for the afternoon and evening. 
Still cold Monday with highs in the low to mid 40s. There is a chance of some flurries Monday as an upper level low passes near the DMV. Right now the best chance of seeing flakes is across Central and Northern Virginia. 
Detailed Forecast:
Sunday: Sunny in the morning, a few afternoon clouds. Blustery, especially in the morning. Highs: 43-49. Winds: NW 10-20.
Sunday Night: Partly cloudy. Lows: 26-32. Winds: NNW 5.
Monday: Partly sunny, breezy and cold, flurries possible, especially south and west. Highs: 40-45.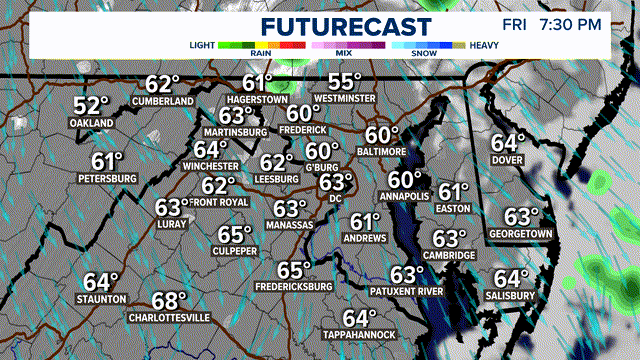 Extended Forecast:
Tuesday remains chilly with highs in the 40s. Expect similar weather for Wednesday. By Thursday and Friday a warming trend takes hold, with a return to above average 50s for the region. No rain or snow is forecast for the week ahead.  
Tuesday: Mostly sunny and still cold. Highs: 42 – 47.
Wednesday: Partly cloudy. Highs 44 – 49.
Thursday: Mostly sunny and not as cold. Highs 53- 58.
Friday: Partly cloudy. Highs in the low to mid-50s.
 
APP USERS: Click here to see the radar loop