Here's An Update on the Alabama Weather Situation at 2:30 p.m. : The Alabama Weather Blog
4 min read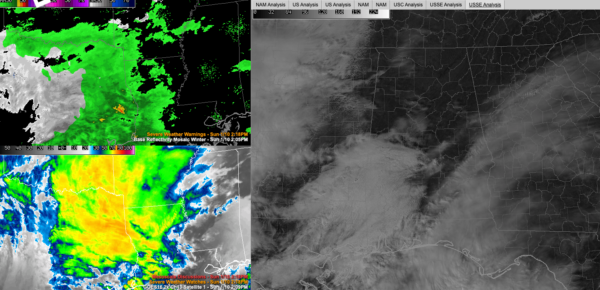 Persistent morning clouds have burned off in most areas across North and Central Alabama but temperatures have been colder than expected. Readings are warming into the middle 40s in the I-20 Corridor but will remain in the lower 40s over North Alabama. Clouds are increasing from the southwest now Sumter, Greene, Hale, and Perry Counties to the south. All eyes now turn to the shield of rain and snow now moving across eastern Texas and moving into southern Arkansas and western Louisiana.
WINTER WEATHER IN ALABAMA: Winter weather situations in Alabama are rarely clear cut. I have experienced dozens of them over a half-century of watching our weather. As a young snow fan, I can recall many long nights tracking temperatures because it often comes down to temperature. And indeed this time, it is no different. Temperatures will fall to near or below freezing over the northwestern part of the area tonight as a precipitation shield approaches the state from the west. The coverage of those below-freezing temperatures and the timing of the onset of the precipitation are critical to this forecast.
THINKING HASN'T CHANGED: In summary, the best chance of minor snow accumulations will be late tonight and early Monday morning over northern and northwestern sections north of a line from Reform to Jasper to Albertsivlle and Fort Payne, including places like Fayette, Muscle Shoals, Jasper, Hamilton. Huntsville, Scottsboro, Fort Payne, and Albertville. There may be up to one-half inch of snow with some locally higher amounts in this area. That will cause some travel problems especially on bridges and overpasses tomorrow morning before the precipitation changes to rain as temperatures warm and moves out.
A wintry mix of rain, sleet, and snow is possible further south to a line from Selma, to Verbena to Roanoke, including places like Demopolis, Selma, Tuscaloosa, Clanton. Birmingham, Anniston, and Gadsden. There could be a few slick spots of bridges and overpasses during the early morning hours, including the early commute for some.
Further south, the precipitation will just be a cold rain.
TEMPERATURES KEY: Temperatures will be near or below freezing tonight for areas north of a line from Reform to Jasper to Oneonta to Fort Payne. They will be in the 33-35F range as far south as Selma to Clanton to Alex City and Roanoke. The high temperatures today are turning out cooler than expected because of persistent cloud cover. But that cloud cover will act as a blanket tonight and help keep things a little warmer than expected perhaps. A precipitation shield will move in after midnight. There will be some limited evaporative cooling as the initial precip falls, dropping the temperature a couple of degrees in some areas before southerly winds help moderate things a bit and warming temps after sunrise occur. The upper disturbances should be shearing out by the time it reaches Alabama, so I wouldn't expect much dynamical cooling to help snow occur like we are seeing in Texas this morning.
TIMING: Timing of the arrival of the precipitation is key also. Nothing happens before midnight, we believe. Showers will just be reaching West Alabama by then.
By 3 a.m., some light rain or sleet will be spreading up the I-59 Corridor with a rain/snow mix pushing into Pickens/Lamar Counties.
Between then and 6 a.m., snow, sleet and freezing rain will spread northwest of a line from Reform to Fayette to Jasper to Cullman. Moderate snow could impact parts of Marion, Marion County, Winston County, Lamar County along with most of Fayette County and portions of Northwest Pickens County and the northwest half of Walker County north and northeast through Franklin County, Colbert County, Lauderdale County, Lawrence County, Limestone County, Morgan County, and Madison County. To the south, a mix of rain, sleet, freezing rain, and snow will be impacting the I-59 Corridor including areas from Tuscaloosa to Birmingham and Anniston/Gadsden.
Between 6-9 a.m., the wintry mix will be changing to all rain except over the northwestern corner of the state.
By noon, the only snow will be over the far northwestern counties of Lauderdale, Colbert, and Franklin with rain elsewhere.
Here are potential snow totals: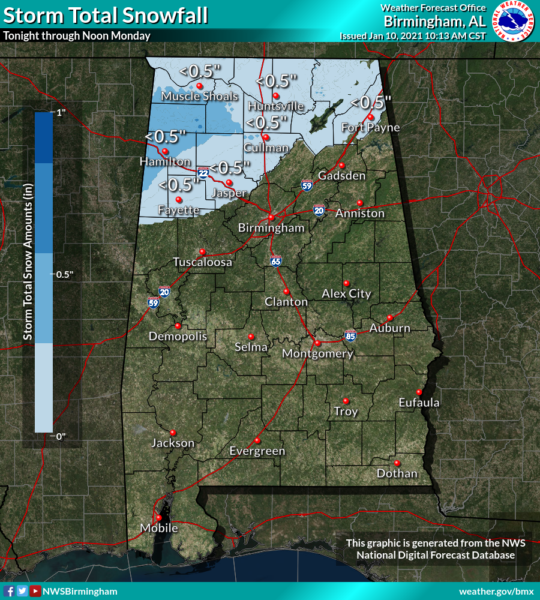 MONDAY AFTERNOON AND BEYOND: The rain should move out Monday afternoon, with temperatures in the 30s North, with lower and middle 40s Central. Monday night lows will be in the upper 20s to middle 30s with mostly cloudy skies and a brisk northwesterly wind. There could be a few snow flurries over northern portions of the area. Tuesday highs will be in the 40s, with 50s returning for the remainder of the week.
Category: Alabama's Weather, ALL POSTS, Winter Weather