Happy New Year! Some Clearing Except Southeast, Cooler Overnight; Small Chance of a Saturday Shower
4 min read
**NO VIDEO THIS AFTERNOON DUE TO HOLIDAY**
Happy New Year! I know most of you will join me in saying good riddance to 2020 and here's to a better 2021! Fortunately, 2020 ended with a whimper in the severe weather department and 2021 picked up where it left off. This morning's storms have moved into Georgia, although there are some showers left over southeastern sections. I am about to start working on some brisket, greens, and blackeyed
peas!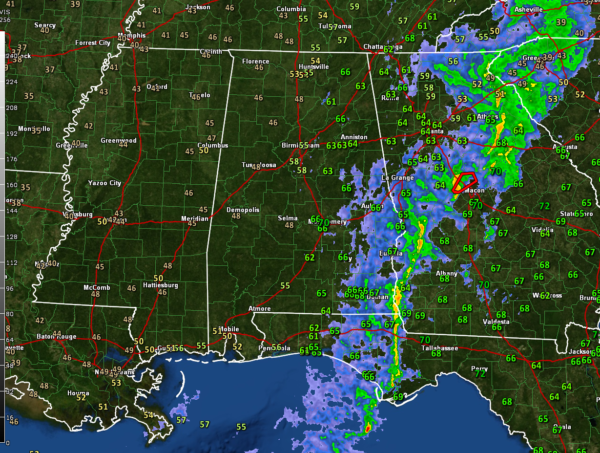 ON THE WEATHER MAPS: Early this afternoon, we find our occluded low over southern Missouri. An occluded low occurs when its cold front has overtaken its warm front, forcing the warm sector aloft. The airmasses are eventually drawn into the low and start to mix. East of the low is the triple point, where the cold front and warm front diverge. This triple point is near Paducah KY this afternoon. The cold front trails south along I-65 through Alabama, not far behind the snaky warm front. The entire mess will push quickly to the northeast and by tomorrow morning, the low will be in New York state, with the cold front trailing all the way back into northern Florida.
FOR THE REST OF TODAY: Skies are clearing fairly quickly behind the cold front over western sections of Alabama and many areas will see a good bit of sunshine during the afternoon. And the airmass behind the front is not substantially colder, so this will allow daytime highs to warm into the 70s in most locations today. Not bad.
TONIGHT: Some low clouds and fog may form overnight, and lows will bottom out in the upper 30s/lower 40s North, to middle 40s Central.
FOR YOUR SATURDAY: The deep upper-level trough is still back to the west and an upper-level low will cut off over Texas. This low will move to Missouri by Saturday night. This may trigger a few light showers over North and Northwest Alabama Saturday afternoon and Saturday night. To the southeast, another surface low may form along the front out over the Gulf of Mexico, As it ripples northeastward, it will energize the boundary and increase rain chances over Southeast Alabama. Some of that precipitation could back up as far north as I-59 Saturday night. So, prepare for an illegal shower as JB used to call them. Highs tomorrow will range from middle 50s Northwest to near 60F in the I-59 Corridor to middle 60s near Auburn. Saturday night lows will be in the middle 30s to near 40F. It will be a little breezy Saturday evening also.
SUNDAY: Sunday should be partly cloudy and slightly cooler as westerly winds usher in a slightly cooler airmass. Highs will be in the lower 50s on average. Sunday night lows will be near freezing along and north of I-20, with middle 30s to the south.
NEW WORK WEEK: The first work week of 2021 kicks off with high pressure in charge of our weather. This means dry conditions Monday through Wednesday. Temperatures will be in the upper 50s to lower 60s by day, and middle to upper 30s by night.
NEXT WEATHERMAKER: A surface low will bring rain back into the state late Wednesday night into Thursday. Expect about an inch of rain. Timing could shift on this one, so stay tuned as it could be more of a Friday system. Highs will be in the 50s, lows in the 40s.
WEEKEND OUTLOOK: Saturday dry, Sunday wet as another system comes our way. We will be watching its evolution.
BEACHCAST: It will be a beautiful week along the beautiful beaches of Alabama and Northwest Florida until Thursday, when the same system that will bring us rain, will bring rain to the beaches. Highs will be in the 60s. Lows will be in the 40s mostly. High rip current risk through tonight with high surf running 5-8 feet today. Water temperatures are in the upper 50s.
Click here to see the Beach Forecast Center page.
DANCING WITH THE STATS: Miami reported that it had recorded its warmest year on record, with an average temperature of 79.3 degrees for the year, beating the old record of 79.1 degrees which was set in 2015, 2017, and 2019.
ADVERTISE WITH US: We broke our own record this past year! Deliver your message to a highly engaged audience by advertising on the AlabamaWX.com website. The site enjoyed 20.3 MILLION page views in the past 12 months. Don't miss out! We can customize a creative, flexible, and affordable package that will suit your organization's needs. Contact me, Bill Murray, at (205) 687-0782, and let's talk.
WEATHERBRAINS: This week, the panel will entertain the chairs of the American Meteorological Society Annual Meeting. Check out the show at www.WeatherBrains.com. You can also subscribe on iTunes. You can watch the show live at live.bigbrainsmedia.com or on James' YouTube Channel You will be able to see the show on the James Spann 24×7 weather channel on cable or directly over the air on the dot 2 feed.
ON THIS DATE IN 1935: The Associated Press initiated its Wirephoto Service. The facsimile service transmitted news photos to its subscribers. Two products that would remain a feature of the service were two daily weather maps, one for morning papers and one for evening papers. The Wirephoto Weather Maps have remained a staple of the AP. UPI also offered daily weather maps to its syndicate by facsimile. By April 1982, the USA TODAY color national weather map had changed the face of newspaper weather maps. Follow my weather history tweets on Twitter. I am @wxhistorian at Twitter.com.