Extreme : The Alabama Weather Blog
1 min read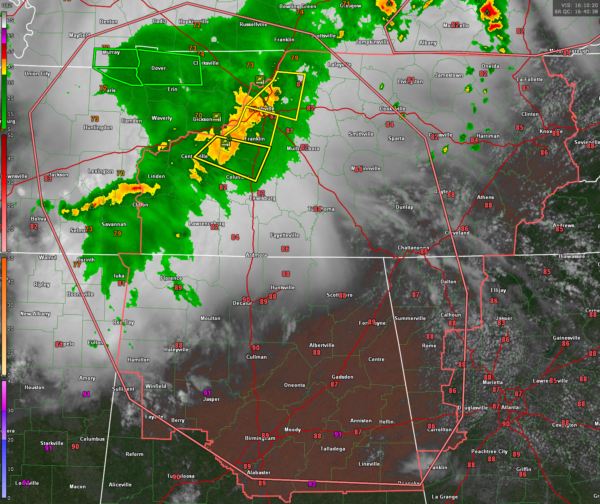 Extreme. That is the word being used for the unstable conditions across Alabama yesterday and again today. Yesterday, those conditions took rather ordinary evening severe thunderstorms and turned them into damaging, potential killers with downbursts in the Bluff Park/Hoover areas and in Saginaw in Shelby County.
Gary Goggins from the NWS in Birmingham pointed out this morning that the morning weather balloon release from BMX showed an unmodified most unstable CAPE of 5000 with 1,000 joules of downdraft CAPE and a Preciptable Water of 2.02 inches.
Regular readers of the Blog know that CAPE is the mostly widely used predictor of severe weather potential. Typical values are:
<300: Mostly stable, little or no convection
300-1000: Marginally unstable, weak storms unless high shear day
1000-2500: Moderate unstable, possible severe thunderstorms
2500-3500: Very unstable, severe thunderstorms
3500 or higher: Extremely unstable, severe thunderstorms
Yesterday's sounding was in the top 5 in BMX history with a CAPE of 6,400. Lapse rates (drop in temperature with height) were very strong, and they are very strong today as well, with low na dmid level lapse rates currently over 6.5C to over 7C.
Yesterday's downbursts were textbook. There are hundreds of trees down, many on homes, and some fell on vehicles, in southern Jefferson and Central Shelby County. Fortunately, we have heard of no fatalities in the event, which was well warned by the NWS in Birmingham. There were some injuries however.
Credit to our John Talbot, a member of our team who is tireless in feeding real-time reports to the forecasters and all of our ground truth from local law enforcement and fire about falling trees. Last night, forecasters at BMX were commenting as they watched the storms develop over western Jefferson County that they would be hearing from John soon. And starting about 746, it was a continual stream of frightening reports mostly from Hoover Fire. Trees on houses, blocking roads, on vehicles, abandoned cars, power outages, emergency officials on generator power, and fire battalions cutting their way into neighborhoods.
Then Gerald Satterwhite shared a GIF of the downburst's signature thumbprint on velocity in a cross section from the BMX radar. There were some pixels in that radar image from Saginaw that showed winds of 80-85 knots hitting the ground! That's nearly 100 mph.
Now we are going to have that potential again today. With Excessive Heat Warnings in effect, having no power is a terrible thing. So check on neighbors and take precautions if your power is out.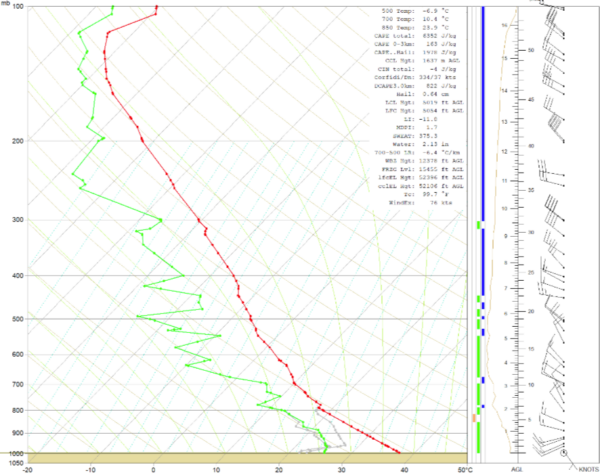 Now Gary has "modified" that morning sounding for a temperature of 99F and a dewpoint of 78F. That yields a CAPE of 6,352 joules, The lifted index is nearly -12, which older weather fans will remember as our old time indicator. The Precipitable Water is 2.13 inches. The observed Downdraft CAPE is 1,100.
So, yesterday was extreme. Today is every bit as extreme, and we have the storms already on the field coming out of Tennessee into North Alabama. A severe thunderstorm watch is already in effect.
The screaming message is to take severe thunderstorms seriously. Have your sources of warnings handy, pay attention to the sky. Yesterday's Hoover storm sounded like a hungry lion with a rumbling tummy even several miles away from it. It one of these storms is approaching you, go into a modified tornado procedures, lowest floor of your home or building, away from windows. Do not be in a vehicle, sitting or driving around. Trees falling on cars, mobile homes, and even site-built homes are potential killers. Don't be a statistic.
We will be warily watching today's storms and keeping you updated. Stay with the blog for the latest.
Category: Alabama's Weather, ALL POSTS, Severe Weather


Bill Murray
2023-08-12 16:49:02

All news and articles are copyrighted to the respective authors and/or News Broadcasters. eWeatherNews is an independent Online News Aggregator

Read more from original source here…