Dense Fog and Low Clouds Overnight
1 min read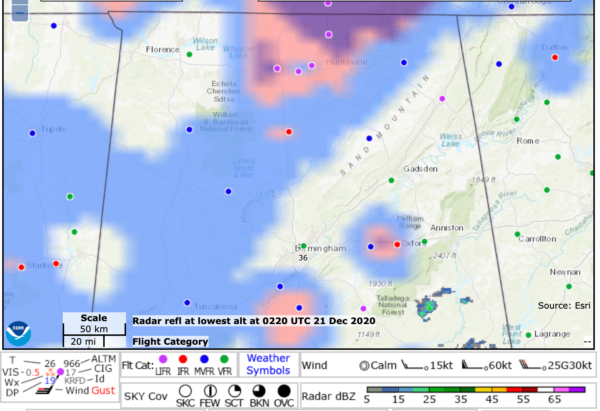 Dense fog has formed over North Alabama tonight in areas where low clouds are not in place.
The visibility at Decatur and at Huntsville International and at Sharp Field in Huntsville is down to one-quarter mile. It is less than 3/4 of a mile at Redstone.
Widespread visibilities of less than one mile, with some areas of visibility near zero, will occur overnight in areas of the Tennessee Valley east of I-65.
A dense fog advisory has been issued for Limestone, Madison, Morgan, Marshall, Jackson, DeKalb, and Cullman Counties in North Alabama
Including the cities of Athens, Huntsville, Decatur, Albertville, Boaz, Guntersville, Arab, Scottsboro, Fort Payne, Rainsville, and Cullman.
Over Central Alabama, low clouds or patchy fog will affect the area overnight.
The visibility is down to 2 miles in fog at Talladega. Cullman has 3 miles in fog.
If driving, slow down, use your headlights, and leave plenty of distance ahead of you.