Clouds Slow to Break Up; Severe Weather, Heavy Rain Possible on New Year's Eve (Thursday) : The Alabama Weather Blog
5 min read
**NO VIDEO THIS AFTERNOON AS WE OPERATE ON A SPANN VACATION SCHEDULE**
Clouds continue to hang tough over most of North and Central Alabama on this Monday afternoon as a cold front slowly pushes southeast across the northwestern part of the state.
Temperatures are in the lower and middle 50s North, and upper 50s to lower 60s Central. Lows tonight will be in the lower and middle 30s North, near 40F in the I-20 Corridor, and lower and middle 40s South Central.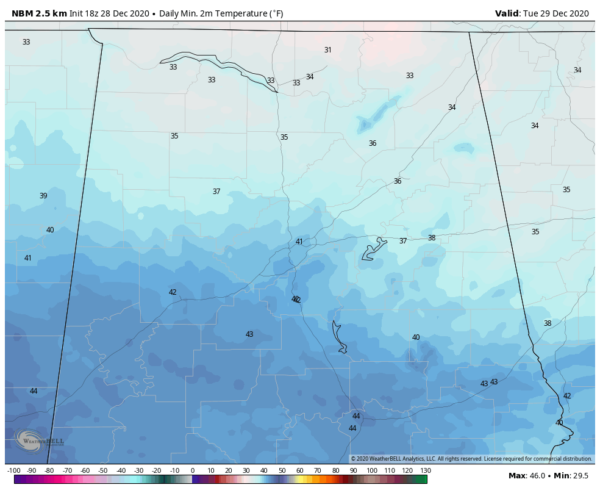 Those clouds have been eroding slowly thanks to warming in the lower levels of the atmosphere, but some of them will remain overnight. They will finally start to clear away on Tuesday and there should be more sunshine. Projections are that tomorrow's temperatures should look a lot like today's, but additional sunshine could push them a couple of degrees higher of course.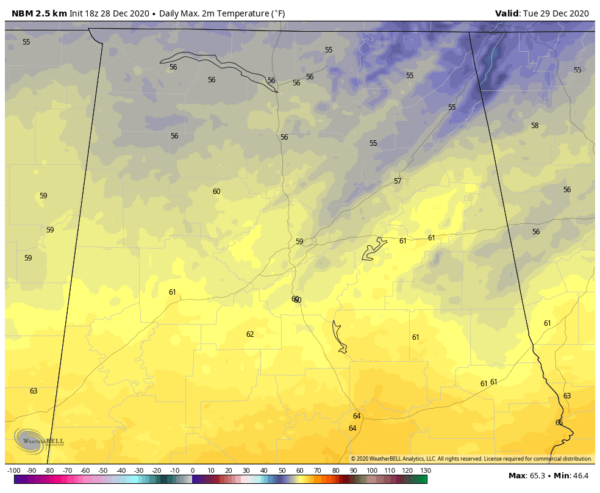 There were a few sprinkles at mid-morning across Central Alabama, but they were light and fleeting. We can't rule out a stray sprinkle tonight, but they will be isolated. I wouldn't rule out a few over the Tennessee Valley early tomorrow morning as the flow switches to southwest ahead of the next system and a quasi-warm front pushes back to the north.
WEDNESDAY
It looks like Wednesday will be mostly dry now with the exception of a few scattered showers that manage to develop. It will be warm and increasingly humid, with winds increasing by evening. Highs will be in the lower to upper 60s. Wednesday night lows will remain in the 50s.
SEVERE WEATHER THREAT
All eyes are now on the New Year's Eve system that could bring severe weather to Alabama. That system is bringing rain to Southern California today, proving Albert Hammond's show title wrong. It will move to Texas by Wednesday, becoming extremely deep as it goes, and by Thursday it will become negatively tilted. This means that its axis is oriented from northwest to southeast. This means it is capable of producing higher instability and higher wind shear. Recent model runs have placed the trough and the associated surface low further to the west than earlier.
By Thursday afternoon, unstable air will have overspread much of Central and North Alabama.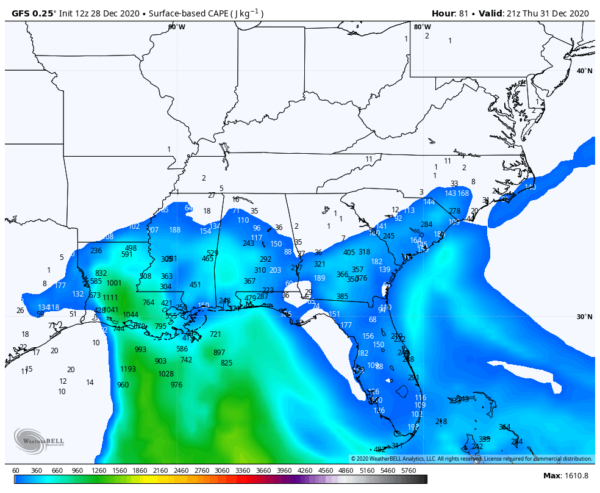 A strong low-level jet will develop rapidly Thursday afternoon and evening across Louisiana, Mississippi, and Alabama.
This will set the stage for strong to severe storms Thursday afternoon and night across the region including much of Alabama. The SPC has already outlooked a large portion of the state with a 15% probability on its Day Four Outlook. This is their next to strongest classification this far out.
Here is a look at the Energy Helicity Index off of the GFS for Thursday and Thursday night showing a potential threat of a few isolated tornadoes moving across the state as the system evolves.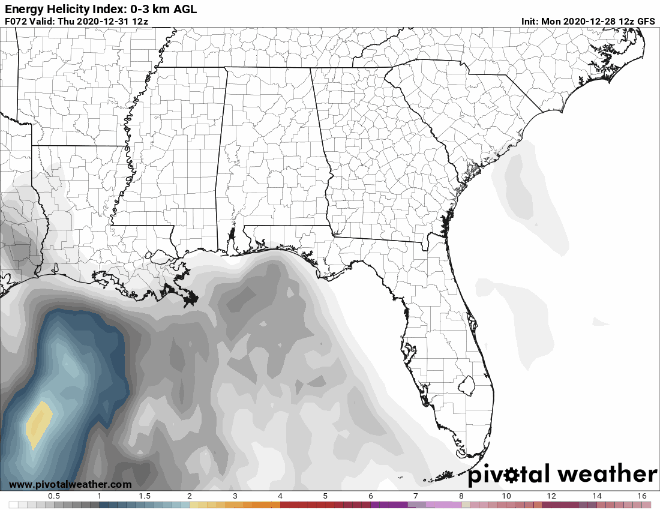 There will also be a threat of damaging winds with that strong low-level jet in place.
HEAVY RAIN
Heavy rain will be a threat as well as precipitable water values will be approaching 300% of normal across North and North Central Alabama by Thursday evening.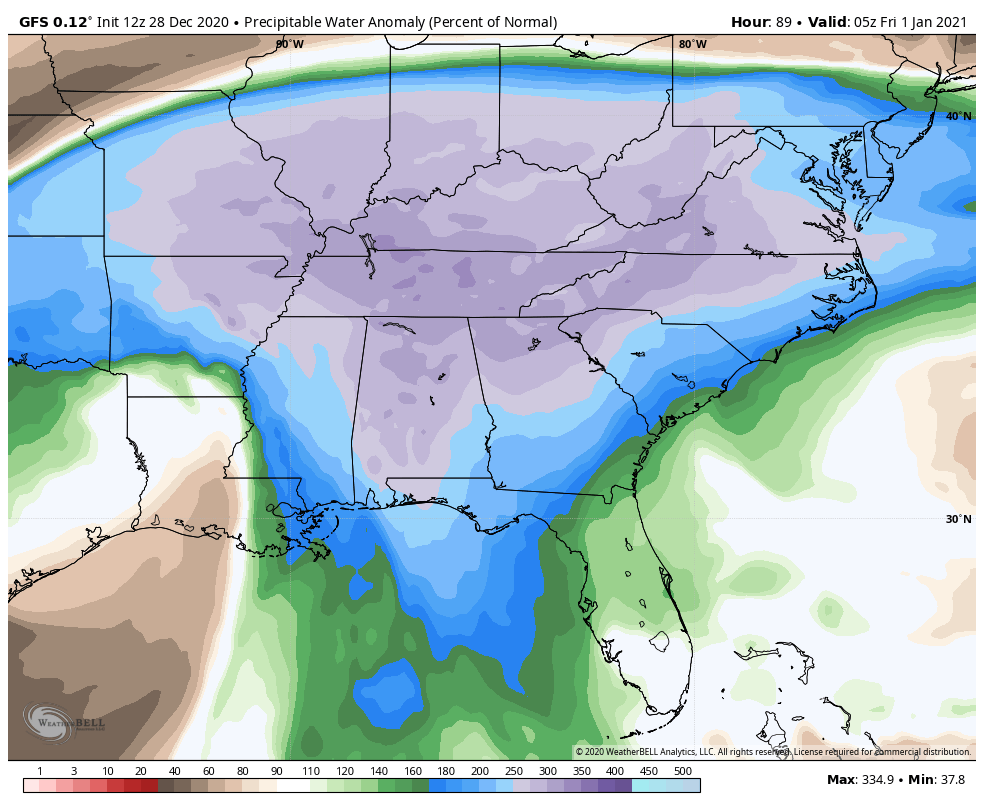 Rainfall amounts across the state are expected to be heavy, but flooding is not expected to be significant. Here are WPC QPF amounts: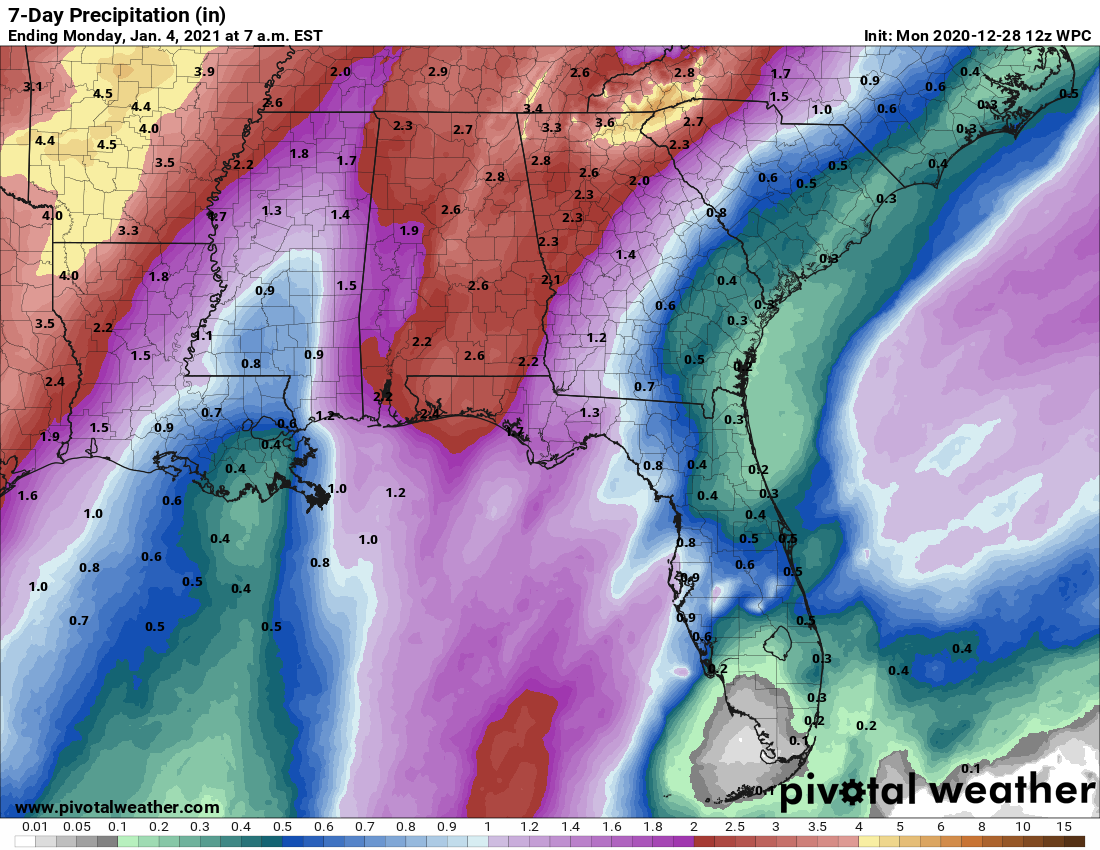 GUSTY WINDS
In addition to thunderstorm winds, winds will become quite gusty on Thursday, with gusts reaching 25-35 mph. This can also bring down trees, especially given a saturated ground.
END OF THE RAIN
It looks like the rain will end across Central Alabama early Friday morning, ending last in Northeast Alabama. It looks like temperatures will fall during the day with cool and dry conditions for Saturday. The GFS has introduced the idea of another low pressure system for Sunday that could bring another rainfall event to Alabama.
BOWL WEATHER
The system could produce some wintry weather in the Hill Country of Texas, but it appears the Dallas/Fort Worth Metroplex will escape major impacts. That's good news for the Rose Bowl game involving Alabama and Notre Dame Friday afternoon. A wintry mix of rain, sleet, and snow is expected to change to rain Thursday morning, with some rain on snow Thursday night. No accumulation is expected. New Years Day looks like it will be sunny and cold with highs in the mid 40s.
Conditions in Orlando will be much more conducive for the Vrbo Citrus Bowl between Auburn and Northwestern. There will be a chance of showers during the game, but temperatures will be in the lower 80s. Lows will be in the upper 60s.
VOODOO TERRITORY
Toward the end of the forecast period, it looks like our next big wet weather system will come on Saturday the 9th with widespread rain for Alabama, and storms over the southern part of the state.
NO LIVE WEATHERBRAINS TONIGHT
But we will be broadcasting the end of the year Special with Greg Carbin and his Meteorological Memories of 2020 on the dot two channel tonight. You can pick it up wherever you consume your audio podcasts, or on the YouTube channel.
ON THIS DATE IN 2001: After an unprecedented November in which no snow fell in the city, December made up for it in Buffalo NY. Incredible. Unprecedented. Historic. Astounding. These are adjectives used to describe an unbelievable five-day lake effect snow blitz that started in Buffalo on Christmas Eve when 25.2 inches of snow fell in 24 hours, making it the third-highest 24-hour snowfall total for the city. After a break late on Christmas Day, the intense band of lake effect snow meandered back across the city, dumping another 29.6 inches of snow between 7 pm on the 26th and 7 pm on the 27th, establishing the second place mark for 24-hour snowfall. 12 hours later, that record would be pushed back to third place as a whopping 24 hour total of 35.4 inches was recorded, just shy of the all-time 24 hour total of 37.9 inches in December 1985. But the five day total of 82.3 inches is far and away an all-time record, more than in any other single MONTH in Buffalo and very close to their seasonal average of 93 inches.
Lake effect snow is dry and fluffy, so the maximum amount on the ground was 44 inches, also establishing an all-time record. Even as accustomed to heavy snowfalls as Buffalo is, this snowfall event virtually closed the city, but residents took the snows in stride. Schools were closed for the holidays and many people were taking an extended Christmas vacation. Canada sent additional snow removal equipment as the snow had to be removed in dump trucks. Forecasters saw the event coming over a week in advance, knowing that unseasonably warm lake temperatures near 40 degrees and a weather pattern that would bring cold winds on a long fetch over Lake Erie would result in massive snows. As long as the lake remains unfrozen, lake effect snows can happen.
Category: Alabama's Weather, ALL POSTS