Be Alert for Severe Weather Threat Tonight and Early Tuesday Morning
2 min read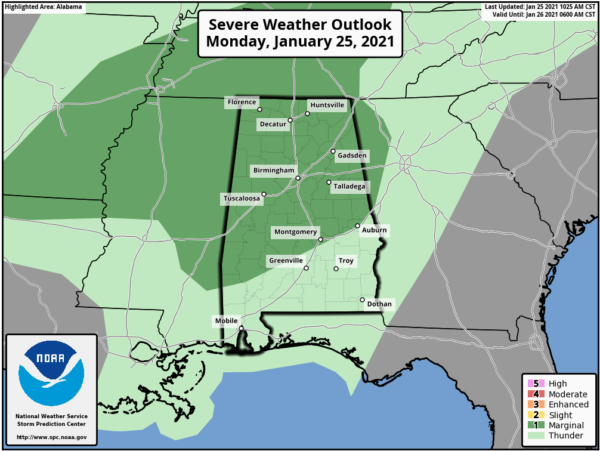 The SPC now has expanded their severe weather risk area for tonight and early Tuesday morning to include much of the northwestern two-thirds of Alabama.
A cold front will move into western Alabama later this evening. Showers and thunderstorms will be ongoing along and ahead of the front. Forecast parameters suggest a low potential for a few strong to severe storms to occur overnight, mainly across northwest and West Central AL.
The time frame is from 7 p.m. until 2 a.m.
The threats include:
…A brief tornado
…Damaging winds up to 60 mph
…Quarter sized hail
Instability values will be sufficient to produce strong thunderstorm updrafts late this afternoon and tonight, with CAPE values between 600-900 joules/kg. There will be plenty of wind shear, with bulk shear values of 60 knots. And low level helicity will be sufficient for brief spin-up tornadoes, with 0-1km SRH values over 300.
Significant tornado parameter values will be sufficient for tornadoes over much of West Central Alabama. Here is the STP off the HRRR at 10 p.m. tonight: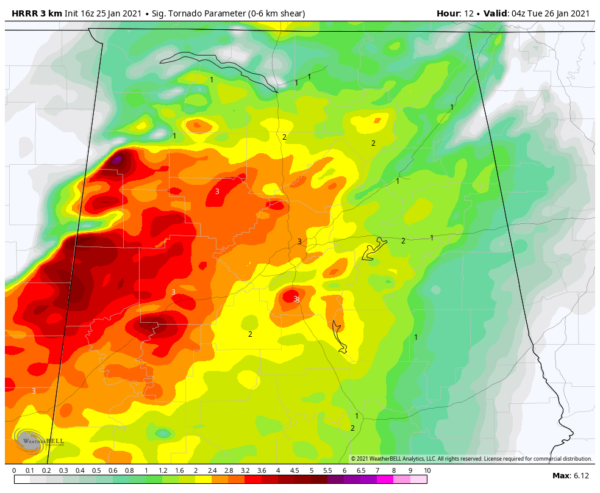 Areas shown in yellow and red will have a combination of parameters that will be sufficient for tornadoes.
This is the 11 p.m. radar prediction from the same model: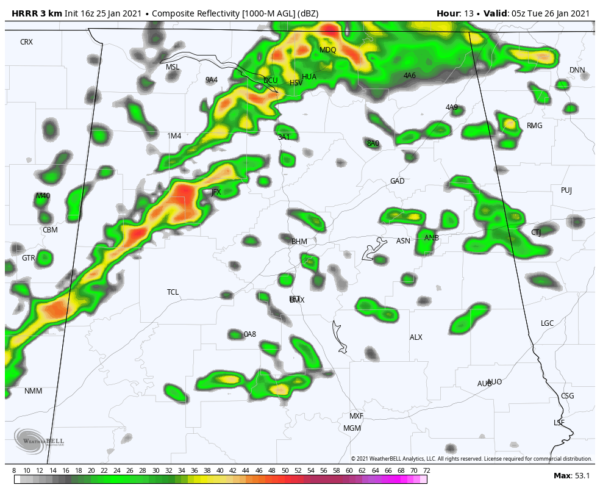 The threat should diminish after 2 a.m. as the line pushes southeast of I-59.
As always, it will be important to have multiple ways to receive warnings overnight. There was an outage of the WEA Emergency Alerts earlier today, but the service has been restored now. Just remember, any system can fail, so have reducant ways to receive warnings.