BAHAMAS TROPICAL WAVE / INVEST 90L FORECAST SYNOPSIS…ISSUED AUG. 19, 2023…3:25 P.M. EDT
6 min read
Disclaimer:  This is not affiliated with the National Hurricane Center, Hurricane Hunters, Storm Prediction Center, or National Weather Service.  ALL forecasts herein are the result of my analysis, (to which you will see me at times, insert excerpts from various agencies due to the nature of the importance of the information) and I am solely responsible for the content.  As ALWAYS, follow the National Hurricane Center, National Weather Service, and your local Emergency Management officials for emergency decisions.  In addition, this is strictly a FORECAST OFFICE.  I CANNOT make decisions regarding travel plans, etc.  My purpose, is to provide you the information, based solely on information I analyze, and the accuracy of the information at hand of the time of analysis, so you may make informed decisions.
(T. F. "Storm" Walsh)
For those who have donated to my site, your help has been greatly appreciated.  If you are not aware, donations to my site help pay for subscriptions to sites I use as well as software updates, which provide all the models and information used in my forecasts.  To donate, please click the DONATE button to the right side of the page, or on the graphic of the dog.  Any help you provide is immensely appreciated!
DONATIONS ACCEPTED AND APPRECIATED

If any of my subscribers here are on Facebook, and are in any of the weather groups I posted in, please let everyone know that Facebook suspended my old account.  Since I may not be able to access Facebook anymore, you may follow me on twitter.  The twitter button on the left of the page does not work.  Please follow me here: https://twitter.com/Michael1227910
If you wish to become an email client and receive my forecasts by email, please send me an email at the email address at the bottom of the page…subject: EMAIL CLIENT.
I will reiterate, my forecasts are based on the available information at the time of analysis, and are only as accurate as the information analyzed and the solutions provided.
The following is my outlook forecast for the 2023 Atlantic Hurricane Season:
STORM W SEASONAL FORECAST
TOTAL NAMED STORMS: 11– 14
TOTAL HURRICANES :        5 – 6
MAJOR HURRICANES:        2 – 3
AVERAGE HURRICANE SEASON:
TOTAL NAMED STORMS: 14
TOTAL HURRICANES:         7
MAJOR HURRICANES:        3
SEASON TOTALS
NAMED STORMS:          4
HURRICANES:                1
MAJOR HURRICANES: 0
The following are the storm names for the 2023 hurricane season.  As each storm is named, they will be colored in red in order to keep track of the used names in the list:
Arlene Bret Cindy Don Emily Franklin Gert Harold Idalia Jose Katia
Lee Margot Nigel Ophelia Philippe Rina Sean Tammy Vince Whitney
At 3:35 p.m. the NHC issued a special outlook regarding INVEST 99L
https://www.nhc.noaa.gov/text/refresh/MIATWOAT+shtml/191934_MIATWOAT.shtml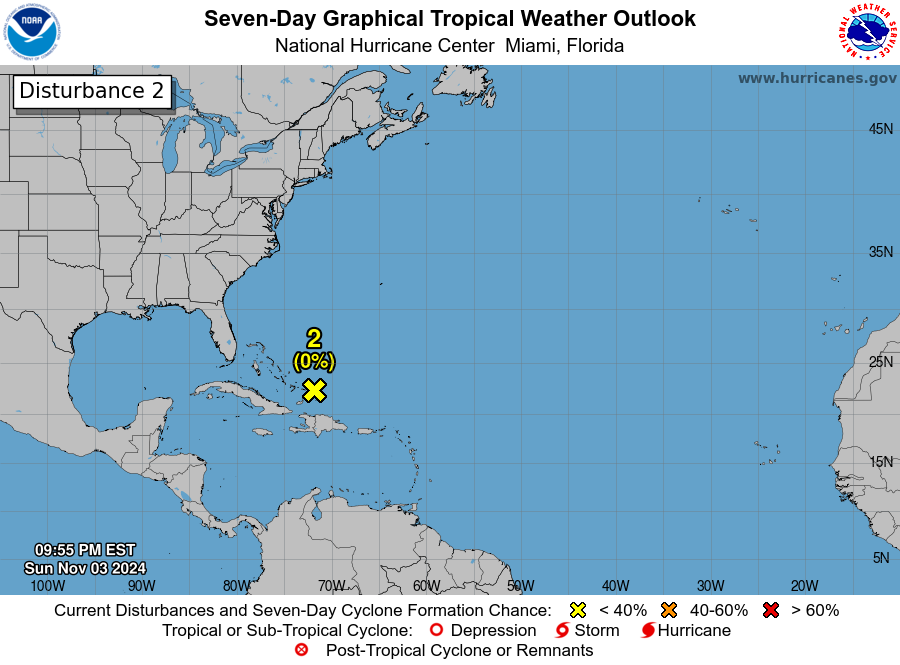 Greetings everyone!
As a reminder, when forecasting tropical systems, if there are numerous systems to deal with, I always update on the systems that may present an impact or threat to either the U. S. or the Caribbean islands.  Anything far out in the Atlantic or something that may re-curve, take a lower priority as there is more time to deal with them.  With that said, I am going to have limited graphics with this particular post, as I had the forecast all typed, and when the page refreshed, the entire forecast got wiped.
NHC 7 DAY GTWO MAPS


ATLANTIC WIDE SATELLITE LOOP


The wave over the Bahamas seems to slowly be getting its act together, based on an increase in convection, and counterclockwise motion noted near the lower levels.
WEATHERNERDS GOES 16 SATELLITE LOOP IMAGERY


This has not yet been designated an INVEST, nor has guidance been initiated as of yet.  Based on analysis of forecast wind shear, PWAT, RH values, and 200 mb level streamline, a radial shear pattern is forecast to develop over the wave once in the GOMEX, along with high PWAT values, but limited RH at mid levels.  Based on the forecast pattern, and the current ECMWF EPS cyclone formation probability forecast, the wave could become a tropical depression in approximately 72 hours.  The ECMWF EPS indicates a 70% probability, with a 10% probability of a tropical storm developing.  IF conditions pan out, I feel we should see a tropical depression within the next 72 hours, and I cannot rule out a minimal tropical storm, though I would consider this low confidence at the moment.


ECMWF SHEAR, RH, PWAT FORECAST


The wave is currently in weak steering currents, however has been moving toward the west.  Based on analysis of forecast steering and MSLP animations, I expect this westward motion to continue during the next 72 – 96 hours.  Based on the analysis, I expect "landfall" to occur between Baffin Bay to Brownsville TX.  IF and when this becomes better defined in the Gulf, I'll have a clearer picture as far as forecast track.  I will continue to monitor this closely for any significant changes to the forecast
ECMWF NORMALIZED MSLP ANOMALIES


The following are forecast rainfall totals out to 96 hours:


The following map will allow to get information from your NWS office.
NWS WATCH / WARNING DISPLAY (LINKED…CLICK MAP, THEN YOUR AREA)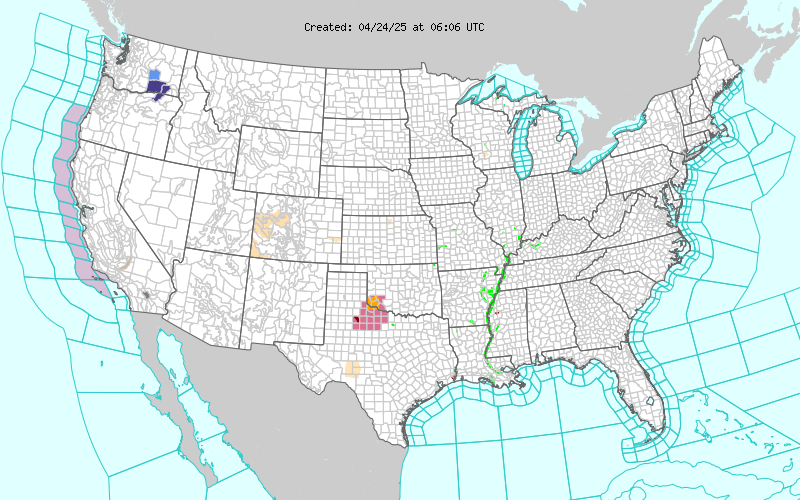 Elsewhere, INVEST 90L is crossing over the Windward islands.
INVEST 90L SATELLITE LOOP IMAGERY


Though somewhat disorganized, convection has become more concentrated, and it appears the system may be trying to become better organized.  Water vapor imagery indicates some drier air affecting the system.


The ATCF BTK product hasn't updated yet.  This location is from the 12Z update:
8:00 A.M. EDT Sat Aug 19
Location: 12.0°N 58.8°W
Moving:W at 13 mph
Min pressure: 1007 mb / 29.74 in
Max sustained: 30 mph
Based on analysis of forecast conditions, somewhat favorable conditions are forecast for the next 72 hours, and 90L could become a depression during the next 36 hours, and possibly a tropical storm within the next 60 – 72 hours, which lines up with current guidance.

At the moment, models are indicating sustained winds over the Windward islands could reach 30 – 35 mph in some places, with 1 – 3 inches of rainfall projected.


INVEST 90L has been moving to the west, and based on analysis of forecast steering layers, I expect this motion to continue during the next 48 hours, with a turn more to the WNW.  Thereafter, guidance diverges and takes this either over Hispaniola, or west of Hispaniola then hinting at a northward component.  This will be due to a large break in the sub-tropical ridge forecast by the models.  Right now, depending on actual strength of the system, I'm in between the COTI, AEMI, and TVCE model track.


I will continue to monitor this system for any significant changes in the forecast conditions.
You may direct any questions by contacting me personally, ANYTIME, at: twalsh22000@yahoo.com
Have a blessed evening!

T. F. "STORM" WALSH III
GMCS, USCG (ret)
METEOROLOGIST / HURRICANE SPECIALIST /SEVERE WEATHER SPECIALIST
MEMBER WEST CENTRAL FLORIDA AMS


palmharborforecastcenter
2023-08-19 19:21:00

All news and articles are copyrighted to the respective authors and/or News Broadcasters. eWeatherNews is an independent Online News Aggregator

Read more from original source here…