At Midday… Clouds Over the North, Sun Over the South : The Alabama Weather Blog
3 min read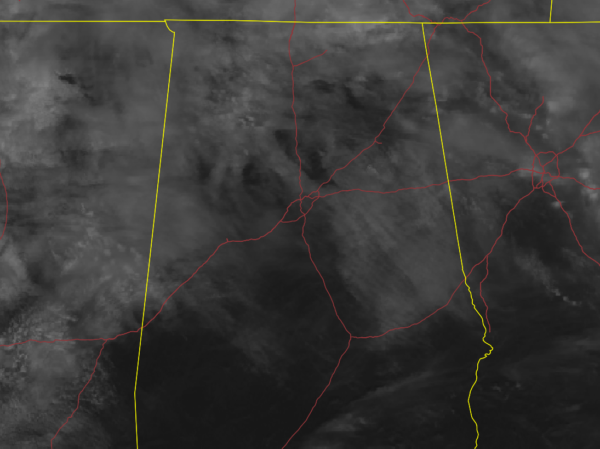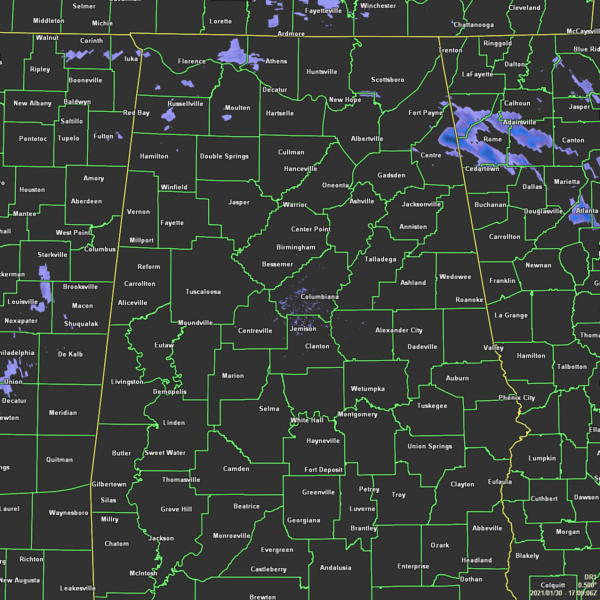 As we start the approach to the midday hour on this final Saturday in January, we see that we have a good bit of cloud cover over the northern half of Central Alabama with a little more sunshine for those in the southern half. There is some moisture being picked up on radar at this time, but I do not believe any over Central Alabama is reaching the ground at this point due to dry air. We did have a few reports of sleet from a few locations in North Alabama due to evaporative cooling, but temperatures are well too warm for any worries.
Speaking of temperatures, as of the 11:00 am roundup, those were ranging from 45 degrees in Gadsden to 59 degrees in Demopolis, Montgomery, and Selma. Birmingham was sitting at 51 degrees.
We are still expecting the rest of the daylight hours on your Saturday to be partly to mostly cloudy while staying dry. A cold front will begin to approach the area later tonight with rain becoming likely at or before midnight. Afternoon highs will be in the mid-50s to the mid-60s across the area. Showers will be likely during the overnight hours with winds out of the south at 10-20 MPH. No severe weather is expected. Lows will be in the upper 40s to the upper 50s.
Rain chances will continue through much of the first half of the day on Sunday, but those showers will be in the process of exiting the area by afternoon and we'll all be dry across the area by evening. Highs will be in the upper 50s to the lower 70s.
SEVERE WEATHER AWARENESS WEEK: FEB 21-26
Alabama is no stranger to severe weather, including tornadoes. They can happen any month of the year and any time, day or night. However, our primary severe weather season is considered to be from November to May. Last year, 73 tornadoes touched down across Alabama. Unfortunately, four lives were lost, and over a dozen were injured. Advance planning and increased awareness will help residents of Alabama survive these deadly storms. Throughout the week, we'll have special posts and infographics on the blog pertaining to severe weather awareness and safety.
At the end of the week, the state of Alabama will hold a sales tax holiday for severe weather preparedness items. Don't miss this great opportunity to purchase any items you may be missing from your emergency kit. For more information, including tax-exempt items and participating counties and municipalities, please visit https://revenue.alabama.gov/sales-use/sales-tax-holidays.
CONNECT WITH THE BLOG ON SOCIAL MEDIA
You can find the AlabamaWx Weather Blog on the major social media networks:
Facebook
Twitter
Category: Alabama's Weather, ALL POSTS
Scott Martin is an operational meteorologist, professional graphic artist, musician, husband, and father. Not only is Scott a member of the National Weather Association, but he is also the Central Alabama Chapter of the NWA president. Scott is also the co-founder of Racecast Weather, which provides forecasts for many racing series across the USA. He also supplies forecasts for the BassMaster Elite Series events including the BassMaster Classic.