An Update on the Alabama Severe Weather Situation Just Before 2:45 p.m.
3 min read
It is a warm, humid, and breezy day across North and Central Alabama with temperatures climbing well into the 70s and lower 80s in most areas.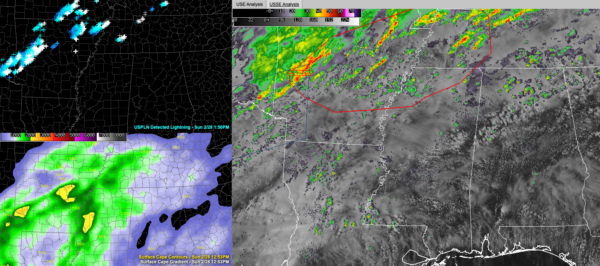 There has been partial sunshine, especially across Central Alabama, helping to propel the mercury skyward. You can see a nice buildup of cumulus clouds across North Central Alabama on the larger pane of the graphic above, which shows visible satellite, radar, watches, and warnings. There are a few showers under those buildups north and west of Birmingham and Tuscaloosa. A few heavier showers are located across the northern third of the state, as was advertised.
To the south of that, a strong cap is keeping a lid on the cumulus development.
Winds have become gusty in areas where the atmosphere has been able to mix out, allowing stronger winds aloft to reach the ground. Winds are gusting to 25-30 mph at times.
The combination of warmth, humidity, and gusty winds is giving the air a stormy feel, and that is appropriate, as strong storms are expected across the Deep South this afternoon into the overnight.
To the west, a severe thunderstorm watch is in effect for parts of northeastern Texas (including the Dallas area), extreme Southeast Oklahoma, and southwestern Arkansas. It is in effect until 6 p.m. A new tornado watch has just been issued for a large part of Arkansas, northwestern Mississippi, southern Kentucky, and western Tennessee. This watch does not affect Alabama, but additional watches probably will later tonight as the cold front causing the ruckus pushes our way.
Storms are strongest now in West Central Arkansas west of Littel Rock, but no warnings are in effect at this time. There was a severe thunderstorm warning up until the top of the hour for areas north of Idabel OK.
The airmass over the South is unstable with CAPE values exceeding 2,000 joules/kg over parts of South Central Arkansas and northwestern Mississippi. Bulk shear values are exceeding 45 knots over a wide area from the northern third of Alabama back across Mississippi and western Tennessee with even higher values over Arkansas. In fact, the values may be so high that they tear storms apart over Arkansas. That would be a good thing.
Storm relative helicity values are greatest right now over southeastern Arkansas and western Tennessee, where they exceed 250 m2/s2, which is sufficient for tornadoes. These values will be realized over Northwest Alabama tonight and as storms move into that part of the state after 7 p.m., they could become severe with the possibility of a couple of tornadoes.
The SPC maintains a slight risk of severe weather (level 2/5 threat) overnight for our northwestern counties and a marginal risk (level 1 of 5 threat) as far southeast as Tuscaloosa, Birmingham, and Gadsden. The highest risk includes areas north of a line from Sulligen to Winfield to Falkville to Hytop. That line keeps inching southeastward with each new outlook.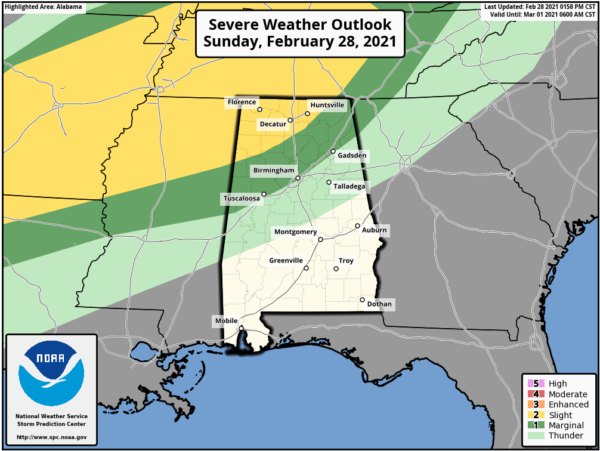 Folks in the slight risk area should be alert for the threat of a couple of tornadoes overnight, as well as the risk of damaging winds, and hail. In the marginal risk, the risk is not quite as high but still needs to be monitored carefully as well.
Have multiple reliable ways to receive warnings overnight. A NOAA Weatheradio in alert mode is the baseline. A good weather app or weather call system is a good second line of defense. Make sure your cell phone WEA alerts are turned ON. Stay tuned to the blog overnight for frequent updates and alert your family and friends in the risk areas that they should be paying attention to the weather as well.
Know where you and your family will go on a moment's notice if a warning is issued for your location. Remember that severe thunderstorms can down trees that can kill people in their homes and cars. Do not be on the road in a severe thunderstorm or tornado warning. And be in a safe part of your home (lowest level, center room, or hallway, away from windows) during a severe thunderstorm or tornado warning. Have helmets, hard-soled shoes, and long-sleeved clothes for everyone.
Bill Murray
2021-02-28 20:41:23

All news and articles are copyrighted to the respective authors and/or News Broadcasters. eWeatherNews is an independent Online News Aggregator

Read more from original source here…