An Early Evening Look at Tropical Storm Ian : The Alabama Weather Blog
3 min read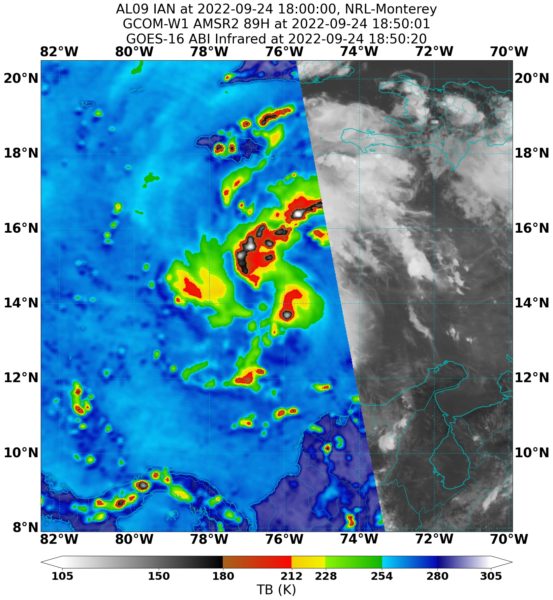 Ian is a big system. It has a large area of storms, but it is still getting organized. There are signs that it is beginning to happen now as convection begins to wrap around what may be an eventual center. Wind shear has decreased over the western Caribbean and the only thing holding it back is its relative size. Once it gets a well-defined core, intensification will be rapid.
In fact, the SHIPS model of Rapid Intensification calls for over a 60% chance of a 65-knot increase in strength over the next 72 hours. The official forecast has it at 130 mph by Wednesday, and it could be stronger.
No dry air anywhere near the storm, so that isn't a threat until it gets into the northern Gulf of Mexico.
The GFS model has been consistently moving back to its earlier solution of the storm eventually impacting the northern Gulf Coast. The official NHC forecast carries it to landfall in the FLorida Big Bend area near or north of Cedar Key on Thursday afternoon. The cone of uncertainty extends from Pensacola to Naples. And the forecasters are noting greater than normal uncertainty in the forecast with a huge spread among the GFS Ensemble members and the European just coming around to the idea of the storm moving north of Tampa.
There is an increasing chance that the hurricane will not curve to the northeast over the Florida Peninsula. That is great news for places like Tampa and Fort Myers. And it makes it extremely nervous for the northern Gulf Coast including places like Gulf Shores, Pensacola, Fort Walton, Destin, 30A beaches, and Panama City. I do think that we may be looking at a category four hurricane just 300 miles south of Destin by Wednesday. But it should not be intensifying any more as it runs into less oceanic heat content. And it will be running into 50-60 knots of wind shear by then. Plus that frontal boundary will be lying along the Gulf Coast, with 50-degree dewpoints north of it. Wind shear and dry air are deadly to hurricanes. As the hurricane comes closer to the coast late Wednesday and Thursday, it should weaken. The weakening could be dramatic. In fact, Ian might not be a hurrican if and when it reaches the coast late Thursday night.
Here depiction really shows the models' thoughts on increasing shear, increasing dry air, and decreasing sea surface temperatures as Ian ventures into the northern Gulf.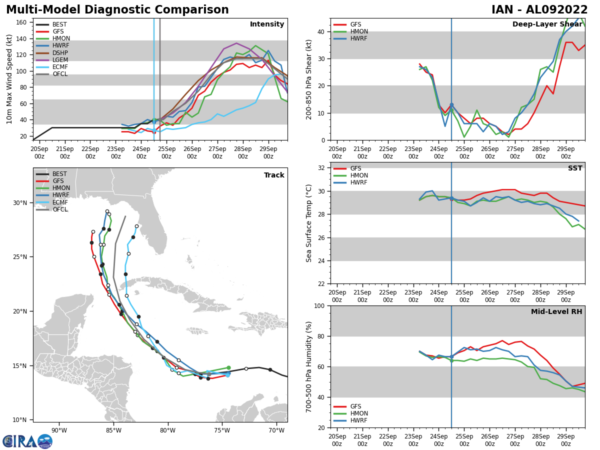 Now having said all of this, a lot can change over the next five days. The hurricane may end up curving into the Peninsula, which means our friends along the west coast of Florida have to stay on high alert. If it does recurve into Florida, it could be a major hurricane.
We could be looking at hurricane watches and warnings along our sections of the Gulf Coast by Tuesday. And we will have to be prepared in case the hurricane does come north and does not weaken. Let's all keep our fingers crossed that it does. And remember that it takes awhile for the storm surge to decrease in a weakening storm, so that will be a significant threat.
The upcoming model runs this evening will be critical because NWS offices have been launching special balloons today and the NOAA Gulfstream IV is currently gathering high-level data at this time. This data will be fed into the models.
I will have an update tonight around 11, the video by 630 a.m. tomorrow and we will of course have frequent updates until Ian is done.
Category: ALL POSTS


Bill Murray
2022-09-24 23:30:55

All news and articles are copyrighted to the respective authors and/or News Broadcasters. eWeatherNews is an independent Online News Aggregator

Read more from original source here…