Alabama Weather Update at 10:30 p.m.
3 min read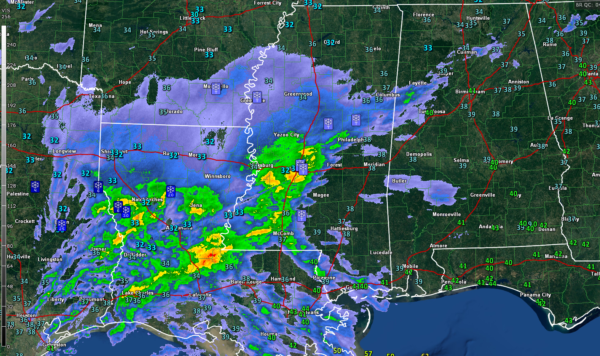 We continue to track a large area of rain, snow, and sleet moving across extreme eastern Texas, much of Louisiana, southern Arkansas, and western Mississippi at this hour.
It is snowing all across northern Louisiana at Shreveport, Ruston, Monroe, and Natchitoches. It is sowing at Vicksburg, Greenville, Greenwood, and Jackson in Mississippi. Sleet is reported at Morton, Mississippi along I-20 east of Jackson. The snow has changed to rain at Natchez. There is a trace of snow at Kosciusko, MS northeast of Jackson.
Severe roads are closed across Louisiana now including US-80 east of Minden, LA-6 near Natchitoches, LA-8 near Boyce, and LA-546 near Cheniere. Roads are icy all around Monroe, and several are closed.
Our basic forecast thinking has not changed.
For areas generally north I-20 and west of I-65 and across the Tennessee Valley: Precipitation will start off as snow after midnight. The precipitation will then slowly transition to a rain-snow mix, then to mostly rain by Monday afternoon. Some impacts may be possible early Monday while surface temperatures are closest to freezing and precipitation is falling. Temperatures will slowly warm a few degrees through the morning hours and impacts will be lessened to completely diminished. Snow accumulation will generally be less than one-half inch. Plan on slippery conditions during the early morning hours tomorrow morning.
For the area north of a Selma to Clanton to Wedowee line: A mixture of rain and snow mix will be possible from midnight until 9am. After 9am, all the precipitation that falls should mainly be rain. Little to no accumulation is expected. There could be a few slick spots on bridges and overpasses, so check road conditions before driving later tonight and Monday morning.
For areas to the south of this: The precipitation will fall as all rain and no impacts are anticipated.
The fly in the ointment has been that one of our Convection Allowing Models, the HRRR has been predicting much higher snowfall amounts further south over West Central Alabama. That is not our forecast, but it is a possibility that we will be watching closely, and if you are in Pickens, Lamar, Fayette, southern Walker, northern Tuscaloosa, Sumter, and Greene counties, we want you to monitor that possibility as well.
Our current temperatures are a degree or two warmer than the HRRR right now, which may mean the model is wrong and lends credence to our existing forecast. But we will be watching the precipitation back between Meridian and Jackson over the next few hours and we will be watching the temperatures over West Alabama as well.
It is currently 38F in Demopolis with a dew point of 31F. Tuscaloosa is at 40F with a dewpoint of 31F. Will the mercury be able to come close to freezing? We will see.
A winter weather advisory remains in effect until noon for Fayette, Lamar, Marion, Pickens, Tuscaloosa, Walker, and Winston Counties until noon tomorrow. The NWS did change the advisory to say that there is a potential for up to 1″ closer to the MS state line with generally ~0.5″ or less elsewhere in the advisory area.
Stay tuned for frequent updates.