Afternoon Forecast Update: A Few Showers Showing Up South; Everyone Else Dry and Warm : The Alabama Weather Blog
2 min read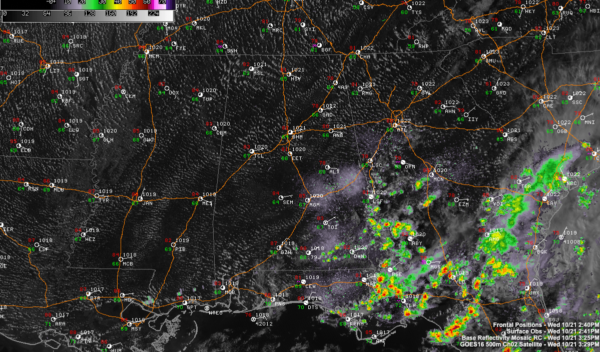 **NO VIDEO THIS AFTERNOON AS WE CONTINUE ON THE SPANN VACATION SCHEDULE**
It's been a nice day across Central and North Alabama with warm temperatures in the 80s in most spots. The only exception has been over East and Northeast Alabama, where 70s have been common due to low clouds that were slow to burn off. Those clouds formed in response to increasing moisture from the east and southeast.
A swarm of showers is riding the easterly flow across southwestern Georgia, and those are about to enter southeastern sections of our state, from Russell County south.
A few small showers are just north of I-85 between Montgomery and Auburn. Others are over South Alabama between Andalusia and Dothan.
Areas south of Montgomery could see a few showers this evening. Everyone else will be dry, with lows in the lower and middle 60s, quite mild for October. Skies will be partly cloudy to mostly clear.
I have a sneaking suspicion that we may see more low clouds toward morning, especially over southeastern sections. But we should remain mostly dry Thursday. A few light showers could work into east Alabama around Auburn and points south again tomorrow afternoon. Highs will be warm, in the lower and middle 80s. Additional showers still could show up late tomorrow night over East and Northeast Alabama.
Friday will feature high moisture levels and an approaching front. This will trigger showers and storms, mainly in areas northwest of I-59 Friday afternoon and evening. Additional showers and storms will form late Friday night and Saturday morning across the rest of Central and North Alabama. COverage will not be very widespread, and rainfall amounts will be fairly light, less than one quarter of an inch.
Sunday should be mainly dry with just a few showers.
Highs will be around 80F on Friday, in the upper 70s Saturday, and in the lower 80s Sunday. Lows will be in the 60s.
EPSILON ON THE VERGE OF BECOMING A MAJOR HURRICANE
The category two hurricane is located 350 miles southeast of Bermuda this afternoon. It is moving west-northwest now, but it expected to turn north and northeast over the next 48 hours. It will bring gusty winds and high surf to Bermuda through Thursday night. tropical Storm Warnings are in effect.
ON THIS DATE IN 1988: Nicaragua was lashed by 125 mph winds from Hurricane Juan. The storm caused $1.5 billion in damage and killed more than 200 people. The most amazing fact about Juan was that the storm traversed over 40 degrees on longitude without every varying even one degree from 12 degrees north latitude. Another amazing fact was that the hurricane transported African locusts 2000 miles across the Atlantic Ocean to islands in the Caribbean.
Category: Alabama's Weather, ALL POSTS