A Wintry Mix Late Tonight and Early Tomorrow; Then Dry Until Next Sunday Night : The Alabama Weather Blog
4 min read
A winter storm for the Deep South is the story on this early January Sunday. Areas from New Mexico to Alabama are on alert as the system moves eastward. We will review the expected impacts for our state.
ON THE WEATHER MAPS: In the upper atmosphere, we have a trough extending from the Upper Midwest to the Texas Panhandle. At the surface, cold high pressure dominates the middle of the country from Idaho to Colorado to Nebraska to Indiana. The upper trough is energizing a surface low over far South Texas. This low will move over the northern Gulf of Mexico to near Panama City by Monday night. As it does, it will spread moisture up and into the cold air to its north. This is the recipe for wintry precipitation in the South. The timing and temperatures will determine the impact.
WINTER STORM WARNINGS, WATCHES…and Winter Weather Advisories cover a wide area this morning from eastern New Mexico, southern Colorado/Kansas, and western Oklahoma through Texas into Louisiana and western Mississippi. Snow is falling from Roswell, New Mexico into West Texas this morning in places like Hobbs, NM, Laredo, and Midland. It will intensify this morning in places like Abilene and San Angelo. Amounts will lessen through the afternoon between Fort Worth, Waco, and Killeen. Tonight, snow will spread eastward, affecting places like College Station, Tyler, Shreveport, and Monroe. Amounts will range between 1-3 inches. Late tonight, it will spread into western Mississippi, bringing an inch of snow to places like Greenville, Greenwood, Vicksburg, and Starkville. Some of it will reach western Alabama after midnight. More on that in a moment.
ALABAMA SUNDAY: Temperatures are in the lower to middle 30s across North and Central Alabama this morning. Clouds are hanging tough from yesterday, but there will be some sunshine during the day in most places. High temperatures will be in the middle and upper 40s. Clouds will increase by tonight as temperatures fall below freezing over West and North Alabama.
LATE TONIGHT: Precipitation will reach West Alabama a couple of hours after midnight, starting out as rain over parts of Sumter and Greene Counties. Temperatures will be at or below freezing over the northwestern half of the area, generally northwest of a line from Demopolis to Selma to Alex City.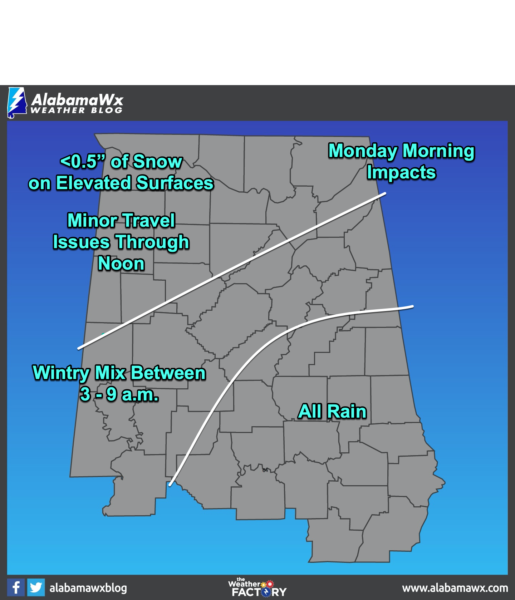 IMPACTS: Northwest of a line from Reform to Jasper to Cullman to Fort Payne, the precipitation will fall as snow. Minor accumulations of up to 0.5 inches could fall in this area. North of a line from Linden to Maplesville to Calera to Talladega to Heflin, a wintry mix of snow, sleet, and rain could fall between 3-6 a.m. No accumulations are expected in this area, including places like Demopolis, Tuscaloosa, Birmingham, Gadsden and Anniston. Ground temperatures are relatively warm, and if any slippery roads develop, they should be on bridges and overpasses for a brief time Monday morning. South of this area, the precipitation should fall as all rain with no issues.
MONDAY AFTERNOON AND BEYOND: The rain should move out Monday afternoon, with temperatures in the 30s North, with lower and middle 40s Central. Monday night lows will be in the upper 20s to middle 30s with mostly cloudy skies and a brisk northwesterly wind. Tuesday highs will be in the 40s, with 50s returning for the remainder of the week. Lows will be in the 20s Wednesday morning, and near freezing Thursday, with lower and middle 30s Friday and Saturday morning. Partly cloudy skies will prevail all week.
DÉJÀ VU ALL OVER AGAIN: It looks like rain and a wintry mix will be possible again next Sunday night. Stay tuned.
WEATHERBRAINS: You won't want to miss the upcoming show! The incredible Tom Skilling joined us for a 90-minute conversation that is just priceless. You can watch the recorded show now on James' YouTube channel. It will be shown on the James Spann 24×7 weather channel on cable or directly over the air on the dot 2 feed. Monday night and will be available late Monday night on all of the podcast channels like Sticher and iTunes. By Tuesday morning, you will be able to check out the show on www.WeatherBrains.com. You can also subscribe on iTunes.
ON THIS DATE IN 1982: Temperatures were in the deep freeze across North and Central Alabama behind a powerful cold front. Morning lows ranged from 17F in Huntsville to 20F at Birmingham and Tuscaloosa, to 22F at Anniston. The mercury was forecast to remain pretty steady and even fall during the day, despite sunny skies. A hard freeze overnight with lows in the single digits would set the stage for one of the worst ice storms in the history of Central Alabama two days later. Follow my weather history tweets on Twitter. I am @wxhistorian at Twitter.com.
Category: Alabama's Weather, ALL POSTS