A Quick Winter Weather Check Just After 7:00 am
2 min read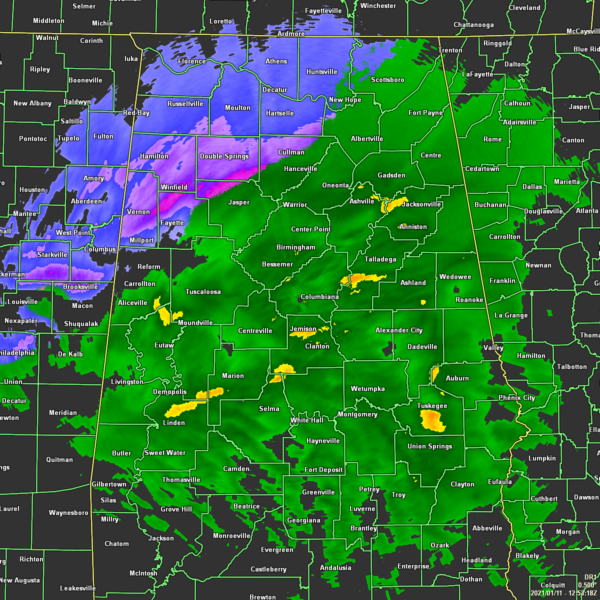 Radar at 6:53 am shows snow and a wintry mix falling in the northwestern parts of Central Alabama west of a line from Millport to Cullman to Hytop. East and southeast of that, much if not all the precipitation is rain. This may be as far south and east that we'll see the snow get as temperatures are above freezing, ranging from 34 to 41 degrees across Central Alabama. That northwestern corner of Central Alabama have fallen at or just below freezing as Haleyville is at 30 degrees, and Cullman is at 32 degrees. All locations should be above freezing by the time we reach 10:00 am and any frozen precipitation on the ground will begin to melt.
Heavier snow bands within this morning's activity may lead up to some locations receiving up to as much as 2 inches of snow, while the rest of the advisory locations may only receive and inch or less. At this point, roadways continue to be mainly free of any travel issues, with only one crash showing up on I-22 West at exit 39 in Eldridge. No word if this is a weather-related accident.
The latest Hazardous Weather Outlook just came out from NWS Birmingham, and it states:
A quick hitting winter storm will affect parts of Central Alabama through the early afternoon. The best chance of accumulating snow will be in portions of Marion, Winston, Walker, Fayette, Lamar, Pickens, and Tuscaloosa Counties through noon. At this time, it appears snow accumulations will be generally less than one inch with isolated areas of up to 2 inches.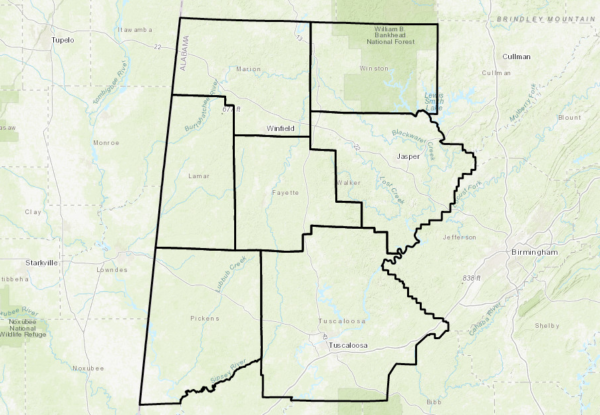 NWS Birmingham just updated the text of the Winter Weather Advisory that is currently in effect until 12:00 pm for Fayette, Lamar, Marion, Pickens, Tuscaloosa, Walker, and Winston counties. The new text states:
WHAT… Snow expected this morning, before gradually mixing with or changing to rain into the afternoon. Total snow accumulations generally less than one inch, with isolated amounts up to two inches.
WHERE… Northwest portions of Central Alabama, generally north of Interstate 20 and west of Interstate 65.
WHEN… Until noon CST today.
IMPACTS… Plan on slippery road conditions. The hazardous conditions could impact the morning commute.