A Quick Update as We Move into the 4:00 am Hour : The Alabama Weather Blog
2 min read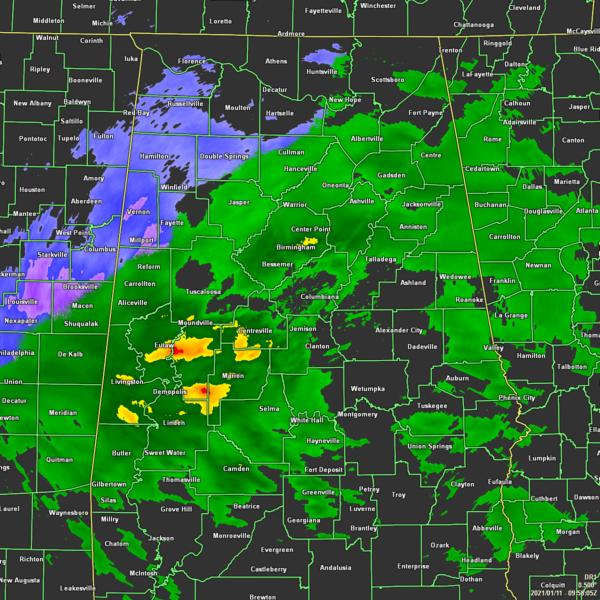 Radar at 3:58 am showed rain falling across much of Central Alabama at this point, but those heavier returns may have some sleet mix in with the rainfall. That rain changes into snow once you get back west of a line from roughly Cullman to Carbon Hill to just south of Millport. While a few locations have reported some very minor accumulations on grassy surfaces and other surfaces such as rooftops and tops of cars, the good news is that there have been no reports of any travel issues in North/Central Alabama up to this point.
Much of the area remains above freezing with temperatures ranging from the lower 30s in the north to the lower 40s in the south. The cold spots are Huntsville (Madison County Executive Airport), Decatur, Cullman, and Haleyville… all tied at 32 degrees. Birmingham was at 37 degrees.
The forecast continues to stay on track with the best chance of accumulating snow limited to portions of Marion, Winston, Walker, Fayette, Lamar, Pickens, and Tuscaloosa Counties through midday. At this time, it appears snow accumulations will be less than one half of an inch with a few localized areas of up to 1 inch near the Mississippi state line.
NWS Huntsville just issued a Special Weather Statement for Colbert, Cullman, DeKalb, Franklin, Jackson, Lauderdale, Lawrence, Limestone, Madison, Marshall, and Morgan counties in North Alabama that is set from now until 10:00 am this morning. Here is the text from the statement:
Light snow showers will continue to move across north Alabama and southern middle Tennessee through late morning. These snow showers may leave a light accumulation on grassy surfaces and elevated objects. Widespread travel problems are not anticipated as road surfaces should remain just above freezing. However, use caution when traveling where snow is falling, especially on elevated roadways, bridges, and overpasses.
NWS Huntsville also just sent this brief statement across NWS Chat for North Alabama: Just based on the reports we've gotten from all of you we've issued an SPS to highlight the ongoing light snow accumulations across the area. These accumulations will likely be 0.5″ or less and mainly on grassy surfaces. Road temperatures should stay just above freezing — and continue to improve after sunrise as heating begins. We should note that in a few of the more "enhanced" bands locally high amounts around 1 inch are possible. But we have held off on an Advisory given the fairly low forecasted amounts and lack of widespread societal impacts.
Keep checking back as we'll have updates through the morning.
Category: Alabama's Weather, ALL POSTS, Winter Weather