A Nice November Afternoon across Alabama : The Alabama Weather Blog
2 min read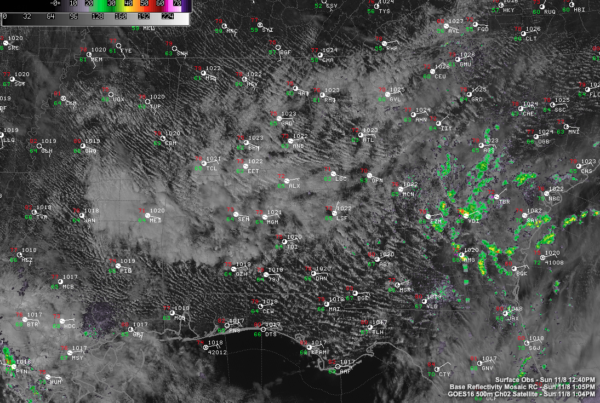 A nice November afternoon is in progress across North and Central Alabama.
Skies are partly to mostly cloudy and temperatures are warming through the 70s, heading for highs generally in the upper 70s. Muscle Shoals was already at 79F. Several spots may touch 80F.
Dewpoints are in the lower 60s North and middle 60s Central. Remember that dewpoints in the 60s start to feel muggy.
Winds are out of the east and southeast averaging 7-14 mph. Winds are gusting to 18-22 mph in spots.
The afternoon should be dry, although a few of those showers moving westward across southern Georgia may work their way into eastern and southern Alabama this afternoon. Rainfall amounts will be light and spotty.
Tonight will be partly cloudy with some low clouds forming by morning. Lows will be in the lower and middle 60s.
Tropical Storm Eta looks very disorganized early this afternoon just off the north coast of Cuba, experiencing strong wind shear underneath an upper low. The shear will weaken through tomorrow and water temperatures will increase as the storm moves westward tomorrow into the southern Gulf of Mexico. The center should pass west of Key West early Monday. We will have a new forecast package around 3 p.m.
It is becoming more apparent that the storm will move north and eventually north this week, likely moving inland in either the Florida Big Bend area or along the West Coast of Florida north of Tampa sometime around Friday. Its impact for Central and Southeast Alabama will come in the form of showers and a few storms ahead of a front that will be stall across Alabama on Wednesday and Thursday. Winds will be gusty all week.
For the coast, rain will become likely by late Thursday across the eastern part of the Panhandle near the communities of 30A and Panama City. Winds may gust to Tropical Storm force from Panama City to Tampa Thursday into Friday. The rip current risk will be high this week. In fact, the rip current risk is high now along the beaches of Alabama and Northwest Florida.
Category: Alabama's Weather, ALL POSTS
Bill Murray is the President of The Weather Factory. He is the site's official weather historian and a weekend forecaster. He also anchors the site's severe weather coverage. Bill Murray is the proud holder of National Weather Association Digital Seal #0001 @wxhistorian