A Chilly Morning, Another Round of Freeze Warnings for Tonight
3 min read
Temperatures across the state were on the warmer side of the forecast overnight as winds stayed up and low clouds developed.
Overnight lows looked like this:
Muscle Shoals 33
Decatur 32
Huntsville 32
Vinemont/Cullman 30
Anniston 34
Birmingham 33
Tuscaloosa 35
Montgomery 38
Dothan 42
Mobile 36
Here is a complete list of freezing readings from the NWS Birmingham…
PUBLIC INFORMATION STATEMENT
NATIONAL WEATHER SERVICE BIRMINGHAM AL
836 AM CST SUN NOV 13 2022
…FREEZING LOW TEMPERATURE REPORTS THIS MORNING 11/13/2022…
LOCATION TEMP TIME/DATE LAT/LON/ELEV (FT.)
HALEYVILLE AIRPORT (K1M4) 30 F 0656 AM 11/13 34.28N/87.60W/919
ONEONTA 4 E 30 F 0625 AM 11/13 33.94N/86.39W/1104
WINSTON FREE STATE BARN 3 NW 31 F 0700 AM 11/13 34.18N/87.46W/771
WINFIELD 31 F 0620 AM 11/13 33.94N/87.81W/544
HAMILTON 31 F 0740 AM 11/13 34.14N/87.99W/529
BLUFF PARK 31 F 0646 AM 11/13 33.41N/86.85W/331
ARGO 1 NNW 31 F 0712 AM 11/13 33.69N/86.54W/977
ARGO 4 N 31 F 0720 AM 11/13 33.74N/86.55W/1089
VESTAVIA HILLS 1 WNW 31 F 0727 AM 11/13 33.44N/86.82W/807
LIBERTY PARK 2 N 31 F 0800 AM 11/13 33.51N/86.70W/600
ASHLAND 2 ENE 31 F 0725 AM 11/13 33.28N/85.80W/1059
RICKWOOD CAVERNS 1 ESE 31 F 0748 AM 11/13 33.87N/86.84W/843
MOODY 32 F 0715 AM 11/13 33.59N/86.49W/695
ODENVILLE 32 F 0800 AM 11/13 33.67N/86.41W/2431
CHELSEA 2 N 32 F 0700 AM 11/13 33.35N/86.63W/524
NEWELL 2 E 32 F 0700 AM 11/13 33.44N/85.40W/843
HAMILTON 32 F 0800 AM 11/13 34.14N/88.00W/490
MOUNTAIN BROOK 32 F 0709 AM 11/13 33.50N/86.74W/736
BIRMINGHAM PROTECTIVE STADIU 32 F 0740 AM 11/13 33.53N/86.81W/604
AUBURN U BLACK BELT SELMA 13 32 F 0640 AM 11/13 32.46N/87.24W/192
1.8 NE LAKE CLEBURNE 32 F 0700 AM 11/13 33.62N/85.51W/830
SHOAL CREEK 32 F 0714 AM 11/13 33.65N/85.63W/908
HEFLIN 32 F 0736 AM 11/13 33.65N/85.60W/850
BARFIELD 32 F 0703 AM 11/13 33.35N/85.72W/1036
LINEVILLE 32 F 0725 AM 11/13 33.31N/85.75W/1085
UNION GROVE 1 SSE 32 F 0555 AM 11/13 32.96N/86.67W/741
JEMISON 32 F 0625 AM 11/13 32.97N/86.68W/761
1.7 W CENTRE 32 F 0530 AM 11/13 34.15N/85.70W/600
MT. LONGLEAF SP 32 F 0646 AM 11/13 33.72N/85.76W/1049
OBSERVATIONS ARE COLLECTED FROM A VARIETY OF SOURCES WITH VARYING
EQUIPMENT AND EXPOSURES. WE THANK ALL VOLUNTEER WEATHER OBSERVERS
FOR THEIR DEDICATION. NOT ALL DATA LISTED ARE CONSIDERED OFFICIAL.
So my green grass lives to fight at least one more day before it goes dormant. That probably happens tonight.
Winds should be lighter tonight, and overnight lows should be a few degrees colder.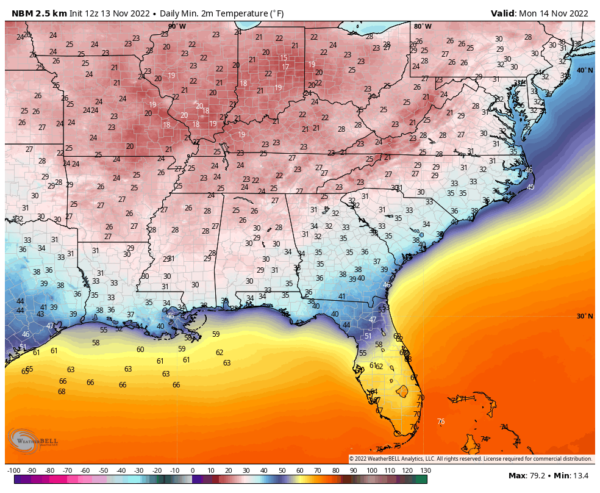 The NWS in Birmingham has reissued the freeze warning for tonight for its counties that have generally not experienced a killing freeze.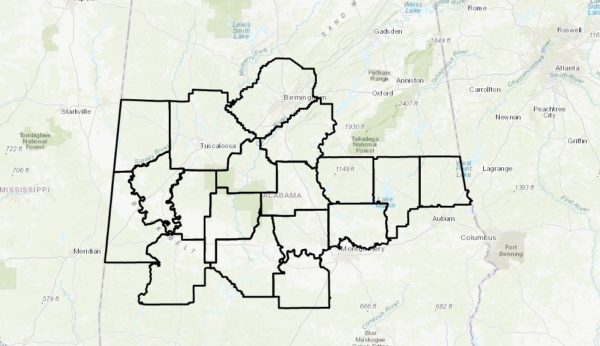 Temperatures in the freeze warning area will drop to 30-32F tonight. Precautions should be taken for any sensitive vegetation that you want to preserve.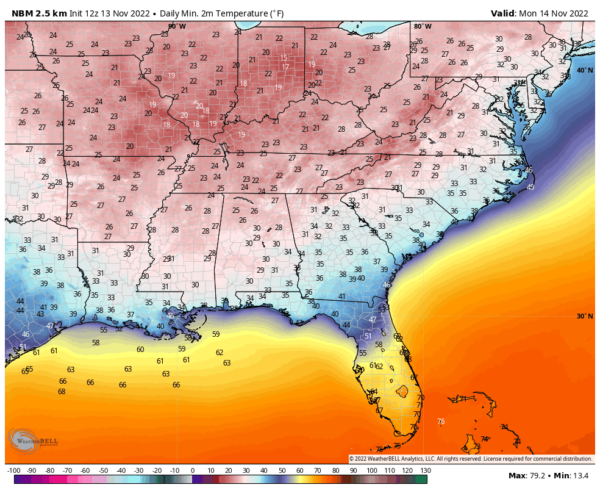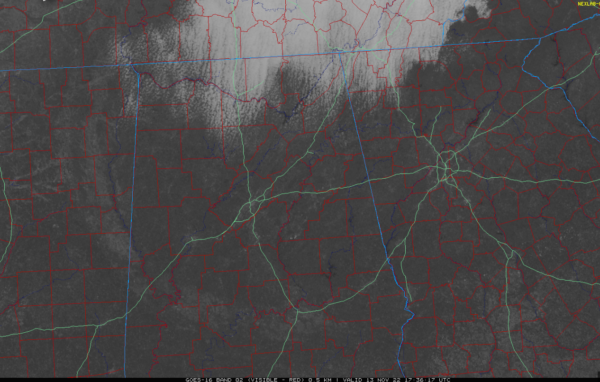 Clouds continue thick over the Tennessee Valley this morning as leftover moisture in the lowest layers of the atmosphere. Those stratocumulus clouds will gradually evaporate as the moisture mixes out.
Highs today will be in the middle and upper 50s over North and Central Alabama, while 60s will be common near and south of Montgomery.
Our next weather system will swing out of the Southwest tomorrow and will bring a surprise snow to areas from Oklahoma to Missouri to Ohio, including parts of Arkansas.
Rain with this system will arrive in Alabama Monday night, most commonly in the hours before dawn. Rainfall amounts should average less than one-half inch. A traffic jam of weather systems will make the rain slow to move out on Tuesday, with clouds and showers along with a chill northwest wind again and highs in the 50s.
Wednesday will feature a mix of clouds and sun with highs in the 50s and a persistent northwesterly wind that will give you a little shiver. That northwesterly wind will be bringing in colder air that will keep highs in the 40s. Look for a decent freeze Friday and Saturday morning will widespread lows in the 20s.
We may stay dry through Thanksgiving with rain returning Thanksgiving night according to the latest runs of the GFS. But it has flipped to colder for the Iron Bowl weekend. Stay tuned.
Bill Murray
2022-11-13 17:59:45

All news and articles are copyrighted to the respective authors and/or News Broadcasters. eWeatherNews is an independent Online News Aggregator

Read more from original source here…