What to Know
More snow, ice and, this time, heavy rain, are on the way.

A First Alert is in effect through Tuesday night due to the threat of slippery conditions caused by the wintry weather.

Snow, ice, depending where you are, and heavy rain could cause commuter headaches for multiple rushes.
The workweek began with school delays and closures and slow commutes thanks to a storm that brought several inches (4 inches in Bear, Delaware) of snow to neighborhoods from the Jersey shore to the Philadelphia suburbs. 
The snow dips southward and may turn to rain in southern neighborhoods Monday afternoon, but now a second round of wintry weather threatens. Some schools are already planning a second day of delayed opening.
A First Alert is in effect through Tuesday night.
Here's what to watch for:
The Monday commute home could be a little slower again as snow starts to creep northward and pick up steam. It will fall steadily through the overnight hours.
Steady snow will continue into early Tuesday morning, when some sleet and freezing rain could be in play along the I-95 Corridor and make for dicey driving conditions during the morning commute. Temps won't get out of the 30s.
The icing threat is more considerable in the Lehigh Valley by the Tuesday morning rush through the early afternoon. For the suburbs north of Philadelphia, much of the morning rush could get sleet and freezing rain, but areas south of Philadelphia could likely see icing turning to rain between 6 and 9 a.m.
Less than a quarter inch of inch is expected in northern and western suburbs but that could be enough to cause problems. Icy conditions could lead to power outages.
Philadelphia Archdiocesan High Schools and Parochial Elementary Schools will be on a two-hour delay again on Tuesday. Click here for the full list of school closings and delays.
How to Walk on Ice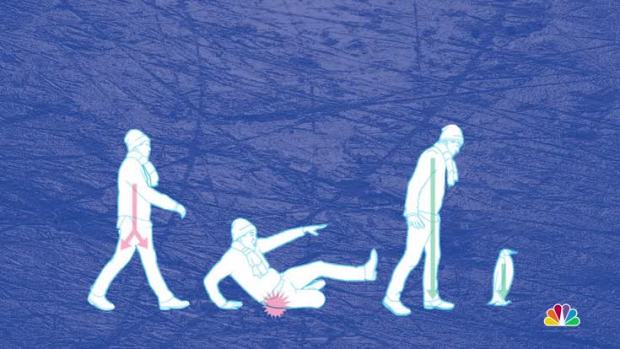 Another 1 to 3 inches of snow could fall in Philadelphia, South Jersey, the Pennsylvania suburbs and the Lehigh Valley during the second round of wintry weather. 
PHOTOS: Snow Day Enjoyed Around the Area
The First Alert expires late Tuesday night. Winds then pick up Wednesday and conditions clear with highs in the low 40s.
A warm-up comes in time for Valentine's Day with highs into the upper 40s Thursday.
Stick with the NBC10 First Alert Weather Team (download our app) for updates throughout the wintry weather.
2019-02-11 16:41:08

Read more from source here…