Welcome to the "who will win" edition of Natural Gas Daily!
Surprise, surprise, what do we have here. GFS-ENS and ECMWF-EPS are once again in disagreement with the weather outlook 11-15 days out.
These two tweets from Commodity Wx Group perfectly capture the divergence:
As you see in the tweets, the disagreement between ECMWF-EPS and GFS-Ens is centered around the development in Greenland. To translate what this means into heating degree days or bullish/bearish, if the ridge (red) in Greenland intensifies, then it will potentially lead into colder weather in Northeast and boost heating degree days, which will be bullish for natural gas prices.
If not? Then … nothing really happens.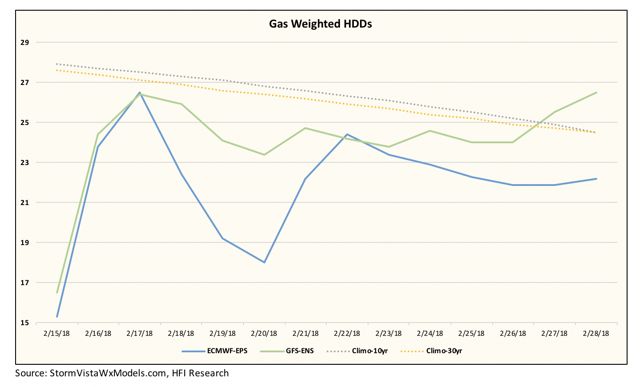 What we have observed over the last few days is that even though weather models could be turning bearish, natural gas prices are not dropping. For example, when ECMWF-EPS updated this morning, we thought initially that the outlook was so bearish, it would push prices to $2.50/MMBtu. Well, that didn't happen.
What this tells us is that either 1) traders no longer see the risk/reward favorable here to pile on the short side, or 2) the longs that were betting on cold weather have already bailed.
Does this mean prices will start shooting higher? Not necessarily, and our view is that for natural gas prices to move higher, weather needs to turn bullish.
This then goes back to the disagreement between GFS-ENS and ECMWF-EPS. Over the next 48 hours, we will find out which weather model is right. If ECMWF-EPS shows the return of bullish weather in March, you will see natural gas prices immediately rerate.
For now, our view is to not take a position until we are confident of the outlook. The outlook at the moment remains uncertain, and the two big weather models are in disagreement … again.
HFI Research Natural Gas
Thank you for reading. If you have historically found our public natural gas articles insightful, you will certainly find our premium write-ups to be even better now. We have made major improvements over the last year incorporating a dedicated section on weather, trader commentary, and fundamentals. Now we are introducing what we would do with our positioning. If you are interested, you can see here more info.
Disclosure: I/we have no positions in any stocks mentioned, and no plans to initiate any positions within the next 72 hours.
I wrote this article myself, and it expresses my own opinions. I am not receiving compensation for it (other than from Seeking Alpha). I have no business relationship with any company whose stock is mentioned in this article.
2018-02-14 23:02:00

Read more from source here…