By Jerry Wagner
In the last 12 months, we have heard a lot about extreme weather. Three major hurricanes will certainly cause this. But wait, there's more.
Record low temperatures at the beginning of January were followed by balmy temperatures at the end. Heat waves and water shortages early on led to record forest fires followed by mudslides wiping away homes and closing major thoroughfares.
Some scientists attribute these events to climate change. Another group of scientists focus on a solar minimum of sunspot activity and increased cosmic rays. Or maybe they're both wrong and it's just nature's general unpredictability.
Whatever the cause, the results of violent weather are rarely pleasant. For every person experiencing January warming, there seems to be more suffering in the wake of a devastating hurricane or even a stretch of subzero weather.
It seems that it is no different in the financial markets. The stock market extremes are legend. Its price history has been compared to the ups and downs of a roller coaster – and many investors think the time on the coaster is the better of the two.
In fact, though, stocks tend to experience extremes to the upside more than to the downside. Of course, part of the reason for this is simple mathematics. Stocks can't fall more than 100%, while there is no limit to how much they can rise.
Still, we know that, overall, stocks average a positive return. But just as a nonswimmer can drown in a river that averages just 4 feet of water if the deepest stretches are 8 feet in depth, stock investors can lose money in the market when they buy in when the price is high and volatility is shallow.
The consequences of an extreme move in stocks to the upside can be pleasant, like the January thaw. We certainly have been experiencing that kind of stock market weather since the fall of 2016. But when stocks fall to the extreme, it can be as devastating as being caught in 10 feet of storm surge in the middle of a hurricane.
But have you noticed that when we are caught up in life, it's often difficult to determine if we are dealing with an extreme event or just a blip on life's radar screen? How many times have you heard of stores emptied of their water bottles and canned food in anticipation of a major storm only to have the projected tempest fade into minor showers?
In the market, you can tactically retreat whenever the market does so, or you can sit still and ride it out. Each type of response has been rewarded over financial history. And each approach has been punished.
Quantitative risk management attempts to take a middle ground. It uses market and economic history to put what's happening now into historical perspective. It attempts to assign probabilities to different types of events and only take action when probabilities are high enough that the risk of staying in exceeds the opportunities.
Market update
As I have been writing lately, it seemed likely that we were at one of those pleasant extremes. The market had rallied to an extent that few investors see in a lifetime. A correction seemed likely.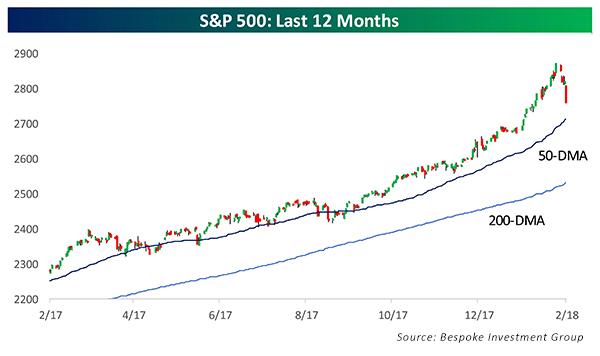 With last week's decline of more than 3%, that correction seems to have begun. It was the first 3% correction in 448 days. That's the longest period without such a decline in stock market history. Yet, on average, this type of decline occurs about seven times a year!
Similarly, this week broke the streak of days without at least a 5% decline. But these, too, are very common throughout a normal stock market year. Remember 2015? We had seven of them.
We have been spoiled. And I fear that many will react badly to TV's talking heads with their proclamations of 100-, 200-, or 500-point down days in a tone that suggests that extreme weather is being reported.
As I pointed out last week before the current decline started, when the Dow has reached 26,600, a 500-point decline is less than 2% (1.88%). It's not like 1987 when it represented 25%. Even a 1,000 point decline represents less than a 4% setback.
When I spoke in December of a correction being likely this year, you'll recall I spoke of the 10%-15% varieties. While these can seem scary, and suggest that the path of a financial hurricane is pointed straight at you, as in weather forecasting, the cone of the hurricane projection is always fairly wide, and a miss from a direct hit is very likely.
Such corrections are not extreme weather. A 10% correction has occurred 93 times since the tracking of the S&P 500 began in 1928.
Yet as bad as that might sound, it is not the type of financial Armageddon that we saw in 2000 and again in 2007 that preceded a 55% loss each time in the S&P 500.
We believe that the probability that this is the case is low. Normally, such declines occur coincident with an economic recession. At the present time, none of the usual signposts that reliably point the way to a recession are visible.
Rather, the economy seems to be doing very well for itself. Last week, most economic reports beat expectations. And while December showed some weakening, the trend of year-over-year performance seems strongly positive.
Why then did stocks tumble last week (and this week)? Rising bond rates and inflationary fears seem to be getting the primary blame. Interest rates have been breaking out to new intermediate highs, commodity prices have been rallying, and the employment report on Friday showed that wage growth – which had been lagging – suddenly moved strongly higher.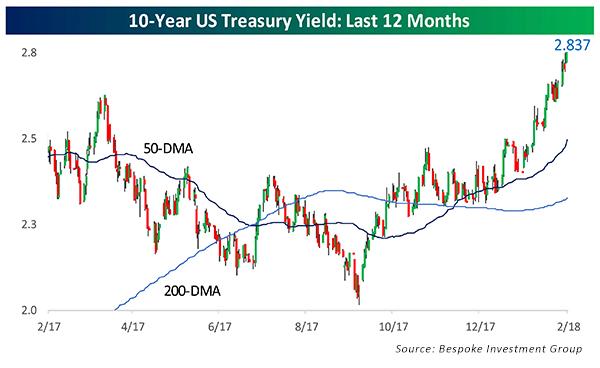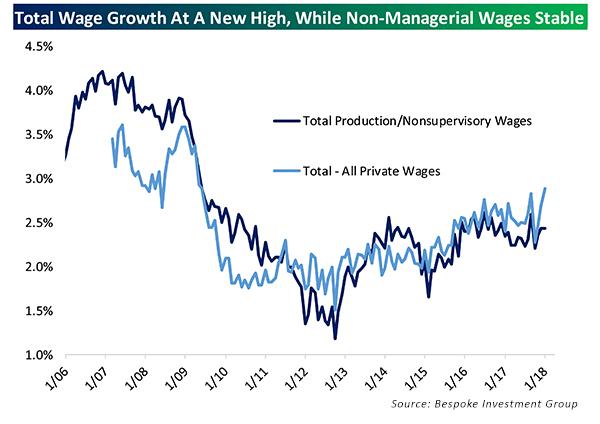 This was confirmed by higher unit labor costs in one report that also showed prices paid rising and productivity lagging. Throw in some political uncertainty (a possible shutdown and the memo(s)) and it was enough to start a stock market storm.
The earliest weather forecasters relied on the elements around them. What they saw in the sky was their primary guide. When they saw the sky was blue, they thought the weather would be good, that is until a fast-moving storm appeared. When the sky was cloudy, they'd worry about rain, until the wind blew the clouds away.
While forecasting is difficult, the last few months for me have been like watching an approaching storm cloud. It appears on the horizon and gets bigger and bigger and darker and darker until it hits its breaking point and unleashes a tempest.
Stocks have been overbought for months. They have been hitting the historical upward boundaries of positive sentiment. Normally, that is their breaking point and a correction ensues.
But like when a storm is forecast, and it passes by, overbought markets tend to move sideways or decline back to a normal level. Sometimes they overcorrect and fall into oversold levels. This is often the case after a prolonged market rally.
But when this occurs, unless there is a coincident economic reason for the fall, the market tends to spring back. And when it does so, it may bounce so quickly that it is difficult to get back on board.
Company revenue is reported to be outperforming analyst expectations at the highest rate since 2004. The tax act is providing the expected stimulus, as thousands of companies issue bonus checks and raises. Earnings reports continue to surprise to the upside. And as earnings go, so eventually go stock prices. While gold has historically yielded the best return among the asset classes, stock returns have been positive, and the maximum drawdown has not exceeded 18%.
Extreme weather will eventually hit the stock market. But truly extreme weather is not even on the horizon at the present time. It is not yet time to evacuate, but eventually, it will be time to head for the market and stock up.
Disclosure: No communication by Dynamic Performance Publishing or our employees to you should be deemed as personalized investment advice. Any investment recommended in this newsletter should be made only after consulting with your investment advisor and only after reviewing the prospectus or financial statements of the company. Dynamic Performance Publishing, its affiliates, and clients may hold positions in the recommended securities. Results are not indicative of holdings for clients of Flexible Plan Investments. Forwarding, copying, or otherwise duplicating this information for the use by anyone other than the intended recipient is expressly forbidden. These results are not representative of those achieved by clients of Flexible Plan Investments, Ltd. (NYSE:FPI) due to differences in security selection, timing of trades, transaction fees, and FPI's management fees.
2018-02-08 14:03:00

Read more from source here…